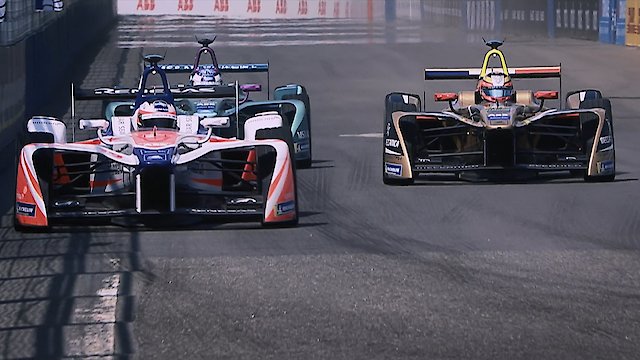 Where to Watch And We Go Green

Fresh off the 2019 film circuit and making a significant impact, And We Go Green is a powerfully electric documentary that examines the inception and development of the high-octane, low-emission spectacle of the Formula E Championship. With fishbowl intensity, the film draws viewers into the thrilling world of electric motor racing, while underlining vital environmental issues and challenging our collective stereotypes about electric vehicles. The film is a collaboration between Academy Award-winning filmmaker Fisher Stevens and Malcolm Venville, expertly produced by Leonardo DiCaprio. It successfully combines lessons about sustainability with the gripping drama of competitive sport, offering a unique blend of high-octane racing action and thought-provoking moral questions about our planet and our future. Highlighted in the film are fossil fuel free motorsports visionaries such as Formula E CEO Alejandro Agag, who bet big on the future of electric car racing. It also reflects the electrifying journey of several other key figures; professional racing drivers like Sam Bird, a star of the electric car circuit, the late Jules Bianchi, a virtuoso who was a rising star in the world of traditional combustion engine car racing, and other key personalities from the thrilling world of Formula E Championship. At its core, And We Go Green is a film about transformation and adaptation. The documentary covers the challenges and the excitement connected with the shift from fossil fuels to renewable energy in the world of professional car racing. It dismantles preconceived notions about electric cars being slow or lacking in thrill and competitiveness, empowering the audience with the exhilarating reality of electric vehicle racing and its soaring popularity. Viewers will appreciate the intense racing sequences expertly captured by Stevens and Venville. The team brilliantly conveys the suspense and adrenaline of the races, making the audience feel like they are right in the thick of the action. The power, speed, and intensity of electric car racing are beautifully captured, shattering many of the stereotypes surrounding electric vehicles. However, this film is more than just about thrilling races and sports-induced adrenaline. Interlaced with on-track action are intimate portraits of some of Formula E's major players. The filmmakers peel back the layers to reveal drivers grappling with the professional hardships and personal expectations in this arena. It's these human stories and their steadfast dedication to the sport that underscore the film with rawness and authenticity. And We Go Green also gives a significant nod to its ultimate objective: spotlighting the urgency of climate change, and the effort to introduce electric vehicles as not just a viable solution, but a superior alternative. Alejandro Agag's ambitious vision to make a difference in the world one electric car at a time, is beautifully articulated. It hits home that racing is not only an exciting sport but a platform to demonstrate the incredible potential and capabilities of electric vehicles. The documentary expertly weaves the thrill of competition with the importance of sustainable development to present a compelling narrative about the future of innovation. It portrays the surge in demand for electric vehicles and the role of racing in propelling it all forward. It's more than just speed and triumph; this film asks us to think critically about our environmental impact and the potential for sporting industries to incite significant global change. In conclusion, And We Go Green is a dynamic tour de force of high-speed competition fused with environmental activism that promises to keep viewers on the edge of their seats. With its splendid direction, memorable personalities, riveting races, and eye-opening conversations about our planet's future, this documentary is a standout sports film that caters to racing enthusiasts and environmental activists alike. It is an electric jolt to the system that leaves audiences enlightened, inspired, and deeply moved.
And We Go Green is a Documentary movie released in 2019. It has a runtime of 99 min.. Critics and viewers have rated it moderate reviews, with an IMDb score of 6.8. It also holds a MetaScore of 55.


Director
Fisher Stevens, Malcolm Venville
Stars
Alejandro Agag, Sam Bird, Lucas di Grassi

Stream movies like And We Go Green
Also starring Alejandro Agag
Watch movies on Apple TV+