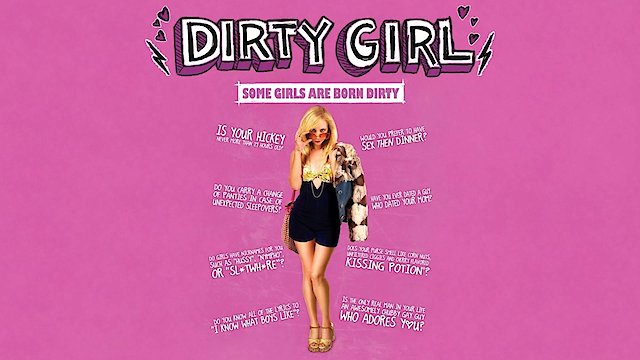 Where to Watch Dirty Girl

Dirty Girl is a comedic, touching, and heartwarming film from 2010 that masterfully rides the line between coming-of-age drama and road-trip comedy. The film is directed by Abe Sylvia, and stars Juno Temple, Jeremy Dozier, and Milla Jovovich among others, taking the audience on an unpredictable but incredibly meaningful journey focused on self-discovery and acceptance. Set in the late 80s in Norman, Oklahoma, the film follows the life of Danielle (played by Juno Temple), the provocative and explicit 'dirty girl' of Norman High School. She is a rebellious teenager who asserts her independence by openly defying school regulations and norms, strutting around with a carefree demeanor that both distresses and intrigues her classmates and teachers. However, behind the rebellious façade is a young woman scarred by the absence of her birth father and troubled by her relationship with her underachieving single mother, Sue-Ann (played by Milla Jovovich). The story kicks into high gear when Danielle's reckless behavior lands her in a remedial class, where she's paired up with Clarke (Jeremy Dozier), an overweight, timid, and closeted gay teenager for a parenting project. The two are a complete mismatch, with Danielle's untamed ways clashing with Clarke's reserved personality. However, as they work together, they develop an unexpected friendship. When Danielle discovers an old photo that could lead her to her father, she convinces Clarke to embark on a cross-country road trip with her. Needing an escape from his oppressive father and yearning for the acceptance he can't find at home, Clarke agrees. The duo embarks on a daring and wild journey in Clarke's father's prized Cadillac, turning their world upside down as they encounter various colorful and eccentric personalities along the way. The road trip serves as an emotional and transformative journey for both Danielle and Clarke. Danielle is on a quest to find the father she never knew, craving a sense of identity and yearning for recognition and acceptance of her wild ways. Clarke, on the other hand, dreams of gaining acceptance of his sexuality while also seeking liberation from the confinements of his unaccepting and homophobic father. Throughout this bumpy ride, they both discover the strength in their bond, the value of acceptance, and the power of resilience. Dirty Girl is as much about the duo's external journey across states as it is about their internal journey toward acceptance and sexual empowerment. It is a tale of two misfits finding companionship in each other and growing from their shared experiences. Their escapades are filled with laughs and tears, demonstrating the power of their unexpected friendship even in the face of adversity. Juno Temple gives a wildcard performance as Danielle, capturing her character's outward defiance and inner vulnerability effectively. She embodies her character's foul-mouthed persona with an underlying vulnerability, projecting an often overlooked depth to the titular 'dirty girl'. In contrast, Jeremy Dozier brilliantly portrays the gentle-hearted Clarke, providing a sensitive performance that does justice to the character's struggle with his identity and self-acceptance. There is a remarkable chemistry between Temple and Dozier. Their unlikely friendship forms the emotional core of the movie, illustrating the human craving for acceptance and companionship. Milla Jovovich also shines in her role as Danielle's mother, Sue-Ann, balancing disappointment in her daughter's reckless behavior with her unconditional love for her. Dirty Girl is a beautifully created period piece, accurately reflecting the late 80s setting not just through the characters' costumes and hairstyles but in its culture, attitude and music. It uses its audacious humor to explore serious coming-of-age themes, giving it both heart and meaning. A comedy without a doubt, but one that packs an emotional punch, Dirty Girl effectively handles a medley of themes, such as acceptance, friendship, self-discovery, and teenage rebellion, all while keeping the audience entertained. Both entertaining and thought-provoking, this movie has a lot to offer for those who enjoy a film that challenges stereotypes while delivering a healthy dose of laughter and tears.
Dirty Girl is a Drama, Comedy movie released in 2011. It has a runtime of 90 min.. Critics and viewers have rated it moderate reviews, with an IMDb score of 6.4. It also holds a MetaScore of 37.
How to Watch Dirty Girl
Where can I stream Dirty Girl movie online? Dirty Girl is available to watch and stream, buy on demand, download at Amazon Prime, The Roku Channel Free, Tubi TV, Apple TV, Amazon, Google Play, YouTube VOD, Vudu. Some platforms allow you to rent Dirty Girl for a limited time or purchase the movie for downloading.


Stars
Juno Temple, Milla Jovovich, William H. Macy, Mary Steenburgen, Dwight Yoakam, Jeremy Dozier

Stream movies like Dirty Girl
Also starring Juno Temple
Watch movies on Apple TV+