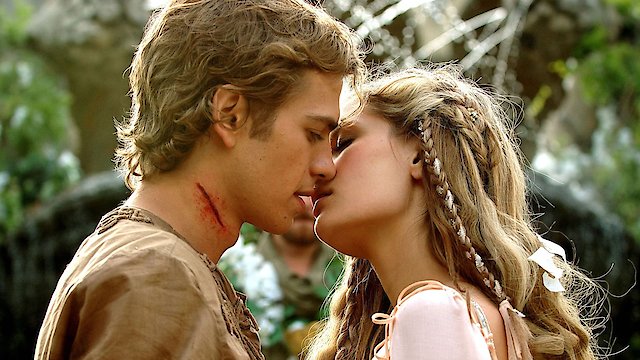 Where to Watch Virgin Territory

Virgin Territory, released in 2007, is a captivating romantic comedy that perfectly blends elements of adventure and period dramas. The film is set in the picturesque landscape of 14th century Italy, a country stormed by the devastation of the Bubonic Plague, or the Black Death as it was known back then. Amidst this historical backdrop, the story revolves around three main characters played by Hayden Christensen, Mischa Barton, and Ryan Cartwright. Director David Leland artfully directs the star-studded cast, spinning an enthralling tale that showcases the timeless theme of young love overcoming seemingly insurmountable obstacles. Hayden Christensen plays the role of Lorenzo De Lamberti, a reckless yet charming young Florentine with an instinct for survival and a knack for troubles. Despite the turmoil that surrounds him, Lorenzo indulges in the pleasures and trysts that life offers him, making him a figure of scorn, envy, and desire. This carefree, pleasure-seeking character stands in stark contrast to the gloomy and death-stricken landscape, providing comic relief and a sense of light-heartedness amidst the film's darker themes. Mischa Barton embodies the character of Pampinea Anastagi, a young maiden of unsurpassable beauty and the local nobility's prized daughter. Despite being a woman of privilege, she is burdened with troubles, primarily the arduous task of choosing a marriage suitor among those who are vying for her attention. Mischa Barton skillfully portrays this character's dilemmas, revealing a depth of sincerity and complexity beneath her outward beauty. Ryan Cartwright plays the role of Ghino, the unscrupulous antagonist who is consumed by greed and unrequited love for Pampinea. Ghino's character provides a captivating balance, bringing the necessary evil to steer the film's events and create an essential sense of conflict. The story unfolds as Lorenzo, out of love for Pampinea and pursuit of happiness, struggles to navigate the trials and tribulations that come his way. This involves plotting against Ghino, overcoming death's omnipresent shadow, and dealing with demanding lovers, all while trying not to get caught in the crossfire of the menacing Bubonic Plague. This journey of love, hope, and survival merges with the historical context of the time, intensely depicting the human spirit, adventure, and passionate romance like never before. On the technical front, Virgin Territory shines with its beautiful scenic shots, grand costume designs, and notable cinematography. As viewers are taken through the gorgeous Italian countryside, they are transported back in time, awakening their senses with the ethereal landscape. In particular, viewers might find themselves captivated by the masterful work of cinematographer Ben Davis, who uses his lens to seamlessly blend the natural surroundings into the story. The film also boasts an interesting soundtrack composed by Ilan Eshkeri that complements the narrative, setting the mood throughout the film's various sequences. From lively string instruments during comic moments to somber and melancholic tunes during intense scenes, Eshkeri's music heightens the emotional impact of the film. Despite the somber historical context relating to the Black Death, Virgin Territory stands as a refreshing narrative that succeeds in turning a grim period into a lively, adventurous, and romantic tale. The film succeeds in providing light-hearted entertainment while offering viewers a glimpse into an era that forever changed the course of human history. Behind the veil of the 14th-century chaos, the film showcases ageless human characteristics such as love, greed, lust, and the fight for survival that audiences will relate to. The characters embody the quintessential human desire to live and love against all odds. In this sense, Virgin Territory is more than a romantic comedy; it is a testament to the undying spirit of humanity during fatal times. In conclusion, Virgin Territory serves as an enjoyable roller-coaster ride that plunges the viewer into drama, romance, adventure, and comedy. The captivating performances by Hayden Christensen, Mischa Barton, and Ryan Cartwright, coupled with engaging storytelling and David Leland's adept direction, make it a heart-warming narrative that is worth a watch. This historical romantic comedy infuses joy and laughter into a dark era, significantly intensifying the movie-watching experience for audiences who love adventure, history, and romance.
Virgin Territory is a Adventure, Action, Comedy, Romance movie released in 2007. It has a runtime of 93 min.. Critics and viewers have rated it mostly poor reviews, with an IMDb score of 4.7..
How to Watch Virgin Territory
Where can I stream Virgin Territory movie online? Virgin Territory is available to watch and stream, buy on demand, download at Amazon, Google Play. Some platforms allow you to rent Virgin Territory for a limited time or purchase the movie for downloading.

Stars
Hayden Christensen, Mischa Barton
Genres
Adventure, Action, Comedy, Romance

Stream movies like Virgin Territory
Also starring Hayden Christensen
Also starring Mischa Barton
Watch movies on Apple TV+