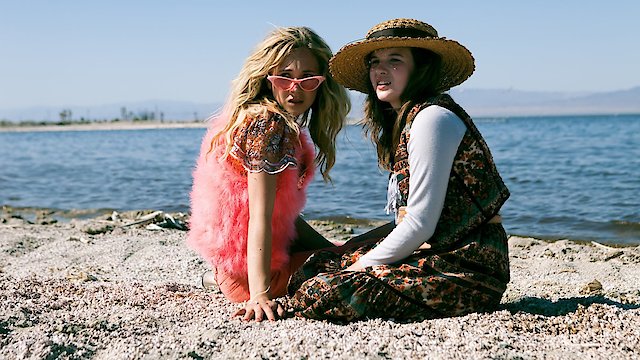 Where to Watch Little Birds

Little Birds, released in 2011, is an independent drama film directed by Elgin James and boasts a strong casts including Juno Temple, Kay Panabaker, and Leslie Mann. The film is a poignant exploration of youth, friendship, and the desperate desire to escape from the confines of a mundane life, set against the backdrop of the desolate Salton Sea in Southern California. Juno Temple, a versatile actress known for her roles in independent films, plays the character of Lily, a volatile 15-year-old with a passionate zest for life and adventure. Her compelling performance as the daring yet vulnerable teenager is one of the cornerstones of the film. Kay Panabaker portrays Lily's best friend, Alison, a sensible and grounded girl played with remarkable subtlety. In many ways, Alison is the Yin to Lily's Yang. She is a thoughtful counterpart to Lily's reckless impulsivity, providing a stark contrast that becomes an integral aspect of the movie's exploration of their friendship. Leslie Mann, who is well known for her comedic roles, brings a different energy to her character as Alison's concerned and loving mom, who has her own struggles to deal with. Mann navigates her motherly anxieties and fragile emotions with remarkable finesse, providing depth to the film's exploration of familial relationships in the face of teenage rebellion and escapism. The narrative focuses on the dynamics of a precarious friendship, relationships, and the impact of environmental conditions on individual lives. The story is set in the decaying town of Salton Sea, surrounded by beauty yet characterized by desolation. Sitting on the fringes of society, the girls are grappling with their own adolescent issues amid a sinking ship of a town. Fueled by their angst towards their small-town existence and driven by a yearning for freedom, adventure, and the raw experience of life beyond their familiar confines, they embarks on a journey that tests their friendship and the limits of their innocence. A chance encounter with a group of street kids from Los Angeles sparks off an unruly adventure for them. The lure of the big city, promises of rebellion, intoxicating freedom, romantic pursuits, and the dangerous allure of the unknown leads these small-town girls down a treacherously exciting path, which forms the main plot of the movie. The script is achingly nostalgic and authentic, capturing the raw emotions and desires that drive adolescents. The storyline is variegated with moments of euphoria and desperation, moments that are gloriously beautiful yet imperfect, much like the town the protagonists hail from. The execution is raw, thoughtful, and often uncomfortable, capturing the bittersweet moments of growing up while straddling the line between childhood innocence and adult world realities. The film's cinematography mirrors the themes and the mood of the film, capturing the desolate beauty of the Salton Sea and the grittiness of city life with vivid imagery. The instrumental score complements the narrative, adding atmospheric undertones that reflect the simmering tensions and adolescents' emotional turbulence. Elgin James, in his directorial debut, has skilfully layered the story with elements of uncertainty, tension, grit, and intimate character studies making it a compelling watch. James draws heavily from his own experiences, providing a gritty, atmospheric portrayal full of raw emotions, making the film a semi-biographical narrative. "Little Birds" is a poignant coming-of-age story that grapples with the complexities of friendship, adolescent restiveness, and the painful bite of reality. It's a story of friendship pushed to the limits, of dreams falling short of expectations, and of the consequences of the seemingly thrilling seduction of escape. Designed with sensitivity and insight, this film appeals to audiences who appreciate movies that delve deeper into the intricacies of individual journeys and relationships. With its nuanced portrayals and compelling storyline, Little Birds is a raw, gritty, independent drama that leaves a lasting impression on its viewers.
Little Birds is a Drama movie released in 2012. It has a runtime of . Critics and viewers have rated it moderate reviews, with an IMDb score of 6.1. It also holds a MetaScore of 41.
How to Watch Little Birds
Where can I stream Little Birds movie online? Little Birds is available to watch and stream, buy on demand, download at Tubi TV, Vudu Free, Google Play. Some platforms allow you to rent Little Birds for a limited time or purchase the movie for downloading.



Stream movies like Little Birds
Also starring Juno Temple
Also starring Kay Panabaker
Watch movies on Apple TV+