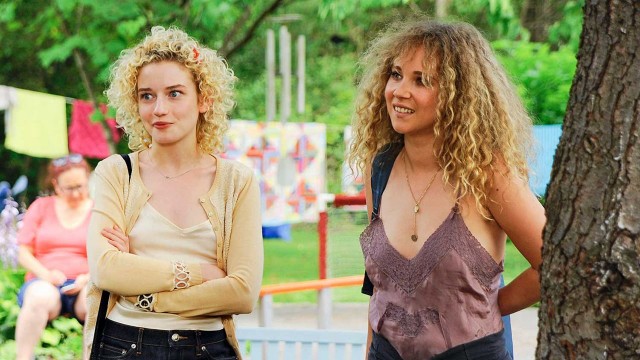 Where to Watch One Percent More Humid

One Percent More Humid is a compelling and soul-stirring drama that weaves a story of grief, loss and the resilience of the human spirit. Directed by Liz W. Garcia and released in 2017, the film delves into the emotional complexity and turmoil of two young women grappling with the death of a friend, casting a solemn spotlight on the human parsing of grief, guilt and redemption. The film features an effervescent and heartbreaking appearance by Juno Temple, portraying the character of Iris, along with Julia Garner, playing her best friend Catherine. These two young women, on returning to their small rural hometown in the oppressive heat of a East Coast summer find their relationship tested to breaking point as they both handle their traumatic loss in drastically different manners. Juno Temple delivers a powerhouse performance as Iris, a college-age girl whose almost spectral existence in the film reels pulls viewers directly into her world haunted by tragedy. Iris's character is marked by her struggle to reconcile her guilt in a malaise of self-destruction and promiscuity as she uses physical connection with her teacher (played by Mamoudou Athie) as an escape from reality, a broken attempt to boil down her trauma into something sensibly human. Julia Garner's character is Catharine, Iris's best friend, who shares Iris's secret, a secret that ties them inexorably to their past. Catharine's outwardly erratic behaviour and emotional volatility counter Iris's self-destructive numbness. Julia Garner effortlessly portrays Catharine's spiral descent into despair, and her struggle against the cloudy notions of guilt and innocence is gut-wrenchingly palpable. The past unfolds gingerly through fragmented sundry flashbacks, revealing the source of their guilt and grief. Many scenes in One Percent More Humid are steeped in symbolism, with water motif appearing in critical junctures in the film, perhaps a tribute to the literal and metaphorical dampness of life after a profound loss. Supporting them, Mamoudou Athie as Gerald, an enigmatic college professor, adds additional layers to the immersive narrative by embarking on an illicit and complex relationship with Iris. Mcnairy as Billy, the divorced older brother to Catherine injects an element of untethered rawness into his character. The carefully-crafted interactions among the characters and the perceptive dialogues emphasized the disquieting turmoil the characters are going through. The setting of a muggy summer in the East Coast town where Iris and Catharine are crammed together in Catharine's family house lends an eerie appropriacy to the psychological landscape of the narrative. The physically oppressive heat becomes a part of the narrative, reflecting the characters' internal torment and layering an almost claustrophobic tension over their interactions and the film as a whole. The melancholic soundtrack, deftly used throughout the movie, accentuates the sombre and gripping narrative, helping to portray the heavy-hearted themes and emotional gravity that define almost every frame of this film. One Percent More Humid explores the harrowing process of tragedy, guilt, and the irreversible damage it can do to the human soul. It explores themes of love, loss, youth and confronting the uncomfortably oppressive weight of one's past. Each character is grappling with the challenge of survival amidst their emotional wreckage. The movie candidly exposes the profound messiness of grieving, the wrangling with memories, the trying to forget and the forgiving of oneself. The film brings forth the unsettling ease with which youth, with its reckless abandon and innocence, can be punctured by life's yokes. It artistically presents the characters as they grope through the darkness of their problems, lost in a haunting mist of grief and regret that hangs heavily over their existence. One Percent More Humid is an immersive, heart-wrenching delve into the estranging confinement of trauma, grief and guilt. It's a thought-provoking offering that will linger in your mind long after the credits roll, a gracious exploration of human suffering which is unflinching in its depiction of life's sometimes unbearable heaviness. A must-watch for those who appreciate raw, emotional drama, and aren't afraid to explore the depths of human sorrow and resilience.
One Percent More Humid is a Drama movie released in 2017. It has a runtime of 100 min.. Critics and viewers have rated it moderate reviews, with an IMDb score of 5.6..
How to Watch One Percent More Humid
Where can I stream One Percent More Humid movie online? One Percent More Humid is available to watch and stream, buy on demand, download at Apple TV, Amazon, Google Play, Vudu. Some platforms allow you to rent One Percent More Humid for a limited time or purchase the movie for downloading.

Stars
Juno Temple, Maggie Siff, Olivia Luccardi, Alessandro Nivola, Julia Garner, Mamoudou Athie, Philip Ettinger, Jack DiFalco, Ricky Goldman

Stream movies like One Percent More Humid
Also starring Juno Temple
Also starring Julia Garner
Watch movies on Apple TV+