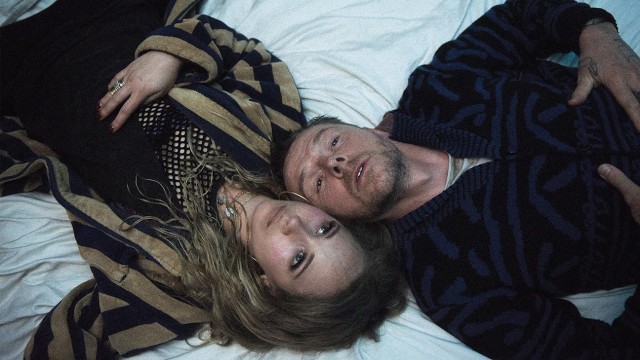 Where to Watch Lost Transmissions

Lost Transmissions is a highly compelling drama film that was officially released in 2019. The movie represents a heartfelt exploration of mental health, friendship, and the music industry, weaving a deeply poignant tale that resonates with audiences to its core. Directed by Katharine O'Brien, the film features an ensemble cast led by the talented Juno Temple, the versatile Simon Pegg, and the charismatic Rebecca Hazlewood. The film expertly showcases Temple in the role of Hannah, a shy, introverted songwriter who moves to Los Angeles to pursue her passion for writing music. An unexpected opportunity leads her into the pathway of the prominent music producer, Theo Ross, portrayed by Simon Pegg. Theo, a likable character, is depicted as eccentric, energetic, and immensely passionate about music. Pegg's portrayal breathes life into his character, making him feel both relatable and deeply human. Meanwhile, Hazlewood appears as Charlie, a close friend and often a voice of reason within the dynamic between Theo and Hannah. Together, they form the main triumvirate of characters that drive the story forward. The film effectively uses these key characters to create a web of relationships that ultimately becomes vital to the narrative, thereby adding depth to each character's role and their importance in the plot structure. Lost Transmissions elegantly delves into the complexities of mental health. The movie goes beyond merely depicting everyday life in music industry circles to courageously highlight the often overlooked aspect of mental health illnesses within these settings. With Theo's mental health condition progressively worsening, the narrative takes us through the tumultuous whirlwind of emotions and experiences that individuals with mental health disorders typically go through. The film moves from being a heartwarming story about friendship and music to a deeply impactful exploration of mental health issues and the prevailing societal attitudes towards them. This shift is achieved via a sensitive and intimate portrayal of a man fighting his own mind, while the people around him grapple with the challenge of how to help. This nuanced narrative is made intensely personal and emotionally charged through Pegg's power-packed performance as he switches from the high-spirited musician-producer to someone battling grave mental health problems. Contrasting the catchiness of its popular-sounding title, Lost Transmissions is a profound and heartfelt drama that unflinchingly delves into themes of personal struggle and mental health. The use of music and the industry as a backdrop to such a heavy narrative direction helps with maintaining a semblance of lightness. The excellent performances by the leading actors, their palpable chemistry, and their respective characterizations, further manage to draw viewers in, ensuring an engaging and immersive viewing experience. Juno Temple's Hannah is particularly powerful, as she finds herself emotionally invested in Theo's struggle and is determined to help him. The emotional journey Hannah embarks on is mirrored by Temple's performance, which steadily evolves from timid and reserved to proactive and empathetic. Her portrayal of Hannah anchors the narrative as she represents the audience's perspective, bringing us closer to understanding Theo's plight. Lost Transmissions also manages to be aesthetically pleasing. Boarding upon an indie vibe, the visual style and choice of locations, mostly set around recording studios, rooftops, house parties, and raw, unfiltered streets of Los Angeles, creates a beautifully stark contrast against the darker narrative tones. Furthermore, despite the seriousness of its central subject matter, the movie also features its share of lighthearted moments and subtle humor that makes this emotional journey somewhat bearable. In addition to being an eye-opener about mental health, the movie masterfully draws parallels between the world of music and human emotions. It effortlessly illustrates how divergent chords and melodies can come together to form a harmonious symphony, much like the differing personas of the characters combining to form a compelling narrative. To sum it up, Lost Transmissions is a well-crafted drama that delicately and skilfully explores the complex themes of friendship, music, and mental health, with a compelling plot and convincing performances from its ensemble cast. It leaves viewers pondering about the less-talked-about aspects of the music industry and society's approach towards mental health. The film, with its well-rounded characters and unique narrative voice, makes a striking impression and is a definite must-watch for lovers of thought-provoking, character-driven drama.
Lost Transmissions is a Drama movie released in 2020. It has a runtime of 103 min.. Critics and viewers have rated it moderate reviews, with an IMDb score of 5.1. It also holds a MetaScore of 51.
How to Watch Lost Transmissions
Where can I stream Lost Transmissions movie online? Lost Transmissions is available to watch and stream, buy on demand, download at Amazon Prime, Peacock, Crackle, Plex, Pluto TV, Tubi TV, Vudu Free, Apple TV, Amazon, Google Play, Vudu. Some platforms allow you to rent Lost Transmissions for a limited time or purchase the movie for downloading.


Director
Katharine O'Brien
Stars
Juno Temple, Simon Pegg, Alexandra Daddario, Tao Okamoto, Bria Vinaite, Jamie Harris, Rebecca Hazlewood, Grant Harvey, Danny Ramirez

Stream movies like Lost Transmissions
Also starring Juno Temple
Watch movies on Apple TV+