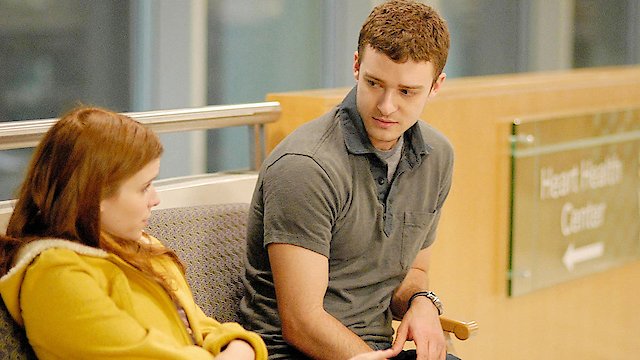 Where to Watch The Open Road

The Open Road is a charming 2009 drama-comedy film featuring prominent Hollywood actors Justin Timberlake, Ted Danson, and Harry Dean Stanton. Directed and penned by Michael Meredith, the movie is a heartfelt exploration of a frazzled father-son relationship seeking reconnection through an unplanned road trip embellished with essential life lessons, emotional encounters, and the signature humor sprinkled throughout. The movie thrusts us in the world of Carlton Garrett, played brilliantly by Justin Timberlake, a minor league baseball player struggling not only with his professional life but personal as well. He must face the challenge of reuniting with his estranged father, Kyle Garrett (Jeff Bridges). Kyle, an aging baseball legend, has built a wall around himself due to his constant conflicts, lack of commitment, and notorious personality. The drama starts unfolding when Carlton's mother, Katherine Garrett (Mary Steenburgen), falls ill and requires life-saving surgery. Her wish is to see her ex-husband, a feat made complex by their bitter past. Carlton's mission to find and bring his father becomes the crux of the movie. The unforgettable road journey that follows forms the core imagery of The Open Road, where various life chapters open up, and strained relationships gradually attempt to find common ground. Ted Danson portrays the role of Carlton's friend, Bart, whose assistance becomes quite crucial throughout their mission. On the other hand, the late Harry Dean Stanton does justice to his brief role as Amon, Kyle's father. His seasoned acting skills, combined with his subtle persona, add a unique charm to the storyline. The Open Road beautifully explores the intergenerational tug of war, focusing on the sharp differences between the old school Kyle and the more contemporary Carlton. Their journey toward reconciliation is not smooth; the movie delves into the complexities of their relationship with clever wit, gradual understanding, and shared moments of emotion, thus mending their bond in an organic and believable way. Justin Timberlake does a commendable job as Carlton, showcasing varied emotions ranging from frustration and resentment to soft-spoken compassion when required. He offers a balanced performance as a character grappling with his professional dreams while trying to fix his personal life. Contrarily, Jeff Bridges as Kyle portrays a charismatic yet emotionally detached father with a sardonic sense of humor. His resistance to change serves as the crux of the drama. Despite his apparent flaws, Bridges manages to create an empathetic character, particularly as he comes face to face with missed opportunities and neglected relationships. In addition, Ted Danson as Bart and Mary Steenburgen as Katherine serve the necessary intensity and blend perfectly with the movie's dramatic atmosphere, making their characters memorable. Through clever dialogues and heartfelt scenes, The Open Road explores numerous themes, such as familial ties, love and romance, reconciliation, hope, remorse, and self-reflection. It particularly shines a light on the concept of fatherhood, carefully delving into the often complex dynamics between a father and son. However, despite the palpable tension and drama, the movie does not lack a humorous side. Be it Kyle's uncanny comments or Carlton's confused reactions, The Open Road weaves in humor effectively, making for a pleasant viewing experience. What truly stands out in this movie is the sense of realism that pervades the storyline. There are no overly dramatic moments or convoluted plot twists. Instead, the movie focuses on the emotional progress of its main characters, revealing their layers one by one. This slow but steady unfoldment gives the audience ample time to bond with the characters, making it a compelling emotional journey. In essence, The Open Road is a splendid blend of drama, comedy, and emotions, with fantastic performances from its star-studded cast. The movie takes its audience on an unforgettable journey of reunion and reconciliation, served with a healthy dose of humor and poignancy, making it a delight to watch. The Open Road is about rediscovering relationships and finding closure amidst the complexities of life. It tells us that it's never too late to make amends and start anew.
The Open Road is a Comedy, Drama, Romance movie released in 2009. It has a runtime of . Critics and viewers have rated it moderate reviews, with an IMDb score of 5.5. It also holds a MetaScore of 47.
How to Watch The Open Road
Where can I stream The Open Road movie online? The Open Road is available to watch and stream, buy on demand, download at Amazon Prime, Plex, The Roku Channel Free, Pluto TV, Tubi TV, Vudu Free, Apple TV, Amazon, Google Play, YouTube VOD, Vudu. Some platforms allow you to rent The Open Road for a limited time or purchase the movie for downloading.


Stars
Jeff Bridges, Justin Timberlake, Kate Mara, Harry Dean Stanton, Lyle Lovett, , Mary Steenburgen
Genres
Comedy, Drama, Romance

Stream movies like The Open Road
Also starring Justin Timberlake
Watch movies on Apple TV+