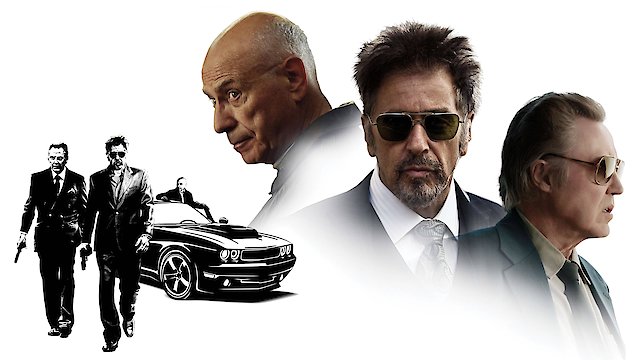 Where to Watch Stand Up Guys

Stand Up Guys is a 2012 action-comedy film expertly crafted by director Fisher Stevens. This lively movie stars three seasoned, award-winning actors – Al Pacino, Christopher Walken, and Alan Arkin, each bringing their own charisma and flair to the table. The craftsmanship of this trio adds an undeniable charm to the film, as they breathe life into their respective characters with unparalleled skill and authenticity, masterfully infusing humor and pathos into the narrative fabric of the story. The film opens when Val (Al Pacino), an aging, recently paroled gangster, steps out from prison, tasting freedom after a lengthy 28-year sentence. Welcoming him into the world outside is his old colleague and lifelong friend Doc (Christopher Walken), a fellow retired gangster living a quiet life. The two friends, now weathered and grizzled versions of their former selves, decide to revisit their glory days and reignite the spark of their youthful rebellion. They are soon joined by another old associate, Hirsch (Alan Arkin), turning their duet into a trio of nostalgic geriatric crooks. Stand Up Guys follows the adventures of this charming trio as they paddle through the tumultuous waters of the underworld while grappling with their own personal issues. The movie is a captivating study of friendship, loyalty, aging, and redemption, taking viewers on a memorable ride filled with laughter, tears, and nostalgia in equal measures. It is reminiscent of a 'buddy film,' encouraging audiences to reflect on the value of long-held friendships while resonating with the realities of growing older, dealing with past mistakes, and facing inevitable endings. Each actor delivers an engaging performance that adds to the overall allure of the film. Al Pacino, in the role of Val, paints the picture of a man who carries the burden of his past, regretting nothing yet subtly longing for things that could have been. Christopher Walken, as Doc, portrays just the right blend of tenderness and toughness, capturing the essence of a man torn between duty and friendship. Alan Arkin, playing Hirsch, brings in a delightful mix of grumpiness and naivety, demonstrating a comic genius that lightens the film's darker undertones. As the three old "stand-up" guys traverse through the crime-infested underbelly of their city, they come across various situational comical instances, highlighting the film's trademark blend of crime and comedy. Their journey is punctuated with bouts of hilarity, heartwarming scenes, surprising twists, and most importantly, the brooding reminder that their time is running out. Fisher Stevens skillfully injects a unique blend of emotions into the narrative. He tastefully integrates elements of thrill and action into the storyline without compromising its dramatic and comic aspects. The cleverly written script, composed by Noah Haidle, perfectly resonates with the overall theme and setting of the movie. It aptly encapsulates the essence of the characters and their journey, adding depth to the narrative. The cinematography by Michael Grady and the gritty visual aesthetic of Stand Up Guys perfectly capture the raw character of its urban setting and injects a visual dynamism into the film. Smooth camera angles and thoughtfully designed sets create an atmosphere that complements the narrative. The film's color palette is dominated by hues that evoke a sense of nostalgia and melancholy, subtly hinting at the protagonists' past lives and their adventures together. Stand Up Guys boasts a well-executed compilation of soundtracks that add a certain rhythm to the story. This eclectic combination of upbeat and soulful music not only complements the narrative but also becomes an integral part of the storytelling, adding layers to the movie's overall theme. This film, at its core, offers an unabashed look into the twilight years of long-time confidants, their struggles with age and morality, and their fascinating journey in pursuit of one last hurrah. It is a compelling, charismatic, and at times poignant depictition of friendship, loyalty, and the liberated spirit of rebellion that never dies– even when everything else seems to have faded away. In conclusion, Stand Up Guys is a captivating blend of action, comedy, and drama that strikes the right balance between humor and pathos. The impressive performances by its leading cast, its cleverly written script, and its captivating cinematography make the movie a must-watch for fans of crime-comedy films. For those looking for a meditative journey into aging, redemption, and enduring bonds of friendship, Stand Up Guys perfectly fits the bill.
Stand Up Guys is a Thriller, Comedy, Action movie released in 2012. It has a runtime of 94 min.. Critics and viewers have rated it moderate reviews, with an IMDb score of 6.4. It also holds a MetaScore of 41.
How to Watch Stand Up Guys
Where can I stream Stand Up Guys movie online? Stand Up Guys is available to watch and stream, buy on demand, download at Amazon Prime, The Roku Channel Free, Pluto TV, Tubi TV, Vudu Free, Apple TV, Amazon, Google Play, YouTube VOD, Vudu. Some platforms allow you to rent Stand Up Guys for a limited time or purchase the movie for downloading.


Stars
Al Pacino, Christopher Walken, Alan Arkin
Genres
Thriller, Comedy, Action

Stream movies like Stand Up Guys
Also directed by Fisher Stevens
Also starring Christopher Walken
Watch movies on Apple TV+