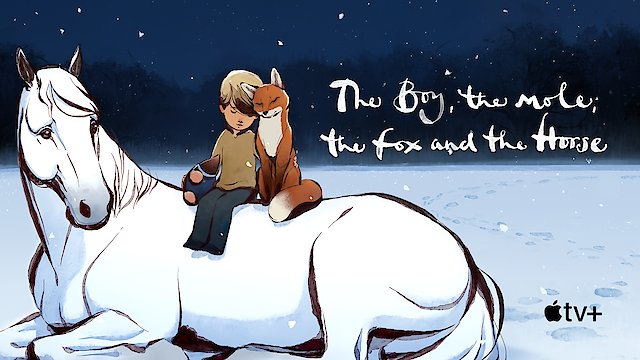 The Boy, the Mole, the Fox and the Horse

Where to Watch The Boy, the Mole, the Fox and the Horse

The Boy, the Mole, the Fox and the Horse is a heartwarming story that explores friendship through a series of conversations between four characters – a curious boy, a sly fox, a fretful mole and a gentle horse. Written and illustrated by acclaimed artist Charlie Mackesy, this modern fable delivers beautiful life lessons through these unlikely friends. We meet the Boy, who wanders through the countryside asking big questions and seeking answers. He encounters the Mole who, despite being fearful and anxious much of the time, offers the Boy reassurance and encouragement. Their friendship grows when the Boy realizes he can boost the Mole's confidence through empathy and understanding. The pair then meet the restless Fox, who seems to know something about everything. The skeptical Fox presents alternative views for the Boy to consider. Though opposite in temperament, the Boy and Fox develop a mutual fondness and respect. Later, the trio are awestruck to meet the magnificent Horse – a sage-like figure full of grace. The Horse allows each small friend to see the world from a fresh perspective by sharing his hard-earned wisdom. Between the four, they discover how their differences can unite them. These thoughtful characters reflect our own struggles, insecurities, questions and connections. Their poignant exchanges are distilled into memorable mantras we can turn to when in need of guidance: "What do you want to be brave about?" the Horse asks the Boy. "Just because you can't see it doesn't mean it isn't there," shares the Fox. Through minimalist line drawings and handwritten text, Mackesy evokes the timeless quality of these parables passed down through generations. The essence of life's most vital lessons are captured between the covers of this heartening book. Across all ages, The Boy, the Mole, the Fox and the Horse explores profound ideas with endearing simplicity. Whimsical yet moving, it's a tale of kindness, empathy, courage and friendship that will spark thought-provoking conversations. This modern allegory promises to bring people together through the journey for greater understanding.
The Boy, the Mole, the Fox and the Horse is a Animation movie released in 2022. It has a runtime of 34 min.. Critics and viewers have rated it moderate reviews, with an IMDb score of 7.8. It also holds a MetaScore of 75.
How to Watch The Boy, the Mole, the Fox and the Horse
Where can I stream The Boy, the Mole, the Fox and the Horse movie online? The Boy, the Mole, the Fox and the Horse is available to watch and stream at Apple TV+.


Stars
Tom Hollander, Idris Elba, Gabriel Byrne

Stream movies like The Boy, the Mole, the Fox and the Horse
Also starring Tom Hollander
Watch movies on Apple TV+