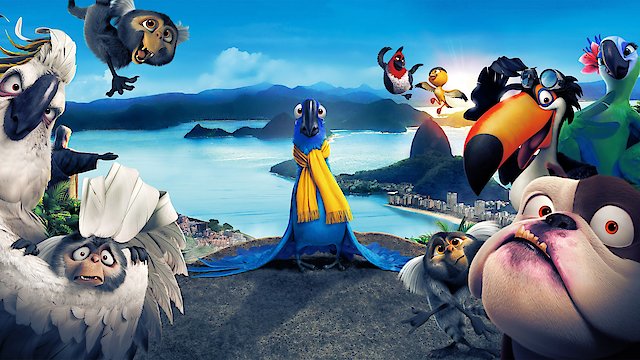 Where to Watch Rio

Rio, released in 2011, is a vibrant, colorful, musically-driven 3D animated film from Blue Sky Studios, renowned for bringing the Ice Age franchise to life. Directed by Carlos Saldanha - a native of Brazil himself - and featuring voice talents of Jesse Eisenberg, Anne Hathaway, George Lopez, among others, this delightful animation draws audiences into the heart of Rio de Janeiro, steeped in Samba culture. Jesse Eisenberg, known for roles in thought-provoking dramas such as The Social Network, dives into animated characterization with his lead role as Blu, a charmingly neurotic and homebound blue macaw. Raised in the small town of Moose Lake, Minnesota, Blu leads a comfortable life with his quirky owner and best friend, Linda (Leslie Mann). Described by Eisenberg as socially awkward yet highly intellectual, Blu epitomizes the domesticated pet that has never learned to fly. He survives on hot chocolate and pancakes, is fascinated by the shiny features of a new iPod, and has a nightly routine of tucking himself in with his teddy bear. His cozy domestic life, however, is about to take a rather unexpected turn. When an ornithologist from Rio de Janeiro, Tulio (Rodrigo Santoro), finds out about Blu, he reveals that our feathered protagonist is one of the last male blue macaws in existence. To prevent their species from going extinct, Tulio invites Linda and Blu to Rio, promising to reintroduce Blu to the last female of their kind, Jewel. Anne Hathaway lends her energetic voice work to Jewel, portraying a fiercely independent and adventurous spirit in stark contrast to Blu's homebody personality. Rio thus unfolds into a journey about companionship, identity, courage, environmental themes, and of course, love. The film takes off at this point, diving into the liveliness of Rio's Carnival, samba rhythms, and the city's vast biodiverse landscapes. In this setting, Blu and Jewel contend with the hustle and bustle and many dangers lurking behind Rio's captivating vistas, unveiling an exciting adventure with humor, drama, suspense, and heartwarming interactions. One of the distinctive aspects of Rio is its stunning animation that brings the vibrant city's unique canvas to life. Besides bustling cityscapes, soaring vistas and dramatic hillside favelas, the movie also captivatingly portrays the lush rainforests and the dazzling spectacle of the Carnival. Complementing these enchanting visuals is the movie's fantastic soundtrack. The film effectively uses music as a narrative tool, with upbeat, toe-tapping tunes that perfectly capture the spirit and energy of Brazilian culture. The musical score, composed by John Powell and featuring songs by artists like Sergio Mendes, is a melodic blend of traditional Brazilian beats and contemporary pop, enhancing the overall appeal and immersion of the film. Rio offers a kaleidoscope of fascinating characters beyond its leads. George Lopez plays Rafael, a romantic toucan who decides to help Blu win Jewel's heart. Jamie Foxx and will.i.am voice Nico and Pedro, a canary and a cardinal team that add a unique flair of humor and rhythm to the adventure. We also meet the villainous cockatoo Nigel, brought to life by Jemaine Clement. Each character provides a greater depth to the plot and contributes significantly to the overall narrative. The voice acting deserves a special mention. The rapport between Jesse Eisenberg and Anne Hathaway is palpable. Eisenberg pulls off the nerdy character of Blu with tremendous charm, while Hathaway breathes life into Jewel, creating a splendid mix of sassiness, charm, and tenderness. Overall, Rio is a delightful blend of comedy, adventure, and music, which transports its viewers right into the heart of a bustling city with all its glamour and complexities. With its message of stepping out of one's comfort zone, discovering the beauty of newfound freedom and courage, it's a movie that appeals to audiences of all ages. The vibrant visuals, buoyant music, and compelling storyline of Rio, along with its well-rounded characters, resonate with a global audience, making it an exquisite, colorful, and exciting cinematic journey that's worth every moment.
Rio is a Animation, Adventure, Comedy, Kids & Family movie released in 2011. It has a runtime of 96 min.. Critics and viewers have rated it moderate reviews, with an IMDb score of 6.9. It also holds a MetaScore of 63.
How to Watch Rio
Where can I stream Rio movie online? Rio is available to watch and stream, buy on demand, download at Amazon Prime, Disney+, The Roku Channel Free, Apple TV, Amazon, Google Play, YouTube VOD, Vudu. Some platforms allow you to rent Rio for a limited time or purchase the movie for downloading.


Stars
Jesse Eisenberg, Anne Hathaway, George Lopez, Jake T. Austin, Jamie Foxx, Rodrigo Santoro, Tracy Morgan, Will.i.am, Jane Lynch, Leslie Mann
Genres
Animation, Adventure, Comedy, Kids & Family

Also directed by Carlos Saldanha
Also starring Jesse Eisenberg
Also starring Anne Hathaway
Watch movies on Apple TV+