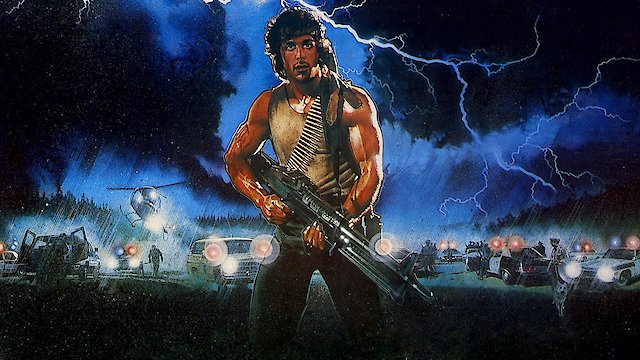 Where to Watch First Blood

First Blood is a gripping 1982 action-adventure film directed by Ted Kotcheff and starring Sylvester Stallone, Brian Dennehy, and Richard Crenna. Screenplay written by Michael Kozoll, William Sackheim, and Stallone himself, the movie is based on David Morrell's 1972 novel of the same name. The film's plot revolves around the ongoing struggles of a veteran, John Rambo, as he faces hostility and alienation after returning home from the horrors of the Vietnam War. In this groundbreaking movie, Sylvester Stallone breathes life into the stoic, battle-hardened character of John Rambo, a former Green Beret and Medal of Honor recipient. Stallone's compelling performance paints a nuanced picture of a war hero battling not only his foes but also his inner demons that haunt him from his time on the battlefield. Brian Dennehy brilliantly portrays the formidable antagonist, Will Teasle, a small-town sheriff in Washington State who is unyielding and unsympathetic. He takes a ruthless 'us versus them' mentality towards outsiders and views the quiet and unassuming Rambo as an easy target, grossly underestimating his combat experience and survival skills. Richard Crenna convincingly plays Colonel Sam Trautman, Rambo's commanding officer in Vietnam. Trautman is the only person who understands Rambo's mental state and the extent of his military training. Crenna's character serves a dual role in the film: as the voice of reason and the physical embodiment of Rambo's turbulent past. The film opens with John Rambo wandering into a small town in search of an old war-buddy, only to be met with adversity in the form of rough and uncompromising law enforcement led by Sheriff Teasle. After a series of mistreatments triggers his post-traumatic stress disorder (PTSD), Rambo uses his combat skills to stand against the heavy-handed tactics of local law enforcement, leading him to become an outlaw. The escalating conflict puts the whole town under siege, and no one seems capable of pacifying or stopping Rambo. Sheriff Teasle, hell-bent on capturing the solo renegade, fuels the tension further by refusing any compromise. First Blood is more than a vivid portrayal of a one-man war against an entire town; it shines a light on the societal crisis post the Vietnam War era, exposing a deeper narrative about the neglect and adversity faced by veterans. It exposes the challenges returned soldiers face while trying to reintegrate into society, the mismanagement of veterans affairs, and the lack of understanding around PTSD in the years following the Vietnam War. The film is an adrenaline-fueled, survival thriller, charged with high-intensity chase sequences and inventive fight scenes. The beautiful forests of British Columbia, where the movie was shot, act as an evocative backdrop for Rambo's engrossing battle for survival. What sets First Blood apart from many war-based movies is its lack of glorified violence. Instead, it espouses the grim aftermath of war and the often invisible struggles faced by those who have survived it. This idea is shrewdly assimilated amidst thrilling action sequences which make the movie compelling. Primarily driven by eponymous characters, First Blood astutely juxtaposes the phenomenon of an indomitable human spirit against the backdrop of societal ignorance and mistreatment. It unfolds, not just as a tale of nail-biting action but also as a study in character development. The cinematography brilliantly captures the raw and visceral nature of Rambo's escape and survival. The score by Jerry Goldsmith perfectly blends with the on-screen action, intensifying suspense and the unsettling atmosphere. With First Blood, Stallone delivered an iconic character that would become a cultural touchstone. Stallone's portrayal of John Rambo is a very different kind of action hero than his Rocky Balboa, laying bare the intense physicality, exhaustion, and desperation of someone driven to his limits. In conclusion, the combination of a thought-provoking narrative, emotionally charged performances, compelling action and suspense sequences, and brilliant cinematic production implies that First Blood is much more than an ordinary action movie. It's an intense portrayal of a forgotten veteran's quest for respect and survival and a powerful and gritty portrayal of the struggles faced by veterans post their service.
First Blood is a Action, Adventure, Thriller, War movie released in 1982. It has a runtime of 97 min.. Critics and viewers have rated it moderate reviews, with an IMDb score of 7.7. It also holds a MetaScore of 61.
How to Watch First Blood
Where can I stream First Blood movie online? First Blood is available to watch and stream, buy on demand, download at Hulu Plus, Paramount+, Amazon Prime, The Roku Channel, Apple TV, Amazon, Google Play, Microsoft Movies & TV, YouTube VOD, Vudu. Some platforms allow you to rent First Blood for a limited time or purchase the movie for downloading.


Stars
Sylvester Stallone, Richard Crenna, Brian Dennehy
Genres
Action, Adventure, Thriller, War

Stream movies like First Blood
Watch movies on Apple TV+
Also directed by Ted Kotcheff
Also starring Sylvester Stallone
Also starring Brian Dennehy