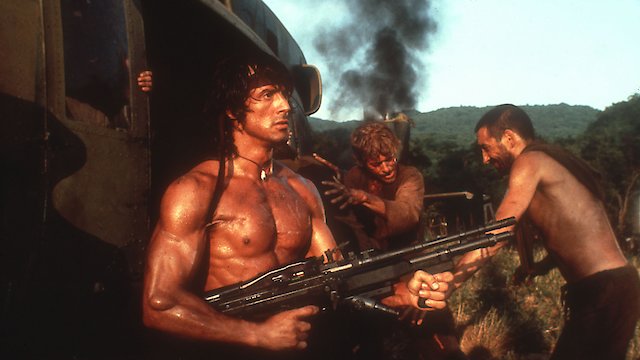 Rambo: First Blood Part II

Where to Watch Rambo: First Blood Part II

Rambo: First Blood Part II is the gripping sequel to the 1982 inaugural outing of Sylvester Stallone's iconic character, John Rambo. Released in 1985 under the deft directorship of George P. Cosmatos, this film builds upon the themes established in the original and takes them to a new level entirely. Featuring an intense storyline, extraordinary fight sequences, and a powerful performance by Stallone, Rambo: First Blood Part II became one of the era's defining action movies, producing an experience that is both electrifying and emotionally engaging. The film continues the saga of John Rambo, a former Green Beret and Vietnam War veteran trying to navigate his way through the challenging maze of post-war American society. At the heart of this sequel lies Rambo's return to Vietnam, not to fight a war, but to rescue American POWs who are still being held captive. The premise plays into Rambo's unique skill set and situates him within a context that plays to his strengths, thereby propelling the narrative in exciting directions. Stallone's portrayal of John Rambo shines through in this film. His sincere performance paints Rambo as a physical powerhouse with a surprisingly tender soul, weaving a compelling narrative around the horrors of war and its aftermath. The prolific actor's commitment to embodying Rambo's broad spectrum of emotional states makes the character feel more real and relatable for the viewers. Sylvester Stallone is not the only stand-out in the film, however. He is ably supported by Richard Crenna who reprised his role as Colonel Samuel Trautman. He delivers a nuanced performance that beautifully conveys a high-ranking officer's dilemma between duty and personal loyalty. Charles Napier rounds out the frequently tense dynamic between Stallone and Crenna's characters by delivering a strong performance as the shady government operative Marshall Murdock. Aside from the memorable acting performances, Rambo: First Blood Part II also boasts spectacular production values, with particular emphasis on its distinctly vibrant combat scenes. Renowned for its high-octane action sequences, the movie features some of the most thrilling cinematic moments of the 80s. The explosive set-pieces, coupled with meticulous choreography of hand-to-hand combat, showcases the film's intent to go above and beyond what the audience has seen before. Likewise, the cinematography of the film plays a crucial role in conveying the cruel beauty of the Vietnamese jungle, where most of the action unfolds. Jack Cardiff's lens captures the dense foliage and inhospitable terrains with an appealing realism that adds a harrowing aspect to Rambo's mission. Underneath all the gunfire and spectacle, Rambo: First Blood Part II is also a studied commentary on the toll of war on the human psyche. It grapples with the trauma that soldiers carry even after they leave the battlefield, the broken promises of those in power, and the struggles faced by veterans adapting back into society. Stallone's stoic portrayal of Rambo perfectly encapsulates these issues, and the movie deserves credit for not only highlighting them but also weaving them seamlessly into the narrative. Jerry Goldsmith's electrifying score is another highlight, adding richness and depth to the proceedings. Ranging from the stirring patriotic themes to the emotive quieter moments, the music is impactful, heightening the tension during action scenes and underscoring the drama of the quieter moments. In terms of legacy, Rambo: First Blood Part II set the benchmark for the future of action cinema, influencing countless films in the genre. Its success launched a franchise that has effectively become a cultural phenomenon, etching John Rambo's character firmly into the pop culture lexicon. In conclusion, Rambo: First Blood Part II is an exciting cinematic journey that delivers adrenaline-fueled action, dramatic storytelling, and nuanced performances from its cast. Whether you're revisiting this classic or experiencing it for the first time, this film balances the heart-pounding action sequences with a poignant exploration of Rambo's inner struggles, making it a must-see not only for action fans but also for those who appreciate engaging character-driven narratives.
Rambo: First Blood Part II is a Action, Adventure, Thriller, War movie released in 1985. It has a runtime of 94 min.. Critics and viewers have rated it moderate reviews, with an IMDb score of 6.5. It also holds a MetaScore of 47.
How to Watch Rambo: First Blood Part II
Where can I stream Rambo: First Blood Part II movie online? Rambo: First Blood Part II is available to watch and stream, buy on demand, download at Hulu Plus, Paramount+, Amazon Prime, Pluto TV, Apple TV, Amazon, Google Play, Vudu. Some platforms allow you to rent Rambo: First Blood Part II for a limited time or purchase the movie for downloading.


Director
George P. Cosmatos, Sylvester Stallone (uncredited)
Stars
Sylvester Stallone, Richard Crenna, Charles Napier, Steven Berkoff, Julia Nickson, Julian Turner
Genres
Action, Adventure, Thriller, War

Stream movies like Rambo: First Blood Part II
Watch movies on Apple TV+
Also starring Sylvester Stallone
Also starring Richard Crenna