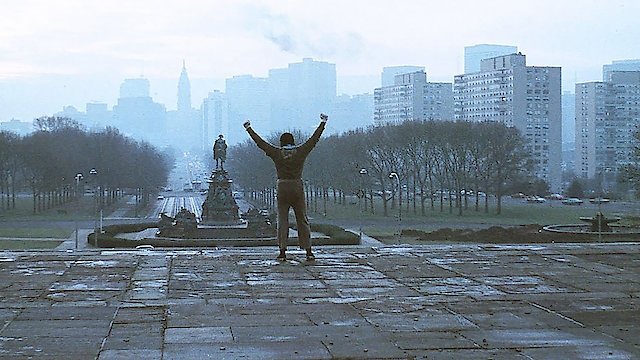 Where to Watch Rocky

Rocky is a 1976 American sports drama film that catapulted Sylvester Stallone into cinematic fame and established him as a formidable actor and screenwriter. Directed by John G. Avildsen and written by Stallone, who also starred in the lead role, the film is a heart-thrifilling underdog story set against the backdrop of professional boxing. Co-starring are Talia Shire as Adrian, Burt Young as Paulie, and Burgess Meredith as Mickey. Rocky Balboa, played by Stallone, is a small-time Philadelphia boxer with a mediocre record, living in the city's grittier neighborhoods. Balboa makes his living by boxing in small, poorly-attended fights and laboring as an enforcer for a local mobster, unable to realize his dream of making it "big" due to his unrefined fighting style and lack of opportunity. Life starts to change for Rocky when he gets the chance to fight in a high-stakes match against heavyweight champion, Apollo Creed (Carl Weathers), because of an unexpected turn of events. The charismatic, fan-favorite Creed sees this fight as a publicity stunt, while Rocky sees it as his golden opportunity to prove himself. Meanwhile, Rocky also grapples with life outside of the ring. He frets over his blooming relationship with Adrian Pennino (Talia Shire), the quiet and timid sister of his best friend, Paulie (Burt Young). Their love story offers a poignant parallel narrative to Rocky's boxing storyline, depicting the inner fights and victories the protagonist experiences. As the film progresses, Rocky's growing relationships with Adrian and his grizzled trainer, Mickey (Burgess Meredith), breathe life into the emotional contours of Rocky's journey, delicately punctuating the more intense, adrenaline-rushing elements of the narrative with moments of softness, humor, and quiet triumph. The cinematography of Rocky paints a vivid picture of the gritty aesthetic of working-class Philadelphia and fuels the film's raw aesthetic power. Cinematographer James Crabe does an excellent job of capturing Philadelphia's blue-collar neighborhoods with authenticity and respect, using their texture to heighten the film's wide range of emotions. The film's iconic training sequence, culminating in a triumphant run up the steps of the Philadelphia Museum of Art, is an unforgettable cinematic moment that is now forever fixed in pop culture history. Moreover, Rocky showcases a powerful auditory experience with Oscar-winning original music by composer Bill Conti. The main theme, "Gonna Fly Now," is a morale-boosting anthem that completes the movie's inspirational tonality, symbolizing Balboa's journey from an unknown, unpolished fighter to a symbol of resilience and perseverance. Stallone delivers a knockout performance as Rocky, capturing the heart, soul, and spirit of an everyday man presented with a life-altering opportunity. He meticulously walks the line between portraying Rocky as a tough boxer and a sensitive, sincere man, making the audience truly care for the character's trials and tribulations. The supporting cast, especially Shire and Meredith, equally contribute to the film's power with their nuanced performances. Rocky is a film about personal and professional battles, dreams and harsh realities, love, and friendship. Yet, it is more than just a boxing movie. At its heart, it is a moving human drama about an underdog who gets a shot at life. It empowers us with the message that no hurdle is too tall to overcome, no dream too big to chase, particularly when one carries the unyielding spirit of a fighter, in or out of the ring. It's a timely message of persistence that continues to resonate with audiences, making Rocky not just a film, but a piece of enduring cinematic folklore.
Rocky is a Drama, Romance movie released in 1976. It has a runtime of 119 min.. Critics and viewers have rated it mostly positive reviews, with an IMDb score of 8.1. It also holds a MetaScore of 70.
How to Watch Rocky
Where can I stream Rocky movie online? Rocky is available to watch and stream, buy on demand, download at Hulu Plus, Max, Amazon Prime, The Roku Channel, Apple TV, Amazon, Google Play, Vudu. Some platforms allow you to rent Rocky for a limited time or purchase the movie for downloading.


Stars
Sylvester Stallone, Burgess Meredith, Talia Shire, Burt Young, Carl Weathers

Watch movies on Apple TV+
Also directed by John G. Avildsen
Also starring Kinuyo Tanaka