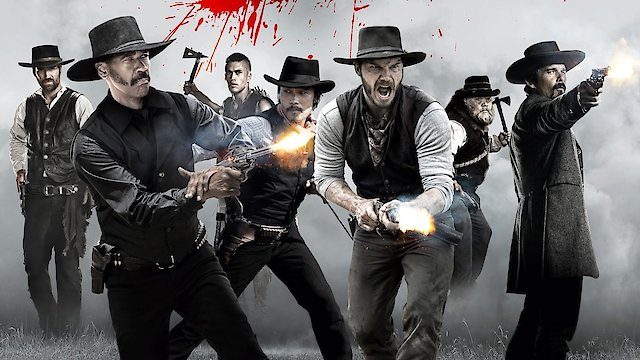 Where to Watch The Magnificent Seven

Set against the backdrop of the Old West, The Magnificent Seven is a 2016 American Western action film, which serves as a reimagination of the 1960 classic of the same name, which is itself an adaption of Akira Kurosawa's 1954 film, Seven Samurai. Directed by Antoine Fuqua, the film boasts a star-studded cast including Denzel Washington, Chris Pratt, Ethan Hawke, Vincent D'Onofrio, Byung-hun Lee, Manuel Garcia-Rulfo, and Martin Sensmeier. The ensemble, making up the eponymous seven, are a diverse group of men, hailing from different backgrounds and possessing wildly varying skills. The Magnificent Seven is the story of a small town named Rose Creek which comes under the deadly control of industrialist Bartholomew Bogue (played by Peter Sarsgaard). Boasting a misleading name, Bogue is anything but benign. His ruthless and cutthroat tactics leave the helpless townfolk terrified, and this reign of terror leads Emma Cullen, a resolute young widow played by Haley Bennett, to seek help. Denzel Washington steps into the dusty boots of Sam Chisolm, a bounty hunter known for his deadly accuracy and steadfast resolve. Chisolm is a lawful man, serving as an identifiable moral compass throughout the film. Upon hearing of the townsfolk's predicament, Chisolm takes it upon himself to assemble an eclectic mosaic of fighters to free Rose Creek from Bogue's tyranny. Chris Pratt gets cast in the role of a gambler Josh Farraday, Eden Hawke plays the part of a former Civil War marksman Goodnight Robicheaux, Vincent D'Onofrio lends his talents to a skilled tracker Jack Horne. The team gets further strength in diversity with actors like Byung-hun Lee playing a seasoned knife-fighter Billy Rocks, Manuel Garcia-Rulfo being a Mexican outlaw Vasquez, and Martin Sensmeier playing a Comanche warrior Red Harvest. The Magnificent Seven, as this motley crew calls themselves, despite their diverse and often clashing backgrounds, band together in the face of adversity. Their defining features are their grit, fearlessness, and unyielding fortitude. The film then sets to document the high-octane battles, explosive gunfights, and strategic ploys that ensue as this group aims to liberate Rose Creek. However, this is more than just a Western action-packed showdown. Fuqua's story delves deeper into each of the seven characters, bringing them to life with individual backstories, motivations, and complexities. This is not an easy feat, considering the large ensemble cast, but Fuqua deftly manages to create seven memorable characters amidst the dust clouds and bullet sprays of the Wild West. Though mighty different, all of them have one trait tying them together, a personal sense of righteousness and justice, which leads them to accept a call to arms for a people with no means to protect themselves. The film excels as a modern tribute to a beloved genre, with breathtaking panoramic shots of the beautiful, unforgiving landscape, rousing musical score composed by James Horner and Simon Franglen setting the atmosphere perfectly. As for action sequences, they're executed with the grittiness of an old-school Western and are interspersed intelligently with moments of vulnerability and humanism. The ensemble cast works wonderfully together, prospering on their chemistry and shared camaraderie. The cinematic scope of The Magnificent Seven is grand, and the storytelling robust whilst employing the Western genre's usual staples coupled with the fresh outlooks of modern Hollywood. It beautifully showcases the good old cowboy standoff, blazing guns, horseback chases, and heroic gallantry, all meshed seamlessly against an intricate plotline. Simultaneously, the film plays homage to the original while daring to venture into uncharted, exciting territories, making it appealing for younger generations unfamiliar with the classic. In conclusion, The Magnificent Seven is a tribute and a reimagining of the Western genre. Fuqua gives his audience a glimpse into the raw and unruly spirit of the Wild West, complete with scores to settle, heroes' journeys, and an unquenchable thirst for justice. The film is a saga of bravery, camaraderie, and standing up against oppressors, no matter the cost. With a stellar ensemble cast, impeccable direction, beautiful cinematography, and an exciting blend of action and drama, The Magnificent Seven is a must-watch for any Western movie fan and anyone who loves a good fight for justice.
The Magnificent Seven is a Adventure, Action, Western movie released in 2016. It has a runtime of 133. Critics and viewers have rated it moderate reviews, with an IMDb score of 6.9. It also holds a MetaScore of 54.
How to Watch The Magnificent Seven
Where can I stream The Magnificent Seven movie online? The Magnificent Seven is available to watch and stream, buy on demand, download at Amazon Prime, The Roku Channel, Apple TV, Amazon, Google Play, Vudu. Some platforms allow you to rent The Magnificent Seven for a limited time or purchase the movie for downloading.


Stars
Denzel Washington, Chris Pratt, Ethan Hawke, Vincent D'Onofrio, Lee Byung-hun, Luke Grimes, Wagner Moura, Haley Bennett, Matt Bomer, Peter Sarsgaard
Genres
Adventure, Action, Western

Stream movies like The Magnificent Seven
Also directed by Antoine Fuqua
Also starring Denzel Washington
Watch movies on Apple TV+