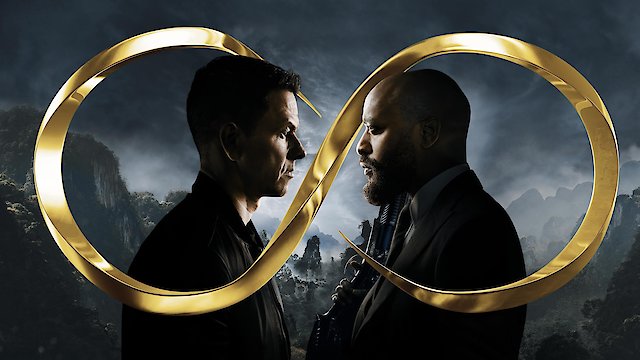 Where to Watch Infinite

Infinite is a thrilling, mind-bending 2021 science fiction action film distributed by Paramount Pictures. Directed by esteemed filmmaker Antoine Fuqua, the film boasts a stellar cast led by Mark Wahlberg alongside Chiwetel Ejiofor, Sophie Cookson, Dylan O'Brien, Rupert Friend, and Jason Mantzoukas. Mark Wahlberg steps into the shoes of Evan McCauley, a troubled man haunted by memories of places and skills he hasn't learned. In this gripping narrative of self-discovery, Evan grapples with memories that don't seem to be from his life, skills he hasn't trained for, and a profound sense of familiarity with people and places he's never been. Puzzled by this inexplicable phenomenon, Evan seeks to unearth this strange mystery as a thread of confusion, intrigue, and tension runs through his life. Chiwetel Ejiofor portrays Bathurst, an enigmatic character embroiled within the story's central intrigue. Ejiofor's tremendous ability to convey complex characters with subtlety adds depth to the storyline. The dynamics between Wahlberg and Ejiofor elevate the narrative, and their compelling performances add emotional resonance to the sophisticated plot. Sophie Cookson plays Nora Brightman, a significant character deeply tied to Evan in the enigma surrounding their existence. Her on-screen chemistry with Wahlberg is striking, enhancing the overall appeal of the film. Dylan O'Brien, Rupert Friend, and Jason Mantzoukas all provide robust supporting roles, each contributing to the film's gripping world of action and mystery. Infinite explores themes of reincarnation and eternal life against a backdrop of high-octane chases, shootouts, and close combat scenes. The script, penned by Ian Shorr, is based on D. Eric Maikranz's novel "The Reincarnationist Papers." This adaptation furnishes an imaginative twist to the sci-fi action genre, ensnaring the viewer in a plot infused with mystery, conflict, and suspense. The astounding cinematography harnesses quick-paced sequences and panoramic shots that add an immersive depth to the story. Director Fuqua expertly weaves together themes of past, present, and future, offering the audience a juxtaposition of action and existential contemplation. Furthermore, the special effects employed in the film emphasize the intense energy and forceful impact of the action sequences, making them all the more thrilling. Much of the film's appeal can be attributed to its powerfully engaging exploration of metaphysical questions concerning reality, identity, and the continuum of life. The exploration of these questions is beautifully intertwined with moments of excitement and adrenaline, ensuring the viewer is both intellectually and emotionally invested. The ravishingly produced film score sets an electrifying backdrop for the unfolding drama, heightening the action sequences while also accentuating the poignant moments within the storyline. The combination of a dense, fast-paced narrative and a multi-faceted exploration of potential human experience makes Infinite a film that mesmerizes its audience from the opening scene to the closing credits. Notably, Infinite is more than just a sci-fi action film; it's a provocative exploration of the human condition and eternal consciousness. What makes this movie stand out is its unique blend of a futuristic plotline with the philosophical questions that have intrigued mankind for centuries. The captivating performances by a critically acclaimed cast, led by Wahlberg and supported by Ejiofor and Cookson, coupled with the expert direction of Fuqua and a gripping, tightly woven narrative structure, make Infinite a must-watch for fans of the science fiction and action genres. It's a rollercoaster ride that promises action, intrigue, vast landscapes of spectacular visuals, and a thought-provoking story that will keep you hooked from start to finish. Infinite continues to push boundaries with its innovative narrative structure and visual storytelling, serving as a testament to the limitless potential that lies within the realms of science fiction and action-adventure cinema.
Infinite is a Science Fiction, Action, Thriller movie released in 2021. It has a runtime of . Critics and viewers have rated it moderate reviews, with an IMDb score of 5.5. It also holds a MetaScore of 28.
How to Watch Infinite
Where can I stream Infinite movie online? Infinite is available to watch and stream, buy on demand, download at Amazon Prime, Apple TV, Amazon, Google Play, Vudu. Some platforms allow you to rent Infinite for a limited time or purchase the movie for downloading.


Stars
Mark Wahlberg, Dylan O'Brien, Sophie Cookson, Chiwetel Ejiofor
Genres
Science Fiction, Action, Thriller

Stream movies like Infinite
Watch movies on Apple TV+
Also directed by Antoine Fuqua
Also starring Mark Wahlberg
Also starring Chiwetel Ejiofor