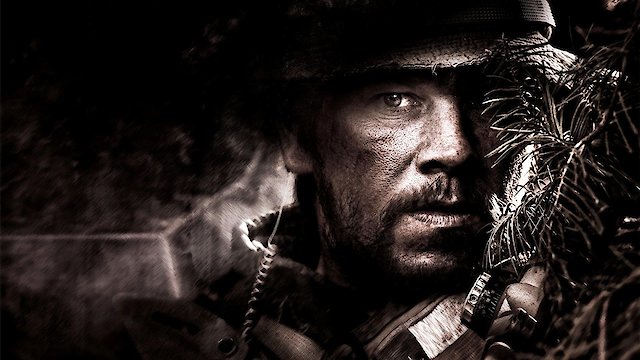 Where to Watch Lone Survivor

Lone Survivor is a 2013 American war film directed by Peter Berg, and starring Mark Wahlberg, Taylor Kitsch, and Emile Hirsch. This high-voltage action drama is based on true events and showcases the valor and heart of American soldiers. The film is inspired by the non-fiction book "Lone Survivor: The Eyewitness Account of Operation Redwing and the Lost Heroes of Seal Team 10," written by the real-life lone survivor, Marcus Luttrell, and Patrick Robinson. In the film, Wahlberg embodies the character of Navy Seal Marcus Luttrell and carries the narrative forward with his impeccable acting skills. Taylor Kitsch plays the role of Michael Murphy, the commanding officer of the mission while Emile Hirsch portrays Danny Dietz. They're also joined by Ben Foster, who brilliantly enacts the role of Matt Axelson. Together, they form a unit that is the heartbeat of the entire movie. The movie starts with a gripping narrative of four elite Navy Seals on a covert mission, Operation Red Wing. Their daunting mission is to capture or kill a notorious Taliban leader, Ahmad Shah, who has been causing turmoil in Afghanistan and has a keen foothold in the region. These four soldiers are sent to the rugged mountains of Afghanistan, where their synergy, camaraderie, and individual capabilities are put to a severe test. While the real-life story forms the crux of Lone Survivor, the film takes artistic liberties to weave a story that effectively conveys the intensity and emotional density of warfare. Peter Berg's brilliant direction unveils the tough decisions, moral dilemmas, physical duress, and emotional agony a soldier faces with an immersive perspective. From visceral hand-to-hand combat sequences to heart-stopping shootouts, the film keeps viewers on the edge of their seats. The cinematography is another highlight of the film. The rugged terrains and punishing landscapes of Afghanistan are vividly captured, adding to the film's immersive quality. The handheld camera work and focused close-ups intensify the viewing experience, offering the audience a gritty, realistic feel of being in a war zone. The stellar performances by Mark Wahlberg, Taylor Kitsch, and Emile Hirsch contribute to the movie's overall success. Wahlberg's portrayal of Marcus Luttrell is commendable, highlighting a fine line between vulnerability and resilience. Kitsch, Hirsch, and Foster offer equally compelling performances, showcasing the bravery and brotherhood of Navy Seals. In addition to the thrilling combat sequences and intense drama, Lone Survivor also presents a stark portrayal of the Afghan population, which is often caught in the crossfire of war. It shows the villagers' formidable resistance against the Taliban and their role in the eventual survival of Marcus Luttrell, adding an emotional resonance to the narrative. Lone Survivor is not just a war film; it's an honest tribute to every soldier who lays his life on the line for his nation. The film emphasizes not only the courage and determination of these soldiers but also the price they and their families pay in the line of duty. It is a poignant reminder of the uneasy peace that we enjoy because of these brave hearts who fight for our freedom. With a riveting storyline, brutal realism, and powerful performances, Lone Survivor paints an unforgettable portrait of brotherhood, sacrifice, and survival. It's an intense, raw, and highly emotional film that will leave you contemplating long after the credits roll. Whether you're a fan of war films or not, Lone Survivor is a must-watch for its gripping depiction of heroism and sacrifice in the face of adversity.
Lone Survivor is a Action, Drama, War movie released in 2013. It has a runtime of 121. Critics and viewers have rated it moderate reviews, with an IMDb score of 7.5. It also holds a MetaScore of 60.
How to Watch Lone Survivor
Where can I stream Lone Survivor movie online? Lone Survivor is available to watch and stream, buy on demand, download at Netflix, The Roku Channel, Apple TV, Amazon, Google Play, Microsoft Movies & TV, YouTube VOD, Vudu. Some platforms allow you to rent Lone Survivor for a limited time or purchase the movie for downloading.


Stars
Mark Wahlberg, Taylor Kitsch, Eric Bana, Emile Hirsch, Ben Foster, Alexander Ludwig

Stream movies like Lone Survivor
Also directed by Peter Berg
Also starring Mark Wahlberg
Also starring Taylor Kitsch