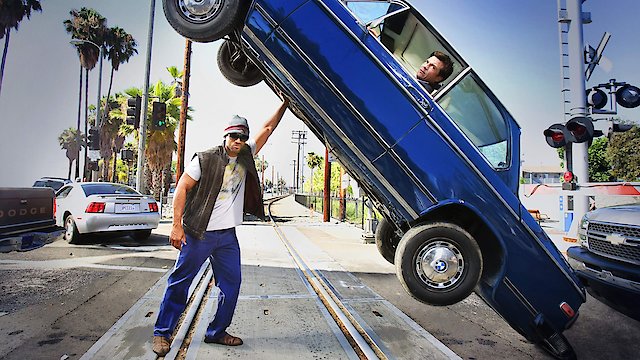 Where to Watch Hancock

Hancock is a 2008 American superhero comedy-drama film directed by Peter Berg and produced by Will Smith, Akiva Goldsman, James Lassiter, and Michael Mann. The movie showcases the exceptional acting prowess of the enigmatic Will Smith, who embraces the role of John Hancock, a seemingly indestructible and the titular superhero who has fallen out of favor with the public. The film also features the brilliant performances of Charlize Theron and Jason Bateman. In Hancock, Smith, who is popularly known for playing charismatic and likable characters, takes on "not so typical" superhero traits, portraying an anarchic, misunderstood, and greatly misjudged character who often leaves a wake of destruction and damages in his well-intentioned pursuits of justice. Hancock is a far cry from the traditional superheroes we're used to, he's depressed, he's often drunk, and incredibly reclusive. What sets Hancock apart is his flawed and incredibly human-like persona, making him more relatable and empathetic. The storyline of Hancock revolves around this damaged superhero who, despite his superhuman powers and seemingly impenetrable skin, struggles with his public image due to his mismatched actions. Eventually, he crosses paths with Ray Embrey, portrayed by Jason Bateman, a struggling PR executive trying to make the world a better place. Ray, whose life is saved by Hancock, recognizes the misunderstood superhero's potential and aims to restore his image in the public eye. Meanwhile, Charlize Theron's character, Mary Embrey, who is Ray's level-headed wife, holds her reservations about this unlikely friendship between her husband and Hancock. Mary is apprehensive and wary of Hancock's volatile behavior. However, as the storyline progresses, the audience discovers intriguing connections that entwine these central characters together in a way that was previously unexpected. To further delve into the plot, without giving too much away, the movie incorporates a serpentine twist that sheds light on Hancock's background and why he behaves in the manner he does. This significant plot development adds depth to the film and engages the audience by unraveling the complexities of the characters and their relationships to one another. From a production standpoint, Hancock brings along hand-in-glove direction, formidable acting, robust screenplay, and state-of-the-art visual effects that contribute positively to the film's overall vitality. Peter Berg's direction is praiseworthy as he remarkably balances the elements of humor, drama, and action while navigating through the intricacies of the film's plot. On the visual front, the high-flying action sequences and adrenaline-pumping superhero effects showcase Hollywood cinema at its finest. The alternative take on the archetypical superhero genera and non-traditional narrative gives Hancock its edge. Hancock challenges the norms of superhero characterization and scoffs at the concept of their infallibility. It is as much a story about personal transformation as it is about high stakes superhero action. In essence, Hancock delivers a fresh gust of air into the superhero genre with its interesting story, dynamic characters, and a riveting performance by Will Smith. It's a delightful blend of humor, drama, and action that tests the usual tropes we're used to in the realm of superhero films. The viewers can expect a stark departure from the quintessential superhero narrative, engaging plot twists, and raw human emotions interwoven with fascinating visual effects. So, if you're looking for a superhero movie with a difference or are a fan of any of the star-studded cast, it's definitely worth the watch. Expect the unexpected with Hancock, and prepare yourself for a cinematic journey of redemption and self-discovery shrouded in mystery, humor, and explosive action.
Hancock is a Fantasy, Action movie released in 2008. It has a runtime of 93 min.. Critics and viewers have rated it moderate reviews, with an IMDb score of 6.4. It also holds a MetaScore of 49.
How to Watch Hancock
Where can I stream Hancock movie online? Hancock is available to watch and stream, buy on demand, download at Netflix, Peacock Premium, Sling, TNT, TBS, Apple TV, Amazon, Google Play, YouTube VOD, Vudu. Some platforms allow you to rent Hancock for a limited time or purchase the movie for downloading.


Stars
Will Smith, Charlize Theron, Jason Bateman, Eddie Marsan

Stream movies like Hancock
Also directed by Peter Berg
Also starring Charlize Theron
Watch movies on Apple TV+