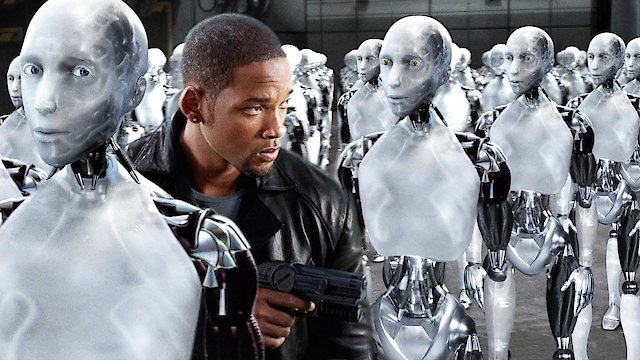 Where to Watch I, Robot

I, Robot is a gripping and action-packed science fiction film that explores the dystopian potential of unchecked technological advancements in artificial intelligence. This riveting blockbuster movie was released in 2004 and features a superbly talented cast led by charismatic superstar Will Smith, alongside Bridget Moynahan and Bruce Greenwood. Set in the not-too-distant future of 2035, I, Robot takes viewers into a visionary landscape where robots have become an integral part of everyday life. They cook our meals, clean our homes, have spread their influence into various sectors including military, manufacturing labor and domestic affairs. These robots adhere strictly to a set of laws, called the Three Laws of Robotics which ensure they cannot harm human beings, must obey all orders, and must protect their own existence if it doesn't conflict with the first two rules. Will Smith shines as Del Spooner, a Chicago Police Detective with a strong aversion to robots. He's a luddite in a world that's completely accepted the integration of robots, and he passionately holds on to his skepticism. He often looks to the past for answers, and is seen as an anachronism because of his attachment to things like Converse shoes and vintage music, choosing to live in a way that's greeted by society as being outdated. Spooner's inherent suspicion of robots often sets him apart from his fellow cops and embarks him to distrust the robotic revolution that society readily embraces. Included in Spooner's circumference is Dr. Susan Calvin, played with intense precision by Bridget Moynahan. Dr. Calvin, a robopsychologist, works for the U.S. Robotics, the organization at the forefront of the robotic revolution. Her presence in the narrative proves significant as she becomes tied up in the bulk of the action, gameplay and philosophical quandaries the film presents. Bruce Greenwood appears as Lawrence Robertson, the CEO of U.S. Robotics. His character bolsters the plot with an added layer of corporate intrigue and technological dominance, driving the film's narrative tensions and conflict. The movie constructs a narrative of mystery and suspense when Spooner investigates a crime that seems to be attributable to a robot, something which should be theoretically impossible with the non-violability of the three laws. The crime, the apparent suicide of U.S. Robotics' founder and genius roboticist Dr. Alfred Lanning, sends shockwaves in the efficiently functioning society and propels Spooner to catch the unprecedented culprit. This enigma initiates the movie's thriller arc, which arises from the audience's curiosity about the robot's potential culpability. Amid Spooner's investigation, he comes across Sonny, an android with a few unique characteristics that make him different from the other robots. Sonny plays a significant part in the tensions and story twists, offering a platform for morally complex discussions around the burgeoning field of artificial intelligence. Directed by Alex Proyas, known for his work on Dark City, the sci-fi dystopia of I, Robot is fuelled by a powerful visual aesthetic. The movie's exceptional special effects, high-tech gadgetry, and remarkable set designs imaginatively capture a future world that's both awe-inspiring and terrifyingly plausible. The screenplay of I, Robot doesn't shy away from delving deep into the ethical and moral conundrums posed by artificial intelligence. It persistently contemplates larger questions about humanity, free will, and the consequences of unbridled technological progress. As much as I, Robot is packed with adrenaline-fueled scenes and compelling performances, what truly sets it apart is its commitment to sparking thoughtful discussions about our relationship with technology and the potential dangers of advancement without proper oversight. A captivating blend of action, mystery, and intelligent storytelling, I, Robot offers a truly unforgettable cinematic experience. With its blend of great storytelling, powerful performances and thought-provoking themes, I, Robot ensures you are engaged till the very end and leaves you questioning the boundaries of technology and artificial intelligence in the 21st Century.
I, Robot is a Action, Science Fiction movie released in 2004. It has a runtime of 115 min.. Critics and viewers have rated it moderate reviews, with an IMDb score of 7.1. It also holds a MetaScore of 59.
How to Watch I, Robot
Where can I stream I, Robot movie online? I, Robot is available to watch and stream, buy on demand, download at Hulu Plus, Amazon Prime, The Roku Channel, Apple TV, Amazon, Google Play, Microsoft Movies & TV, YouTube VOD, Vudu. Some platforms allow you to rent I, Robot for a limited time or purchase the movie for downloading.


Stars
Will Smith, Bridget Moynahan, Bruce Greenwood, James Cromwell, Chi McBride, Alan Tudyk
Genres
Action, Science Fiction

Stream movies like I, Robot
Also directed by Alex Proyas
Also starring Bridget Moynahan
Watch movies on Apple TV+