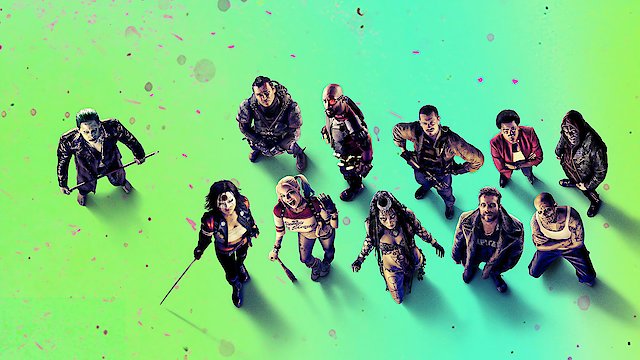 Where to Watch Suicide Squad

In the superhero genre filled with courageous heroes, Suicide Squad, released in 2016, takes a bold stroke and brings you into a dimension of not-so-heroic characters. The film stars an ensemble cast led by Will Smith, Jared Leto, and Margot Robbie. Directed by David Ayer, this intense, action-packed film is set within the expansive DC Universe and is utterly unapologetic about its embrace of antiheroes, and the shadowy world they inhabit. Will Smith plays the role of Deadshot, an assassin for hire who never misses his target, a character that provides a unique combination of charisma and lethality. Smith's portrayal is rich, detailed, and engaging, allowing audiences to connect with and even root for a character who is inherently flawed. His relationship with his young daughter adds a layer of humanity, making him relatable to the audience. Stepping into the psychotic and deeply complicated shoes of the Joker, Jared Leto provides a somewhat different take on the infamous Gotham villain. Leto's Joker is unpredictable, dangerous, yet mesmerizing, and his volatile relationship with Harley Quinn lends the film an edgy and dark dynamic. Margot Robbie's performance as Harley Quinn is particularly standout. Robbie brilliantly portrays the complex and absurdly jester-like character with her acerbic wit, psychotic love for the Joker, and surprising hints of vulnerability. She's chaotic, dangerous and captivating, all contributing to her becoming persistently memorable. As the name implies, the 'Suicide Squad' is a team comprised of incarcerated super-villains employed by a secret government agency. This agency is led by Amanda Waller, portrayed by Viola Davis, who is a no-nonsense high-ranking official willing to make hard choices for what she believes is the greater good. In exchange for their cooperation and completing deadly black ops missions, these villains are offered reduced prison sentences. This unusual team is a wild card in the deadlock between good and evil, straddling the fine line with motives that aren't always black and white. The movie's plot is interspersed with exhilarating scenes tingling with tension and pulse-pounding action. The eccentric and explosive personality of each character leads to plenty of dynamism and conflict within the group, making story progression fascinating and unpredictable. Being packed with harrowing missions and battles against various formidable foes, the film never lets its foot off the pedal from an action standpoint. Further broadening the narrative terrain of the DC Universe, this film also offers perspectives that revolve around ethical and moral ambiguities, providing depth and substance to the flashy spectacle. The ongoing internal power play and conflicting interests within the government agency, as well as the team's struggles with their tasks, add layers to the film. The visual effects in Suicide Squad are as expected of a superhero movie — spectacular and immersive. Featuring a variety of different locales and set pieces, from grimy city streets to dilapidated buildings and secret facilities, the film is a visual feast. Additionally, the movie boasts a stellar set of soundtracks that are edgy and eclectic, matching perfectly with the film's overall rebelliosity and enhancing its intoxicating atmosphere. While diving deep into the franchise's anti-heroes, Suicide Squad also leaves space for other characters from the vast DC universe to make appearances, further enriching the narrative landscape and its connection to the broader DC universe. To wrap it up, Suicide Squad is a rebellious and irreverent take on the superhero genre, celebrating its rogue characters in all their complex glory. Amid the typical superhero movie fanfare, it emerges as a daring endeavor that encourages audience to peer into the grey shades of characters who are neither entirely good nor purely evil. All things considered, the blend of action, dark humor, and moral ambiguity, powered by compelling performances from a star-studded cast, makes Suicide Squad an edge-of-your-seat experience. It's a motley crew of miscreants commanded to do good, or die trying.
Suicide Squad is a Action, Adventure, Fantasy movie released in 2016. It has a runtime of . Critics and viewers have rated it moderate reviews, with an IMDb score of 5.9. It also holds a MetaScore of 40.
How to Watch Suicide Squad
Where can I stream Suicide Squad movie online? Suicide Squad is available to watch and stream, buy on demand, download at Max, Amazon Prime, Apple TV, Amazon, Google Play, Vudu. Some platforms allow you to rent Suicide Squad for a limited time or purchase the movie for downloading.


Stars
Will Smith, Jared Leto, Margot Robbie, Joel Kinnaman, Viola Davis
Genres
Action, Adventure, Fantasy

Stream movies like Suicide Squad
Also directed by David Ayer
Watch movies on Apple TV+