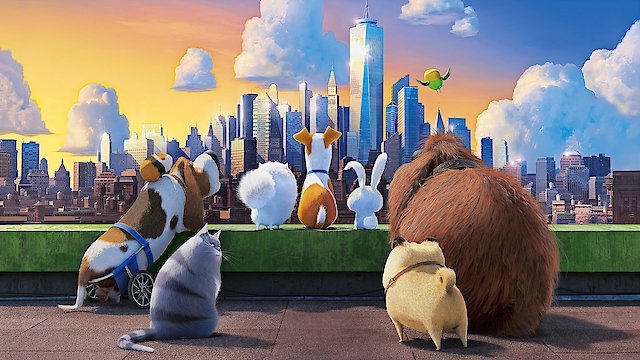 Where to Watch The Secret Life of Pets

The Secret Life of Pets is a vibrant and rollicking animated comedy that hit the big screens in 2016. Its voice cast is replete with famous names including Louis C.K. as Max, Eric Stonestreet as Duke, Kevin Hart as Snowball, and many other notable actors. This dynamic film is a collaborative project from the production giants Illumination Entertainment and Universal Pictures. The movie captures the trusty charm and evergreen humor found in our very homes — the hilarity and excitement that resides in the day-to-day lives of our loving pets. The antics of these delightful household animals come alive when their humans are nobody to be seen. It unearths the joy and sparkle found in the seemingly mundane lives of our pets and serves up an hour and a half of non-stop amusement and warmth, exhibiting stories and characters children and adults can both enjoy thoroughly. Max, voiced brilliantly by Louis C.K, is a loyal terrier living a seemingly perfect life in a Manhattan apartment. His love for his owner Katie is boundless; he spends his days waiting for her return from work and worshipping the ground she walks on lot like any other doting, domestic pet. This idyllic life, however, receives a jolt one fine day when Katie brings home a new "brother" for him—Duke, voiced by the comedic genius Eric Stonestreet. This enormous, boisterous, and hairy beast of a dog threatens to upend Max's comfortable routine, escalating into a furry feud. It's a classic tale of mutual jealousy and rivalry as both Duke and Max are compelled to share their owner's affections. This comedic clash of personalities triggers a chain of events involving scrappy alley cats, an underground pet resistance movement led by Kevin Hart's manic rabbit Snowball, and a colorful cast of urban pets. This includes the fat, lazy Garfield-clone tabby Chloe voiced by Lake Bell, the red-tailed hawk Tiberius voiced by Albert Brooks, and the sassy Pomeranian Gidget voiced by Jenny Slate, among others. These hilarious characters add multiple layers of comedy, adventure, and charm, further enhancing the film's entertainment quotient. Each pet character in the movie is developed painstakingly and with a clear intent to induce hearty laughs. They are incredibly relatable, not just to pet lovers, but also to anyone who ever experienced the warmth, or the chaos, of a family. Visual gags and dialogues fizzing with wit ensure a continuous flow of family-friendly comedy. The film's narrative strength lies in its high-energy comedic bits and heartfelt moments. Bright and vibrant animation pervades every scene, paralleling the energy and enthusiasm of the loveable creatures it portrays. In addition, the backdrop of New York City aids in encapsulating myriad nuances of the pet world and creates an engaging atmosphere. The roller coaster of emotions that come with pet ownership, such as loyalty, competition, and the sheer giddiness of camaraderie, are perfectly exhibited in this film. The power-packed voice performances by the cast only serve to emphasize these aspects, making the characters ten times more enjoyable and captivating. The Secret Life of Pets is as much a paean to the bustling New York City as it is an ode to our furry friends. This city, in its essence, mirrors the spirit of the film – dynamic, engaging, and filled with unique creatures, each with its tale to tell. The fun and frolic found in their secret life opens up a comedic vortex that's hard to resist. The directors, Chris Renaud and Yarrow Cheney, with their successful track record in animated movies, have created a film full of warmth and relatability. It's a fast-paced movie, with elements of adventure and comedy that will ensure every viewer is thoroughly entertained. Without any doubt, The Secret Life of Pets holds true to the promise made by its title – unveiling what our pets might be up to when we're not around. The message of companionship, acceptance, and embracing differences wrapped within the goofy humor makes this an endearing watch. Overall, The Secret Life of Pets offers a charming, comical, and feel-good cinematic experience. It succeeds in seizing the essence of pet-kind and portrays it in a way that's universally recognizable. Whether you're a pet owner or not, this is indeed a movie that will leave you with a smile on your face.
The Secret Life of Pets is a Adventure, Comedy, Animation, Kids & Family movie released in 2016. It has a runtime of . Critics and viewers have rated it moderate reviews, with an IMDb score of 6.5. It also holds a MetaScore of 61.
How to Watch The Secret Life of Pets
Where can I stream The Secret Life of Pets movie online? The Secret Life of Pets is available to watch and stream, buy on demand, download at Amazon Prime, Peacock, Apple TV, Amazon, Google Play, Microsoft Movies & TV, YouTube VOD, Vudu. Some platforms allow you to rent The Secret Life of Pets for a limited time or purchase the movie for downloading.


Director
Chris Renaud, Yarrow Cheney
Stars
Louis C.K., Eric Stonestreet, Kevin Hart, Albert Brooks, Hannibal Buress, Bobby Moynihan, Lake Bell, Ellie Kemper, Steve Coogan
Genres
Adventure, Comedy, Animation, Kids & Family

Stream movies like The Secret Life of Pets
Watch movies on Apple TV+