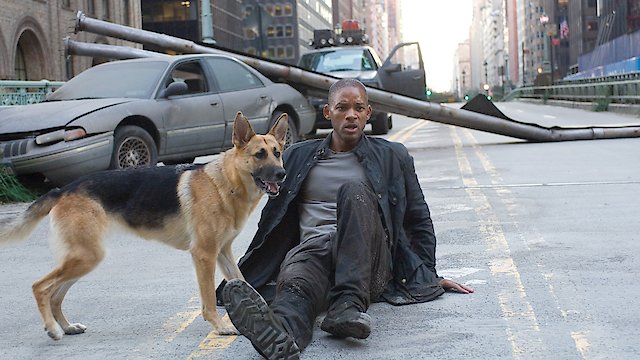 Where to Watch I Am Legend

A chilling exploration of solitude, survival, and the indomitable human spirit, I Am Legend carries viewers on an intense journey through a dangerously altered world. This Warner Bros. dramatic, post-apocalyptic action thriller from 2007 features an electrifying performance by Oscar nominee Will Smith. Directed by Francis Lawrence, the film's strong supporting cast includes Alice Braga, Charlie Tahan, Salli Richardson Whitfield, Willow Smith, and Dash Mihok. The film juxtaposes a breathtakingly empty New York City with Robert Neville's (portrayed by Will Smith) solitary existence in his quest for survival and his relentless search for a cure. An unknown catastrophic event has transformed humanity into night-dwelling and aggressive creatures, the so-called Darkseekers, surrounded by desolate landscapes. Neville, however, is immune to this horrifying virus and is, to his knowledge, the last human alive. Neville's life is an emotionally draining cycle of foraging for supplies, broadcasting radio messages in hopes of finding other survivors, and trying desperately to find a cure for the virus using his own blood. He navigates this bleak, eerily quiet world with his loyal German Shepherd Sam, his sole companion amidst the ruin. Smith brings a powerful gravitas and vulnerability to Neville's character that anchors the narrative. Despite his circumstances, Neville clings to some semblance of routine in his daily life, providing fleeting moments of familiarity within chaos. The interplay of hope and despair as Neville grapples with his solitude gives the audience a tangible emotional touchpoint that resonates deeply. The film is impressively crafted with thought-provoking cinematography capturing the post-apocalyptic Manhattan setting in vivid detail. This desolate depiction of a once bustling city creates a chilling, atmospheric canvas for Neville's story. The effective use of minimal dialogue enhances the sense of isolation, while the score deftly underscores the tense and volatile situations that threaten Neville's survival. Meanwhile, Alice Braga, who plays Anna, delivers a strong performance, embodying a beacon of hope and belief in a world that's lost all faith. Braga's character brings a human connection that shakes the equilibrium of Neville's solitary life. Charlie Tahan portrays Ethan, another central figure who contributes to the dynamics of survival, faith, and fear. I Am Legend skillfully dives into deeper philosophical and spiritual questions about humanity and existence when faced with severe adversity. It explores the theme of hope when hope seems impossible, and the instinctive will to fight against one's end. Additionally, the movie delves into the question of what makes a person truly human under unimaginable circumstances. Director Francis Lawrence uses a combination of elements effectively to strike a delicate balance between action, emotional depth, and philosophical exploration. The film delivers heart-stopping action scenes that keep the viewers on the edge of their seats, while also allowing room for quieter, more introspective moments. The blend of traditional filmmaking techniques with pioneering CGI makes the film visually stunning. In conclusion, I Am Legend is an emotionally charged story of survival and hope. Through brilliant performances, stunning visuals, and a compelling narrative, the film gives an exciting yet thought-provoking cinematic experience. It is a profound exploration of the everyday struggles and bigger moral dilemmas that elaborate the resilience of the human spirit to keep moving forward, even in the face of despair. Despite its dystopian despair, I Am Legend leaves viewers with an impactful message about the enduring power of humanity.
I Am Legend is a Drama, Science Fiction, Thriller movie released in 2007. It has a runtime of Theatrical cut: 100 min. Alternate cut: 104 min.. Critics and viewers have rated it moderate reviews, with an IMDb score of 7.2. It also holds a MetaScore of 65.
How to Watch I Am Legend
Where can I stream I Am Legend movie online? I Am Legend is available to watch and stream, buy on demand, download at Amazon Prime, Apple TV, Amazon, Google Play, YouTube VOD, Vudu. Some platforms allow you to rent I Am Legend for a limited time or purchase the movie for downloading.


Director
Francis Lawrence
Genres
Drama, Science Fiction, Thriller

Also starring Alice Braga
Watch movies on Apple TV+