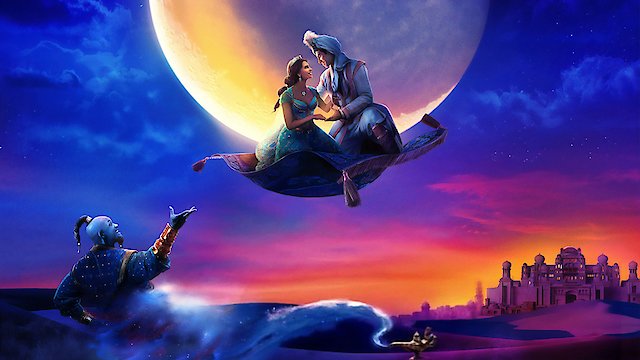 Where to Watch Aladdin

Aladdin is a thrilling and vibrant live-action adaptation of Disney's 1992 classic. It's an exciting tale hailing from the bustling streets of Agrabah directed by Guy Ritchie. Aladdin, the vibrant and colorful remake of the Disney animated film of the same name, released in 2019, is sure to resonate with audiences who have been entranced by the original as well as newcomers to this beguiling tale of love, deceit, and magic. The film casts Mena Massoud in the titular role of Aladdin, a nimble, resourceful street urchin who lives by his wits, with a quick smile and quicker reflexes to help him on the city's streets. Aladdin is a charming and charismatic character whose life takes a turn for the extraordinary when he encounters the beautiful Princess Jasmine. Jasmine, played by Naomi Scott, isn't just another princess waiting for a prince to rescue her. In the 2019 version, she's a strong-willed and determined princess that wants to break free from the confines of palace life to understand her kingdom and its people better. She is no damsel in distress but a woman striving for change in her kingdom. Will Smith steps into the role of the fantastically funny and fast-talking, Genie. The blue-skinned, cosmic, whimsically comical Genie brings a whole new dimension to this character. His signature charm and wit combined with his desire for freedom bring about an unforgettable performance. Jafar, played by Marwan Kenzari, is the cunning, ambitious sorcerer and Grand Vizier of Agrabah, the main antagonist of the movie for whom power is the end-all and be-all. His character further intensifies the plot with numerous plot twists and turns. The setting of Agrabah, styled after the Middle East, is indeed a sight to behold. Enthusiastic marketplace hubs overflow with vibrant textures, sights and sounds, exotic locales, lush palatial settings, and incredible desert expanses form the backdrop of this tale, bringing the city to life with a new depth and richness that far exceed the boundaries of the animated original. The narrative centers on Aladdin's effort to win over the love of Princess Jasmine with the help of a magical lamp he stumbles upon. Unleashing the Genie inside, Aladdin embarks on a fantastical journey of self-discovery where wishes are made, identities are concealed, and true intentions revealed, crafting an irresistible blend of romance, action, comedy, and lots of magic. However, the remake is more than just a retelling. It expands on the original narrative, adding depth to characters and layering the plot with fresh elements, enabling a new generation to connect with the story. Intricate subplots and stronger development of characters make the tale more engaging and relevant to modern times. The melodious music and brilliant choreography are integral parts of the movie. The classic songs of the original are reinvented in fresh, exhilarating renditions, staying true to the spirit of the source material while creating an identity of their own. A special mention should be made of the new tracks incorporated, which not only blend seamlessly into the narrative but also carry meaningful messages. Animation evolves into rhapsodic live-action with stunning special effects that elicit a sense of wonder and amazement. The CGI, especially in the depiction of Genie and the magic carpet ride, significantly enhances the visual appeal, bringing alive the spectacle and the charm. Within the spectacular showmanship, Aladdin conveys meaningful messages about self-worth, empowerment, and the importance of being true to oneself, making it more than just about the razzle-dazzle. Aladdin is a spellbinding celebration of love, filled with action, adventure, drama, humor, and music, guaranteed to entertain. Albeit grander in scope than the original, at its heart, it remains a simple narrative concise and coherent. To fans both old and new, it offers a magic carpet ride of pure, exhilarating enjoyment. It's a film to reawaken your childhood memories while creating new ones for the younger audience, making it an enchanting experience for all.
Aladdin is a Adventure, Fantasy, Romance, Kids & Family movie released in 2019. It has a runtime of 128 min.. Critics and viewers have rated it moderate reviews, with an IMDb score of 6.9. It also holds a MetaScore of 53.
How to Watch Aladdin
Where can I stream Aladdin movie online? Aladdin is available to watch and stream, buy on demand, download at Disney+, Apple TV, Amazon, Google Play, Vudu. Some platforms allow you to rent Aladdin for a limited time or purchase the movie for downloading.


Stars
Mena Massoud, Naomi Scott, Will Smith, Marwan Kenzari, Navid Negahban, Nasim Pedrad, Billy Magnussen, Numan Acar
Genres
Adventure, Fantasy, Romance, Kids & Family

Stream movies like Aladdin
Also directed by Guy Ritchie
Also starring Mena Massoud
Watch movies on Apple TV+