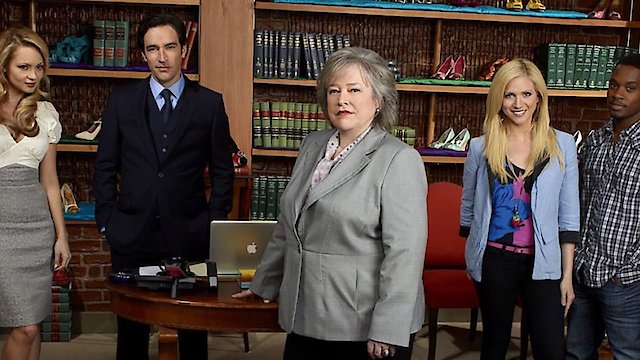 Where to Watch Harry's Law
Harry's ex-husband died unexpectedly leaving her to plan the funeral.
Watch Harry's Law Season 2 Episode 22 Now
A courtroom is held hostage by the victim's father and brother when the verdict comes back "not guilty.
Watch Harry's Law Season 2 Episode 21 Now
Harry looks at an old case when she learns a gang member who has wrongly been convicted of killing a cop is being sentenced to death.
Watch Harry's Law Season 2 Episode 20 Now
Harry and Adam help Phoebe with her case on an entire college marching band being charged with murder after there's a hazing and a student is killed.
Watch Harry's Law Season 2 Episode 19 Now
Harry represents a juror that took off in the middle of jury duty on a high profile murder case.
Watch Harry's Law Season 2 Episode 18 Now
Harry's battle with her former boss escalates when she endangers her firm. In order to win, the team must strut down the catwalk at an annual Spring Gala.
Watch Harry's Law Season 2 Episode 17 Now
Tommy helps Harry defend the firm from a past client that claims Harry took advantage of his mental condition.
Watch Harry's Law Season 2 Episode 16 Now
Harry's neighbor is accused of being a sex offender and she needs Harry's help to prove her innocence.
Watch Harry's Law Season 2 Episode 15 Now
Harry defends a principal expelling a student with out of control outbursts.
Watch Harry's Law Season 2 Episode 14 Now
Harry and Adam defend a man who claims cigarettes killed his wife. Meanwhile, Cassie represents a woman who is scared of her seemingly sweet ex-husband.
Watch Harry's Law Season 2 Episode 13 Now
12
New Kidney on the Block
Harry, Cassie and Adam represent a 21-year-old that was dying of kidney failure and illegally bought a kidney from a willing donor.
Watch Harry's Law Season 2 Episode 12 Now
While duck hunting, Harry and Tomm discover that the owner of the hunting preserve has been hiding a gorilla. Swayed by the gorilla's incredible intelligence and gentle demeanor, Harry agrees to help.
Watch Harry's Law Season 2 Episode 11 Now
A mother is accused of killing her baby boy who had a debilitating disorder and no hope of a cure.
Watch Harry's Law Season 2 Episode 10 Now
Harry and Adam fight in behalf of parents whose son died from a concussive blow while playing on his high school football team.
Watch Harry's Law Season 2 Episode 9 Now
Harry tries to mediate when Oliver and Cassie butt heads over an emotional case.
Watch Harry's Law Season 2 Episode 8 Now
Harry goes on vacation and has her Mercedes Benz impounded for violating their "Buy American" law. Harry with Oliver fight the small town's law.
Watch Harry's Law Season 2 Episode 7 Now
Former prosecutor Josh Peyton is accused of aiding and abetting a kidnapper. Harry and Adam defend him.
Watch Harry's Law Season 2 Episode 6 Now
Harry tangles with a righteous preacher and Adam defends an internet vixen. Jason Alexander guest stars.
Watch Harry's Law Season 2 Episode 5 Now
A teenage girl known as "Snark Queen" outs a closeted lesbian classmate on her blog which makes the girl commit suicide. Harry and Ollie defend the "Snark Queen.
Watch Harry's Law Season 2 Episode 4 Now
Adam preps Eric's daughter for her testimony as Harry worries about Cassie's cross-examination of a key witness. Ollie disagrees with Harry over what's in the best interest of their client while D.
Watch Harry's Law Season 2 Episode 3 Now
Harry proceeds with Eric's case after the charges against her are dropped.
Watch Harry's Law Season 2 Episode 2 Now
Against her better judgment, Harry decides to defend Eric Sanders, a man accused of savagely killing his wife. She takes the case at the request of a hot shot attorney from the same firm that fired her a year ago.
Watch Harry's Law Season 2 Episode 1 Now

Harry's Law is an engaging and entertaining American legal drama television series that aired on NBC from 2011 to 2012. The show was created by David E. Kelley, renowned for his trademark witty dialogue and controversial cases, with the focal point of the story steered towards Harriet 'Harry' Korn, a patent lawyer, played by the Academy Award-winning actress Kathy Bates. Bates pilots the show with her engaging portrayal of a sardonic, tough, and brilliant protagonist who steps out of her comfort zone to tackle criminal defense work. Firstly, the central component of the series, of course, is Harry herself - an eccentric, cantankerous, but extremely compassionate character, whose patent career capsized due to her unconventional approach and lackluster passion. However, her transition into criminal law paints a lively trajectory of her character. Bates's portrayal of Harry is commendable and as captivating as her past roles. Her acting prowess enables viewers to root for her despite her character's abrasive demeanor at times. Harry is seen to be someone who challenges the legal system, fights for justice and represents the underdogs, making her a standout character in the arena of legal television dramas. Brittany Snow plays the character of Jenna Backstrom, an ambitious and beautiful clothing designer who is also Harry's assistant and a part-owner of the shoe store located beneath the makeshift law firm. Her character adds a pop of millennial style to the otherwise strict law environment, with her function often extending to assist Harry beyond her usual workspace. Among other talented actors, Beatrice Rosen as Eve, a high-powered attorney, stands out for her character's versatility and sophistication. She joins Harry as an associate following an impromptu meeting. Eve's conviction and her impressive track record in law are key in many of Harry's cases, offering a fantastic dynamic character that helps the narrative of the series to surge forward. Christopher McDonald, Ben Chaplin, and Mark Valley, who play Tommy Jefferson, Malcolm Davies, and Oliver Richard respectively, also leave a deep imprint on viewers with their performances. McDonald plays a flashy, high energy attorney known for his pompous attitudes, while Malcolm, played by Chaplin, is a college professor who gets a blessing in disguise when his life intersects with Harry's. Valley's character of Oliver Richard is an ambitious yet ethical lawyer who works with Harry, proving himself to be a valuable addition to the team. Aml Ameen, Paul McCrane, Nate Corddry, and Jordana Spiro further enlarge the cast, each of them playing significant roles in the run of the series, contributing to the narrative with their diverse and humorous roles. Each member of this motley crew brings their own charm and quirks to the law firm, leading to an interesting variety of characters that keep the audience engaged throughout the series. Harry's Law is laden with surreal circumstances and dialogues that keep the intense court cases well balanced with humor. Throughout its journey on NBC, the series managed to create a blend of sharp dialogues, feisty courtroom exchanges, intense drama, and unexpected humorous moments. From upsetting the community of Cincinnati, Ohio, where the story is centered, to grueling courtroom battles, the plot captures the rollercoaster ride of a dramatically unconventional law firm led by an equally unconventional lawyer. The show's storyline, overlapped with nerve-wracking legal battles, warm moments, exasperating setbacks, and intriguing character developments, always ending up with a taste of success on one side and a profound moral message on the other, sets Harry's Law apart from its contemporaries. In summary, Harry's Law is an amusing yet sincere TV series that manages to retain charm, wit, and gravity within its storylines while being raised by an outstanding ensemble cast. The series is a definite must-watch for lovers of legal dramas or anyone who enjoys getting caught in the intricate web of law, order, office politics, friendship, justice, and societal critiques. With its two-season run, Harry's Law managed to leave an impression, combining heart, humor, and legal battles, underpinned by outstanding performances, most notably from Kathy Bates.
Harry's Law is a series categorized as a canceled. Spanning 2 seasons with a total of 34 episodes, the show debuted on 2011. The series has earned a moderate reviews from both critics and viewers. The IMDb score stands at 7.3.
How to Watch Harry's Law
How can I watch Harry's Law online? Harry's Law is available on NBC with seasons and full episodes. You can also watch Harry's Law on demand at Amazon Prime online.
Cast
Kathy Bates, Aml Ameen, Brittany Snow, Nate Corddry, Beatrice Rosen, Ben Chaplin, Christopher McDonald, Mark Valley, Jordana Spiro, Paul McCrane

Stream shows like Harry's Law