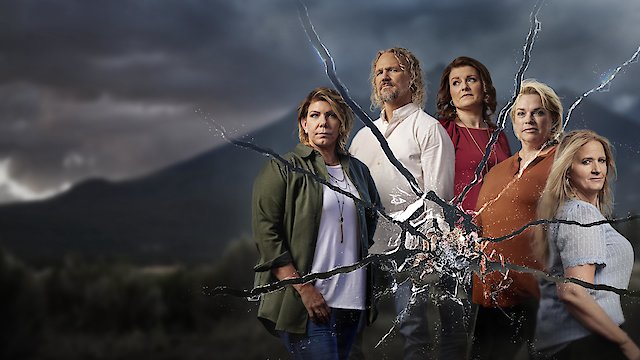 Where to Watch Sister Wives
6
The Understatement of the Year
Christine admits to hiring a matchmaker. Meri decides to relocate her business but is concerned about how Robyn will react.
Watch Sister Wives Season 18 Episode 6 Now
5
When the Going Gets Tough
The Browns discuss how things went over Christmas. Janelle confesses to Christine that she doesn't know if her marriage can be fixed.
Watch Sister Wives Season 18 Episode 5 Now
Kody confides in a friend who has also gone through a polygamist divorce, and he contemplates giving up on plural marriage. While Janelle is still reeling from the huge fight she had with Kody, the family once again celebrates Christmas separately.
Watch Sister Wives Season 18 Episode 4 Now
3
Throwing Stones in Glass Houses
Kody vents to friends about his anger over his divorce. Janelle's sons are still not talking to Kody, and the family may celebrate another holiday separately.
Watch Sister Wives Season 18 Episode 3 Now
Christine and Kody struggle to keep things cordial. Then, Kody regrets the family being separated at Thanksgiving, and Paedon updates Christine on a situation between the kids and Robyn.
Watch Sister Wives Season 18 Episode 2 Now
1
No Such Thing as a Free Lunch
Christine has moved, but the fallout from her divorce remains. Janelle, Meri and Robyn struggle to plan the upcoming holidays as the family continues to be divided.
Watch Sister Wives Season 18 Episode 1 Now

Sister Wives is a popular reality television series that first aired on the TLC network in 2010. The show revolves around the unconventional family setup of polygamist Kody Brown, his four wives Meri, Christine, Janelle, and Robyn Brown, and their eighteen children. Taking viewers inside their daily lives, struggles, joys, and complexities, Sister Wives offers a different view into a family lifestyle that's often misunderstood, captivating audiences nationwide. Kody Brown, the patriarch of the family, is a practicing polygamist from the Fundamentalist Church of Jesus Christ of Latter-Day Saints (FLDS). The show starts with him married to Meri, Janelle, and Christine, having a total of thirteen children amongst them. Later on, he is also spiritually married to Robyn, bringing her three children from a previous relationship into the already large family. Meri, Kody's first wife, is legally divorced from him so he could adopt Robyn's children but remains spiritually married. She is a strong and independent woman who manages to balance her personal issues, work, and family responsibilities. Janelle, the second wife, is a career-oriented woman who brings a unique dynamic to the family's framework. Christine, the third wife, prefers the traditional role of being a stay-at-home mom and passionately takes care of her children. Robyn, the newest wife, brings a new energy to the family, blending her kids from her previous marriage into this peculiar family structure. Throughout the series, viewers witness the Browns navigate various hurdles while maintaining the unity and happiness of their considerable family. From the legal complications and public scrutiny that come with polygamy to the interpersonal dynamics and jealousy within the relationships, Sister Wives delves into the personal lives and adventures of the Browns in a relatable, emotional, and often humorous manner. Additionally, the family often discusses their deep-rooted faith and how it shapes their lifestyle. One of the most intriguing aspects of Sister Wives is the family's functioning and how they manage such a complex household. Despite having four wives and several children, Kody Brown ensures that each family member gets adequate attention and care. The Brown family displays a unique organizational method, living under one roof, each wife with her own section and kitchen. It showcases how the Browns handle routine things like cooking, outings, schooling, dance lessons, drama, and, most importantly, sharing Kody's time amongst themselves. However, the show doesn't shy away from highlighting the challenges of living in a plural marriage. From managing finances and work schedules to dealing with feelings of jealousy and rivalry, it's not always smooth sailing for the Browns. Each episode unravels how the family members' relationships evolve, offering an intimate look at their personal problems and how they strive to overcome them together. The unique circumstances under which the Browns live, provide new perspectives on communication, compromise, sibling rivalry, and parental love. Moreover, Sister Wives also explores various other aspects of the Browns' lives beyond their family structure. This includes Kody and his wives trying to establish their own businesses, dealing with their children's individual issues, and navigating through life's ups and downs. Besides, the Browns also tackle the prejudices that come with their lifestyle and struggle to find acceptance in a society that often frowns upon such unconventional family settings. Over the course of numerous seasons, viewers from all walks of life have found themselves drawn into the loving, chaotic, and forever fascinating world of Sister Wives. Its candid portrayal of plural marriage, coupled with the Browns' open-hearted approach to sharing their lives, has made the show a remarkable watch, offering a wealth of insights into a lifestyle that most people know little about. Sister Wives is not just a show about a polygamous family. It's a show about a family, period. It is an exploration of love, respect, family dynamics, faith, and personal identity, which resonate with viewers, irrespective of their own family structures. Aspects like parenting, juggling multiple responsibilities, the trials and tribulations of marriage, and coping with societal judgment are all universally relatable themes. Whether you agree with their lifestyle or not, watching the Browns in Sister Wives is an intriguing, thought-provoking, and overall engaging experience that shifts one's preconceived prejudices and offers a more empathetic understanding of plural marriages. The resilience and unity displayed by the Browns continually challenge norms and redefine what it means to be a modern family.
Sister Wives is a series categorized as a currently airing. Spanning 18 seasons with a total of 251 episodes, the show debuted on 2010. The series has earned a mostly poor reviews from both critics and viewers. The IMDb score stands at 4.4.
How to Watch Sister Wives
How can I watch Sister Wives online? Sister Wives is available on TLC with seasons and full episodes. You can also watch Sister Wives on demand at Max, FuboTV, Philo, Apple TV, Amazon, Google Play, Vudu, Amazon Prime, Microsoft Movies & TV, TLC online.
Cast
Meri Brown, Kody Brown, Christine Brown

Similar Shows like Sister Wives