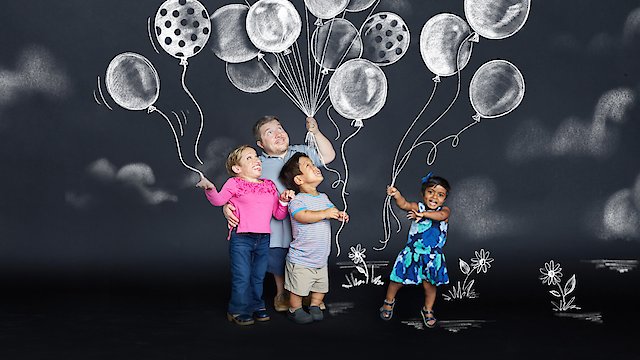 Where to Watch The Little Couple
Zoey's dream comes true as she and her best friend have a special mermaid encounter. Then, Bill and Jen throw a big summer party for all of their friends but have to scramble when an unexpected Florida rainstorm threatens to ruin their big event.
Watch The Little Couple Season 14 Episode 10 Now
9
It's Definitely Gator Water
Bill surprises the family with a fun, activity-packed camping trip. Although Jen convinces Bill to rent a camper, she worries about the dangers lurking in the Florida wilderness, from alligators to poisonous plants and everything in between.
Watch The Little Couple Season 14 Episode 9 Now
Zoey's Bollywood dance recital is right around the corner, but an unexpected injury may stop her from being able to perform. Then, Bill and Jen celebrate their 11-year anniversary, and to make it special, Bill has a few surprises along the way.
Watch The Little Couple Season 14 Episode 8 Now
Hoping to find a new activity for the kids, Jen and Bill take Will and Zoey sailing. Will masters steering the boat, but Zoey's first sailing excursion may well be her last.
Watch The Little Couple Season 14 Episode 7 Now
Bill and Jen take the kids to a Hindu celebration of spring; the family then heads to Pop-Pop's house where they enjoy a wild test drive of Bill Sr.'s boat.
Watch The Little Couple Season 14 Episode 6 Now
It's Jen's birthday and Bill recruits the kids to help plan a surprise party. They decide to make her one-of-a-kind handmade gifts while Jen and her parents take a stroll down memory lane by visiting her childhood home.
Watch The Little Couple Season 14 Episode 5 Now
It's Willapalooza in the Klein household and everyone prepares to celebrate Will's 9th birthday as well as his Gotcha Day the anniversary of his adoption! The family heads to the Grand Prix races and celebrate Will's 9th by setting off on a pirate ship!
Watch The Little Couple Season 14 Episode 4 Now
3
This Is How A Dude Does It
Jen is recovering from surgery amidst the business of everyday life in the family. Bill and Will prepare for a Derby contest which is great father/son bonding but the pressure is on to win!
Watch The Little Couple Season 14 Episode 3 Now
2
Let's Have a Bravo to Dad!
Jen's quickly recovering from surgery and the family is able to head back home in time for Christmas. Back home, Bill juggles taking care of the kids and helping Jen.
Watch The Little Couple Season 14 Episode 2 Now
1
Wait, They're Cutting You Open?
Bill, Jen and the kids head for New York for the Christmas holiday. But they're also there for a more serious reason: Jen's hip surgery.
Watch The Little Couple Season 14 Episode 1 Now

The Little Couple is a heartwarming reality television series that first aired on TLC in 2009. The show revolves around the lives of Bill Klein and Jennifer Arnold who both have serious health conditions. Their reality is not defined by their struggles, though, but by their resilience, love for each other, commitment to their family, and their aspiration to live fulfilling lives. Bill and Jen are a married couple who happen to have dwarfism. Jen is a neonatologist and Bill is a successful business owner. They both live in Houston, Texas, where the majority of the series is brilliantly shot, encapsulating the warmth of their family home, daily activities, and even their city's local charm. Despite the life-threatening health conditions associated with their genetic disorders, Bill and Jen live each day to the fullest, exemplifying the power of positivity, determination, and resilience. The commendable aspect of The Little Couple is its portrayal of Bill and Jen's journey towards building their family. Viewers are invited to witness the couple's path towards parenthood, a befitting testament to their unwavering determination that dwarfs their physical stature. They overcome numerous hindrances and challenges to become parents. The introduction of their children, Will and Zoey, both adopted and also living with dwarfism, adds another beautiful layer to the narrative. This show provides an intimate look into the joys, challenges, love, and trials associated with their parenting journey. What sets The Little Couple apart from other reality shows is the sincerity and authenticity that is inseparable from its core narrative. Every episode is rife with instances of the couple navigating through their daily activities, displaying a potent combination of admirable courage and proactive problem-solving skills. The couple's sheer grit and perseverance to overcome all kinds of obstacles become the powerful theme permeating through the heart of the show. While dealing with various complex issues linked to their health conditions like undergoing numerous surgeries and medical procedures, to confronting everyday difficulties like reaching high shelves or driving a car, The Little Couple never let the seriousness overshadow the show's inherent warmth. It maintains a light-hearted approach, dappled with humorous anecdotes that effectively emphasizes the fact that Bill and Jen lead as normal a life as anyone else. Having dwarfism does not inhibit them from participating and enjoying life's pleasures — be it celebrating holidays, going on vacations, attending parties, or hosting events. These enriching experiences translated on the show, draw in a dedicated audience who become invested in the couple's journey together. The Little Couple also instills an understanding of how Bill and Jen, as parents, guide and help shape their children's perspectives about the world and its complexity. Moreover, the show has opened up educational conversations about dwarfism, confronting stereotypes along the way, and illuminating the challenges, and potential health complications, faced by those living with this condition. Perhaps the greatest strength of The Little Couple lies not in sensationalizing its protagonists' condition, but rather in its success at normalizing it, thereby dispelling preconceived public misconceptions about dwarfism. As the series progressed, the camera lens widens to encompass the couple's work lives outside the domestic sphere. They juggle the responsibilities of parenthood alongside their demanding careers. The show also encompasses the everyday adventures, triumphs, missteps, and miracles that mark their professional and personal lives, serving as an authentic portrayal of their lives. Depicting a life that teems with challenges that are daunting yet braved with unmatched valor, optimism and an infectious zest for life, The Little Couple gives audiences inspiration and insight. It's a celebration of love, resilience, family, and the pursuit of dreams, despite the odds. In spite of the inevitable ups and downs, what remains constant is the love that binds the family together. The Little Couple evocatively captures the essence of a family whose love knows no bounds, whose fortitude is unshakeable, and whose life story serves as a beacon of hope and inspiration to millions of viewers around the world. Whether it's a simple family outing or a major surgical procedure, each episode embarks on a journey that's sure to evoke a range of emotions in the audience.
The Little Couple is a series categorized as a currently airing. Spanning 14 seasons with a total of 185 episodes, the show debuted on 2009. The series has earned a moderate reviews from both critics and viewers. The IMDb score stands at 6.8.
How to Watch The Little Couple
How can I watch The Little Couple online? The Little Couple is available on TLC with seasons and full episodes. You can also watch The Little Couple on demand at Amazon Prime, FuboTV, Philo, Tubi TV, Sling, TLC, Apple TV, Amazon, Google Play, Vudu online.
Cast
Bill Klein, Jennifer Arnold, Zoe Klein

Similar Shows like The Little Couple