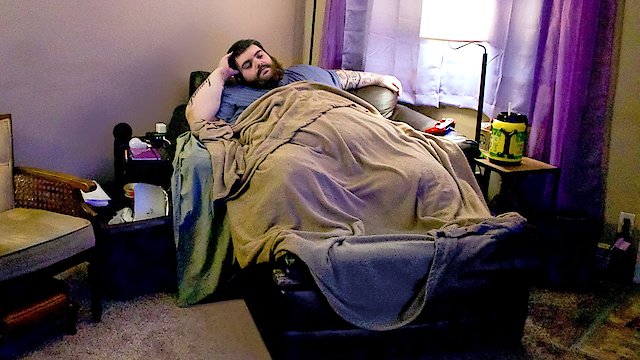 Where to Watch My 600-lb Life
Patrick's weight has never been a bother, but now he's so big that it's getting in the way of his relationship with his daughter; if he wants to see her graduate high school, he'll have to reverse course.
Watch My 600-lb Life Season 11 Episode 8 Now
Nothing means more to Chris than his relationship with his daughter, Zoey, but now he feels he is failing her as his weight gain begins to limit his mobility.
Watch My 600-lb Life Season 11 Episode 7 Now
With her weight spiraling, Stephanie needs her mom's help to care for her three kids; she's at the point where she'll have to lose weight or risk not having the chance to see her kids grow up.
Watch My 600-lb Life Season 11 Episode 6 Now
Mark sets out with a goal for weight-loss surgery, but as weight loss gets easier, he turns down medical advice and decides to do it on his own; Mark thinks he can lose 500 pounds by himself, but Dr. Now sees this as another excuse not to change.
Watch My 600-lb Life Season 11 Episode 5 Now
Syreeta thinks that anyone trying to help has an ulterior motive, but she's gotten so big she desperately needs help; she's learning to let down her guard for her husband, but weight-loss surgery will be tough if she can't learn to trust the surgeon.
Watch My 600-lb Life Season 11 Episode 4 Now
Wess gets off to a great start in Dr. Now's program, but when the cravings continue after surgery, Dr.
Watch My 600-lb Life Season 11 Episode 3 Now
Latonya found the man she wants to marry; the only problem is that, at almost 700 pounds, she can't walk down the aisle; Latonya doesn't want to give up the food that she's used to, but she may do it for love.
Watch My 600-lb Life Season 11 Episode 2 Now
As an Italian American, Geno was raised with lots of love, family and food; now, he's still living with his mom and eating himself to death, and it's time to make a change; Geno's cousin, Nico, joins the cause; they pledge to lose weight together.
Watch My 600-lb Life Season 11 Episode 1 Now

"My 600-lb Life," a reality television series that premiered in 2012, is a compelling chronicle on the popular cable network TLC (The Learning Channel). It provides a starkly candid and often heart-wrenching look into the lives of individuals grappling with severe obesity. Each episode provides a deeply humanizing portrait of a person battling morbid obesity, often over 600 pounds, documenting their struggles, triumphs, and sometimes fall-backs in a profoundly raw, real and gripping manner. The central figure behind the show's premise is the kindly yet firm Dr. Younan Nowzaradan, or Dr. Now as fans endearingly call him. Dr. Now is a Houston-based surgeon specializing in bariatric surgery who becomes the individuals' last source of hope in their quest for a healthier life. All of the show's participants strive under his guidance to achieve and maintain dramatic weight loss through proper diet control and ultimately bariatric surgery. However, "My 600-lb Life" is more than just a makeover show or a medical intervention program. Instead, the show brazenly brings to the screen a human-interest story, narrating intense emotional journeys that go much beyond sheer physical transformation. The participants' lives unfold in front of the viewers' eyes, expanding on their backgrounds, their relationships, their struggles with food addiction, and the impact their weight has both on their mental health, daily life, and their loved ones. Thus, it significantly delves into exploring societal, psychological, and familial aspects responsible for these individuals' plight and their struggle toward the pathway to recovery. Each episode, generally running for an hour, follows a single participant's journey over a period of a year or so. It begins with a glimpse into their daily lives, offering insight into their struggle with basic activities like dressing, bathing and leaving the house. Exploring the causes and catalysts of their excessive weight gain, each storyline advances towards the consultation with Dr. Now, where their fight towards taking control back over their lives begins. Another commendable aspect of "My 600-lb Life" is its sincerity not to gloss over the difficulties of weight loss. The show does not sugarcoat the hardships and downfalls that often occur on the way to the desired goal. It showcases the participant's determination, persistence, and sometimes even their failings making it an authentic portrayal of their journey showing that transformation is never a linear process. Furthermore, the show often delves into sensitive territory, unraveling the childhood traumas, mental health issues, or even abusive relationships that have contributed to their unhealthy relationship with food. This empathetic approach underscores the fact that obesity is often not just about lack of physical control, but rooted deeply in psychological issues. "My 600-lb Life" stands apart in the profound empathy and respect it extends towards its participants, always going beyond simply calling it a weight issue and treating the problem as a deeply human one. This element is what truly elevates the show from just another reality television format to an engaging and moving chronicle of resilient human spirits fighting against all odds. The enthralling, complex, and often emotional personal narratives combined with the spectacle and genuine tension of dramatic weight loss scenarios have rendered "My 600-lb Life" a spellbinding and popular show. Audiences are drawn to the compelling narratives and often find themselves cheering for the participants, celebrating their victories, sharing their disappointments, and resonating with their struggles which transcends the realm of physicality and echoes the universal human endeavor to overcome hurdles. Few television shows manage to provoke personal introspection, and "My 600-lb Life" often succeeds in this respect as viewers find themselves reflecting on their relationship with food, health, and their own bodies. The show creates a conversation around the often-stigmatized subject of obesity, facilitating dialogue about mental health, body positivity, and the intricacies of personal transformation. The high stakes, emotional gravity, and psychological depth make "My 600-lb Life" a gripping watch. It is a program that challenges, confronts, and educates viewers about human resilience, strength, and the profound journey towards personal liberation. The real power lies in its very real characters, their everyday battles, and the profound transformations that reshape their bodies, their self-image and their entire lives. This is a show that pulls no punches but manages to handle its subject matter sensitively, delivering an unbeatable mix of reality, drama, and inspiration. In essence, "My 600-lb Life" is not a just journey of weight loss, but a tale of regaining one's life.
My 600-lb Life is a series categorized as a currently airing. Spanning 11 seasons with a total of 180 episodes, the show debuted on 2012. The series has earned a moderate reviews from both critics and viewers. The IMDb score stands at 6.7.
How to Watch My 600-lb Life
How can I watch My 600-lb Life online? My 600-lb Life is available on TLC with seasons and full episodes. You can also watch My 600-lb Life on demand at Max, Amazon Prime, FuboTV, Philo, TLC, Apple TV, Amazon, Google Play, Microsoft Movies & TV, Vudu, Sling online.
Genres
Documentary & Biography
Cast
Younan Nowzaradan, Lola Clay, Melissa Morris

Similar Shows like My 600-lb Life