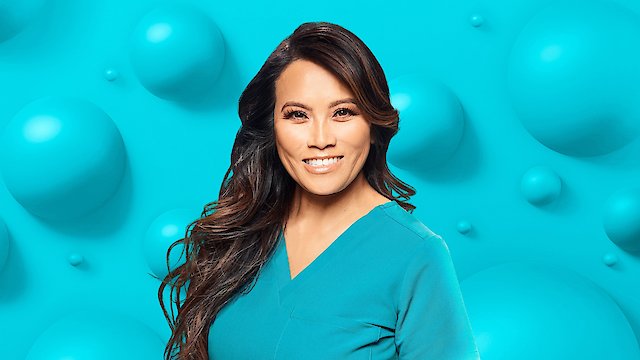 Where to Watch Dr. Pimple Popper
Nhan has an extreme, red birthmark that covers half his face; Debbie worries that her shoulder lump will prematurely age her; Justin is a dude rockin' a man bun, but he's having no fun due to the bumps poking through his scalp.
Watch Dr. Pimple Popper Season 9 Episode 21 Now
Don has a case of crippling psoriasis that has completely taken over his body. Jeff has a huge growth over his spine that looks like a hunchback.
Watch Dr. Pimple Popper Season 9 Episode 20 Now
Brent has a tricep bump that could be intertwined in his muscle. Jeb loves the beach but refuses to go because of the massive number of blackheads, pimples, and cysts all over his body.
Watch Dr. Pimple Popper Season 9 Episode 19 Now
Jess is a widower looking for love who is stuck with a giant bump on his neck. Cherish developed a leopard-print face during pregnancy.
Watch Dr. Pimple Popper Season 9 Episode 18 Now
Natasha has ambitions of becoming a model, but her massive ear keloids are keeping her off the runway. Eight-year-old Wynter wants her scaly mermaid skin cured.
Watch Dr. Pimple Popper Season 9 Episode 17 Now
Robert carries the weight of providing for his family and the weight of the huge lump on his head; Christina has liquid-filled growths next to her eyes; Felipe, a photographer with a dry skin condition so severe he risks losing his career.
Watch Dr. Pimple Popper Season 9 Episode 16 Now
Fit guy Alonso wants to show off his progress in the gym, but his 70 lipomas are holding him back; Porscha is a comic book enthusiast with two symmetrical lumps on her face; Jeffrey has a leaky lump named Larry on the back of his head.
Watch Dr. Pimple Popper Season 9 Episode 15 Now
J-Fab is the life of the party, but her shoulder bump is seriously cramping her style; Dan is a gentle giant with lumps on his head that add a few inches; Teresa's red face and bumpy nose make her feel like a monster.
Watch Dr. Pimple Popper Season 9 Episode 14 Now
Krystal, a witch, looks to clear a curse of a cyst from her face; Keven wants to get a butt lipoma removed to get his tush back into a regular shape; Raquel, Dr. Lee's esthetician BFF, almost suffocates Dr.
Watch Dr. Pimple Popper Season 9 Episode 13 Now
Alyse has been suffering from a burning rash that feels like it's rubbing away her existence; Terry has become too big for his britches due to a painful butt cheek lipoma; James has demons on his back that are ruining his life.
Watch Dr. Pimple Popper Season 9 Episode 12 Now
Dr. Lee has a surprise for Paula, who has oozing, odoriferous and painful legs. Mike needs to get rid of the bump on his head before two major life events. Amanda feels inadequate for her husband because of the saggy growth on her back.
Watch Dr. Pimple Popper Season 9 Episode 11 Now
Zombie Skin
Watch Dr. Pimple Popper Season 9 Episode 10 Now
Tyler's hands are so dry, cracked and painful that he considers getting them amputated; Ebonee covers the tiny bumps around her eyes with sunglasses; Ralph feels like a cyst factory with painful cysts covering his back.
Watch Dr. Pimple Popper Season 9 Episode 8 Now
Mike's religious beliefs have kept him from seeing a doctor about his huge growth. Kylie has come to love her birthmark and is torn about whether or not to get it removed.
Watch Dr. Pimple Popper Season 9 Episode 7 Now
Brittney has hundreds of tiny bumps over her chest that have destroyed her confidence; John has a nose the size of a plum and leans on his local family clinic for help; Dr. Lee's friend Raquel drops in and brings out her wild side.
Watch Dr. Pimple Popper Season 9 Episode 6 Now
With bonus scenes -- Jimmy's flaky, raised alligator skin feels like an itchy hell, and he wants it cured so he can find love. Djuka is a stubborn guy with a stubborn bump.
Watch Dr. Pimple Popper Season 9 Episode 5 Now
Cedric has a bump on his eye and a painful lump on his neck that have kept him from working; Katherine's large ear cluster puts her neighborhood watch job at risk; Andrea uses makeup to cover the white spots all over her face and body.
Watch Dr. Pimple Popper Season 9 Episode 4 Now
3
Cyst Over Troubled Water
After losing his longtime love, Joe wants the large bumps all over his head removed; the itchy, painful rash on Nisa's ears spreads to her face; Jennifer has dark spots all over her face that nobody is allowed to see.
Watch Dr. Pimple Popper Season 9 Episode 3 Now
Jacqueline's massive shoulder growth makes it difficult for her to do her favorite hobby of fire spinning; the mysterious bump on James' cheek loves to bleed; Mikalia has possessed a bumpy, smelly mass on her head since birth.
Watch Dr. Pimple Popper Season 9 Episode 2 Now
Kenny was born with a rare condition that causes hundreds of lumps to grow all over his body; Ebonee covers the tiny bumps on her eyes with sunglasses; Paula's painful and swollen feet ooze a substance that emits a foul odor.
Watch Dr. Pimple Popper Season 9 Episode 1 Now

Dr. Pimple Popper is a reality television series that started in the year 2018, airing on the TLC network. The show centralizes on the life and practice of Dr. Sandra Lee, a California-based dermatologist who has gained an extensive following online for her satisfying and somewhat addictive pimple popping videos. Dr. Sandra Lee, aptly named Dr. Pimple Popper, has devoted her career to improving people's skin health and helping them to feel comfortable and confident in their own skin, despite any dermatological challenges they may have. She executes all forms of zit-popping, cyst-extracting, and pore-cleansing on various kinds of patients, with a wide range of skin disorders. Not only does she offer immediate solutions, but she also provides her patients with the right medical advice to prevent recurring skin problems. The idea behind the television show arose from the overwhelming online response to Dr. Lee's pimple-popping clips on YouTube and Instagram. These videos attracted a niche audience who found the controlled and methodical extraction of blemishes, lumps, swellings and other skin abnormalities oddly satisfying and some even claimed it to be therapeutic, hence, coining themselves as 'Popaholics'. Seeing potential, TLC network capitalized on this fascination by turning the now-viral videos into a reality television show. Every episode of the Dr. Pimple Popper show typically concentrates on different patients that consult Dr. Lee each with distinct dermatological anomalies. From cysts as large as onions lodged under the skin, seriously inflated blackheads, troubling lipomas to more rare, life-altering conditions, the show has a lot to fascinate viewers with. It is an unobstructed insight into the vast spectrum of skin-related medical problems that internet enthusiasts would never have known existed - let alone see treated - if not for Dr. Lee's educational yet sensational style of content. There are, of course, unique lighter moments too, where Dr. Lee chats humorously with her patients, getting to know them while cleaning their skin, making the atmosphere of her clinic more warm and inviting. Despite the gruesome nature of her business, Dr. Pimple Popper has an incredibly empathetic and human centric side. What sets apart this series from most of the reality shows is that it surprisingly has a distinct emotional component in almost every episode. It often features moving and inspiring journeys of patients who have been suffering from self-esteem issues because of their skin conditions and how their life changes positively after meeting Dr. Lee. It highlights the fact that appearance-related anxieties can be attributed to something as neglectable as a strawberry-sized cyst on the forehead, or numerous small, stubborn whiteheads crowded on the nose, that most fail to understand the gravity of. As per its name, the show isn't for the faint-hearted as it provides detailed, up-close views of procedures that many may find somewhat disturbing, yet weirdly satisfying. Although it caters to a specific taste, it has been a television hit, gaining a large and dedicated following, so much so, that the pilot season was soon followed by subsequent series that still air to date. Another intriguing aspect of the show is how Dr. Lee skillfully blends a gentle approach concerning her patients, while remaining almost clinical about removing their skin issues like it's a walk in the park. Watching her so comfortable around all forms of skin ailments, speaking to her patients about it so honestly but with a pure sense of normalcy; indeed, will make viewers ponder - most physical imperfections are merely trivial, and nothing to be embarrassed or overly conscious about. Dr. Pimple Popper might not be everybody's cup of tea, but it serves its purpose for those looking for a medical reality series that pitches just the right amount of gross, a bit of awe, patches of empathy, and lots of skin-transforming satisfaction. If you're interested in skin conditions, their treatments, or are just curious about the variety of problems people experience with their skin, Dr. Pimple Popper is just the show for you.
Dr. Pimple Popper is a series categorized as a currently airing. Spanning 9 seasons with a total of 114 episodes, the show debuted on 2018. The series has earned a moderate reviews from both critics and viewers. The IMDb score stands at 6.6.
How to Watch Dr. Pimple Popper
How can I watch Dr. Pimple Popper online? Dr. Pimple Popper is available on TLC with seasons and full episodes. You can also watch Dr. Pimple Popper on demand at Amazon Prime, FuboTV, Philo, TLC, Apple TV, Amazon, Google Play, Microsoft Movies & TV, Vudu, Max online.

Similar Shows like Dr. Pimple Popper