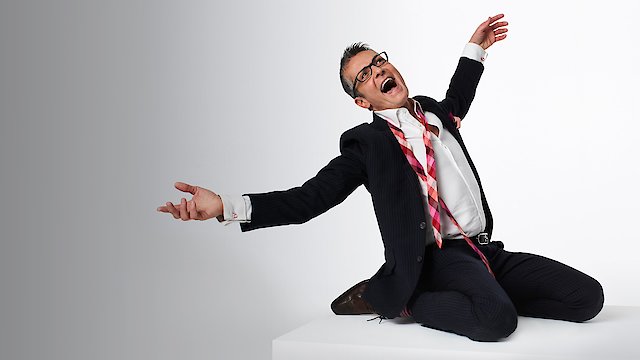 Where to Watch Say Yes To The Dress
Bridal expert, Randy Fenoli counts down the top ten most memorable mothers to have swayed their daughters' bridal appointments - for better or worse.
Watch Say Yes To The Dress Season 102 Episode 14 Now
13
Top 10 High Rollin' Brides
For some brides, the sky's the limit when it comes to their dress budget. Bridal expert Randy Fenoli has helped countless brides with unlimited budgets navigate their way through an unlimited amount of options to obtain their ultimate bridal fantasy.
Watch Say Yes To The Dress Season 102 Episode 13 Now
12
Top 10 Figure Flaunting Brides
Finding a gown to showcase a bride's body is what bridal expert Randy Fenoli does best. From brides who want to rock their curves or accentuate their assets,Randy is there to help find the perfect fit.
Watch Say Yes To The Dress Season 102 Episode 12 Now
When it comes to bridal, Randy Fenoli stands by his mantra - 'it's all about the bride'. But sometimes it's the guys that really shine during appointments.
Watch Say Yes To The Dress Season 102 Episode 11 Now
10
Top 10 Brides Who Dare to Be Different
Bridal expert Randy Fenoli has helped countless brides' find unique wedding looks that each can call their own. From the most over the top dresses to brides who crave the unconventional, Randy counts down the most daring and different looks of all time.
Watch Say Yes To The Dress Season 102 Episode 10 Now
9
Top 10 Extraordinary Entourages
The success of a bride's dress search often hinges on who she brings along to help her decide. From opinionated family members to practical jokesters, Randy counts down the top 10 most extraordinary entourages to ever crash the couch.
Watch Say Yes To The Dress Season 102 Episode 9 Now
Over the years, bridal expert Randy Fenoli has helped countless dads see their little girls turn into blushing brides. From dads who can't let go to dads with big opinions, Randy counts down the top 10 doting dads.
Watch Say Yes To The Dress Season 102 Episode 8 Now
Randy Fenoli has helped thousands of brides find the perfect gown. And over the years, he's seen how a finicky bride can sabotage her own search.
Watch Say Yes To The Dress Season 102 Episode 7 Now
6
Top 10 Most Memorable Brides
There are so many fans of Say Yes, and everyone has their favorites. And on this episode, Randy will count down his top ten picks for his most memorable.
Watch Say Yes To The Dress Season 102 Episode 6 Now
5
Top 10 Most Heartfelt Moments
Randy takes us through his favorite touching, sweet, and heartfelt moments in the store - from the bride stories that tugged at our heart-strings the most, to the sweet, sad, and unforgettable moments at Kleinfeld.
Watch Say Yes To The Dress Season 102 Episode 5 Now
Randy sees every bridal personality type that walks into the salon - and while every bride is unique in their own way, certain classic characters seem to reappear over and over again. From picky and demanding, the most memorable ones are hard to ignore.
Watch Say Yes To The Dress Season 102 Episode 4 Now
3
Top 10 All In the Family Moments
If a bride brings along crazy critical family members, she also risks bringing a ton of opinions. Whether it's dealing with an audacious aunt, a doting dad, or a jealous sister, Randy will count down the top 10.
Watch Say Yes To The Dress Season 102 Episode 3 Now
2
Top 10 Budget Busting Brides
On Say Yes to the Dress, we watch some brides spend big, BIG money on their dresses, or come in with the most outrageous dress requests possible... and in this episode, Randy will countdown the ten wildest, most budget-busting brides he's seen.
Watch Say Yes To The Dress Season 102 Episode 2 Now
Every girl wants her mom there when she picks the dress of her dreams, but sometimes a loving mom preparing for the big day can become a momzilla. From funny, to overbearing, Randy will take a look at the moms who played a part in their girl's yes moment.
Watch Say Yes To The Dress Season 102 Episode 1 Now

Say Yes To The Dress is an engaging reality-television show that debuted on TLC in 2007, captivating audiences worldwide and becoming synonymous with the journey of selecting the perfect wedding dress. This show is primarily set at the world-famous Kleinfeld Bridal salon in the heart of New York City and gives an inside glimpse into the real drama, joy, tears, and frustration that often accompany the process of wedding dress shopping. The general concept of the show is straightforward yet utterly compelling. Brides-to-be arrive at the salon with their entourage, which often consists of friends, family members, and fiancés, hoping to find their dream dress for the most important day of their life. Each episode follows a few brides and showcases the emotional, and sometimes stressful, process of trying to choose that one special dress from an extensive collection of thousands of gowns. A defining feature of Say Yes To The Dress is the bevy of personalities all trying to make the best choice. The brides-to-be come from various backgrounds, ages, sizes, and budgets; each one having a unique story and distinct vision for their perfect wedding attire which adds to the charm of the show. The diverse array of brides guarantees that no two episodes are the same, with each new installment offering a fresh perspective on the quintessential bridal shopping experience. Each bride's journey towards her dream dress is full of anticipation and anxiety, which is portrayed honestly and sincerely in the show. The salon staff characters in the show are just as engaging. The dynamic team of consultants, managers, and fitters each have an integral role to play. From the experienced wedding dress consultants, who draw upon their vast knowledge base and expertise to guide the brides in their selection, to the fitters who flawlessly adjust each dress to the bride's figure, these unsung heroes play a significant role in the show. Also, the designers often make an appearance to provide expert advice, tweak the design or custom-make the perfect dress. The cohesive interaction among the team is marked by camaraderie, devotion to their craft, and an unmistakable passion for helping brides look their absolute best on their wedding day. Further, the salon's charismatic fashion director, Randy Fenoli, is a pivotal part of the show. His charm, flamboyant nature, and genuine empathy for the brides make him a fan favorite. Randy serves as the moral compass of the show, using his years of experience to make the selection process as smooth as possible while ensuring that the brides never lose sight of their unique style and preferences. Another remarkable thing about Say Yes To The Dress is its universal relatability. It delves into the complexity of familial relationships and the clashing of opinions between brides and their entourages. The show beautifully captures the drama associated with the decision-making process, including the pressure to please everyone and the challenge to stay within a budget. It paints a vivid picture of the real-life compromises and calculations that brides have to make. To say that the show is about just picking the right wedding dress would be an understatement. It's about more than just fashion or weddings; it's about love, relationships, compromises, and most importantly, it's about making dreams come to reality. The emotional rollercoaster that the brides ride resets with every episode, amplifying the joy when a bride finally says yes to the dress. It goes beyond simply being a shopping trip; instead, it provides an insightful perspective into one of the most profound experiences in a woman's life. Also, for audiences planning their own weddings or those who simply love glamourous dresses and a bit of drama, Say Yes To The Dress provides a wonderful source of inspiration. It offers real-life examples of how different styles, cuts, and designs look on women of all shapes and sizes, helping inspire future brides' search for their dream dress. Overall, the tender narrative arch mixed with captivating drama and glamour, accompanied by a variety of personalities, makes Say Yes To The Dress more than just an ordinary reality TV show; it's a real emotional journey of women on the verge of a new beginning in their lives. This heartfelt and frequently humorous series has, over the years, found a special place in reality television by producing countless memorable moments and leaving lasting impressions on its viewers. Whether you're searching for wedding gown inspiration or just a fan of reality TV, Say Yes To The Dress is a must-watch.
Say Yes To The Dress is a series categorized as a currently airing. Spanning 102 seasons with a total of 378 episodes, the show debuted on 2007. The series has earned a moderate reviews from both critics and viewers. The IMDb score stands at 5.6.
How to Watch Say Yes To The Dress
How can I watch Say Yes To The Dress online? Say Yes To The Dress is available on TLC with seasons and full episodes. You can also watch Say Yes To The Dress on demand at Amazon, Apple TV online.
Cast
Roger Craig Smith, Randy Fenoli, Mara Urshel

Similar Shows like Say Yes To The Dress