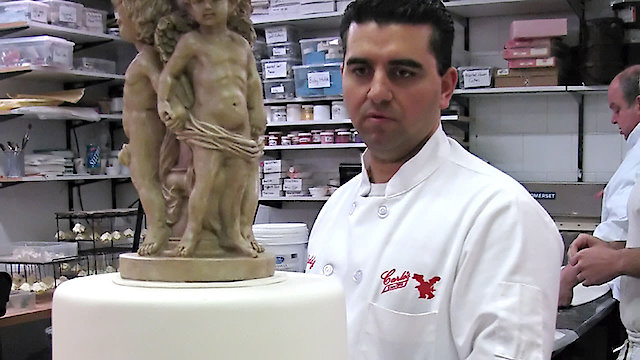 Where to Watch Cake Boss
Since winning The Next Great Baker, Marissa Lopez has become an integral part of Carlo's Bakery. Now Marissa's getting married and ordering her own cake.
Watch Cake Boss Season 15 Episode 10 Now
8
Next Great Bride, Fish Cake And Caesar Castano
Buddy bakes wedding cake for the winner of Next Great Baker, Marissa Lopez. And Ralph bakes a frieze cake for a man from his fiancé.
Watch Cake Boss Season 15 Episode 8 Now
7
Giant Tooth And Masquerade Sweet 16
There smiled broadly when the bakery must bake a giant tooth-cake. And a masquerade cake must be created for a 16-year birthday.
Watch Cake Boss Season 15 Episode 7 Now
6
Extraterrestrials And Giant Tacos
Buddy and the other bakes a giant taco cake, as it is "taco's day". A talented 9-year-old designer's alien cake.
Watch Cake Boss Season 15 Episode 6 Now
5
Cuckoo Cake, Birthday Surprise, and New Bakery
Buddy and his family travel to Minnesota to prepare for a brand new bakery opening the first Carlo's expansion into America's Midwest.
Watch Cake Boss Season 15 Episode 5 Now
4
Thunderbirds And Butterflies
Buddy creates a beautiful butterfly cake for a local zoo. Their butterfly exhibit is closing for the season, and they want to celebrate with a cake covered with sugar replicas of the colourful creatures.
Watch Cake Boss Season 15 Episode 4 Now
3
Waves, Watermelons And Wipe Outs
A Jersey Shore surf shop owner needs a cake that screams summer, for an upcoming surfing competition. The bakery crew recreates the ocean with a cake that looks like a giant crashing wave.
Watch Cake Boss Season 15 Episode 3 Now
2
Rollercoasters, Cook-offs And Cupcake Island
The Valastro family is spending the summer at the Jersey Shore, but Buddy's still on the job. Buddy takes a consultation at the beachside amusement park he frequented as a kid.
Watch Cake Boss Season 15 Episode 2 Now
1
Dinosaurs, Brush Strokes And Edible Art
The crew summons the Jurassic when they make a cake for a local Dinosaur theme park.
Watch Cake Boss Season 15 Episode 1 Now

Cake Boss is a riveting reality television series that made waves on TLC starting in 2009. It stars master cake artisan Buddy Valastro, a charismatic, larger-than-life character from New Jersey. The docu-drama captures the behind-the-scenes action at Carlo's Bakery, a family-owned business situated in Hoboken, New Jersey. The renowned bakery has earned a reputation for its mouth-watering, visually enchanting cakes. Cake Boss is built around the distinct personality of Buddy Valastro, a man deeply rooted in family traditions who never leaves a stone unturned in his pursuit of cake perfection. Valastro's vivid imagination and creative genius shine through every episode as he crafts amazingly detailed, custom-made cakes for various occasions. He governs his kitchen with a firm hand and an energetic passion, pushing and inspiring his team to deliver cakes that are not just dessert, but rather pieces of art that touch people's lives and make celebrations more memorable. The show also shines a spotlight on the dynamics of working within a family business. Alongside Buddy Valastro are various family members, including his four sisters, his mother, his wife, and several in-laws, all working as part of the bakery's staff. The staff's interactions, filled with loving teasing, fierce feuds, and a hearty dose of laughter, bring an additional layer of entertainment. The show paints a heartwarming picture of a close-knit Italian-American family sustaining their Italian roots and familial traditions even as they work earnestly and relentlessly to meet the demands of their booming business. Though Cake Boss primarily focuses on the process of cake-making, it dives deeper into the business side of running a successful bakery. Each episode presents a unique challenge for Buddy and his crew to overcome, requiring them to devise creative solutions while juggling multiple tasks and ensuring the bakery runs smoothly on a day-to-day basis. Be it an event with a looming deadline, a cake design gone awry, or coordination problems between the staff, the show never lacks suspense and drama. The main charm of the show unquestioningly comes from the spectacular cakes that are prepared. The cakes crafted at Carlo's Bakery are anything but ordinary. You'll witness cakes shaped like slot machines, fire-breathing dragons, lifelike animals, and so much more. The meticulous detail and artistic flair put into each creation are astounding. From sketching designs to molding fondant, from baking in the ovens to presenting to the clients, audience members get a firsthand glimpse into every step of the process. Not only does this offer a captivating visual feast, but it also gives viewers a deeper appreciation for the art of cake making. Buddy's charisma and genuine love for what he does shine through the screen and endear him to the audience. Balancing humor with strict professionalism, his leadership style drives the show. His passion for baking and decorating is infectious, and it's impossible not to get wrapped up in his enthusiasm for crafting these spectacular pastries. Underneath all the layers of buttercream and fondant, Cake Boss is a show about dreams, hard work, and a family's commitment to preserving their legacy. Each episode stirs up a whole host of emotions in viewers: from awe at the artistic cakes, to sympathy with the family's squabbles and triumphs, to joy at every successfully completed order. The show invites viewers into the bustling, sweet-consuming world of Carlo's Bakery and leaves them with an ever-endearing affection for the Valastro family. Cake Boss is more than a baking show. It's a testament to family, dedication, creativity, and the all-encompassing love for cake. If you're a food enthusiast, a baking devotee, or someone who simply enjoys a good family-oriented show, Cake Boss offers a scenic tour of lifelike pastries, compelling family dynamics, and the hectic world of cake delivery. Cake Boss redefined reality television in a way that audiences hadn't seen before in the realm of baking shows. The show intricately balances the elements of a successful business along with family life and personal dreams, making it a compelling watch. Tune in to witness the beautiful chaos of Carlo's Bakery where innovative cake designs come to life amidst laughter, debate, and good old family fun.
Cake Boss is a series categorized as a currently airing. Spanning 15 seasons with a total of 305 episodes, the show debuted on 2009. The series has earned a moderate reviews from both critics and viewers. The IMDb score stands at 6.6.
How to Watch Cake Boss
How can I watch Cake Boss online? Cake Boss is available on TLC with seasons and full episodes. You can also watch Cake Boss on demand at Amazon Prime, Tubi TV, TLC online.
Cast
Buddy Valastro, Mauro Castano, Danny Dragone

Stream shows like Cake Boss