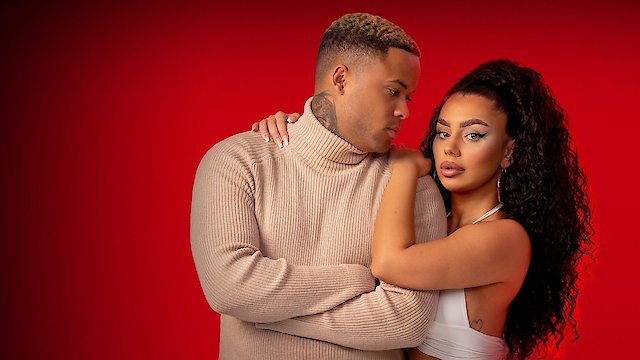 Where to Watch 90 Day Fiance
Jumping back into the heated confrontation between Jibri and Patrick's brother, John; Mohamed clashes with Yve's friend; Jibri storms offstage; Bini makes a shocking confession.
Watch 90 Day Fiance Season 9 Episode 19 Now
The cast members of Season 9 come together to relive their biggest moments and hash out unresolved dramas; Jibri gets confrontational; Shaeeda throws major shade when Bilal's ex joins the conversation.
Watch 90 Day Fiance Season 9 Episode 18 Now
Emily and Kobe reveal their secret pregnancy. Patrick is desperate for Thais' dad to bless the marriage.
Watch 90 Day Fiance Season 9 Episode 17 Now
Bilal's sister and Shaeeda have different wedding dress visions. Thais is torn between marrying Patrick and going home.
Watch 90 Day Fiance Season 9 Episode 16 Now
Kara and Guillermo tie the knot. Thais' uncertainty deepens in snowy Massachusetts. Emily discovers Kobe is looking at the future differently. Shaeeda gets unexpected advice from Bilal's mother. Mohamed makes a big move. Jibri and Miona move out.
Watch 90 Day Fiance Season 9 Episode 15 Now
90 Day Fiancé offers a unique look into the world of international dating and matrimony.
Watch 90 Day Fiance Season 9 Episode 14 Now
13
The Elephant in the Womb
Emily takes a pregnancy test. Patrick demands that Thais tell her dad the truth. Guillermo gets cold feet. Sheeda questions Bilal's motives behind asking for a prenup. Mohamed issues an ultimatum. Miona tells Jibri's mom they are eloping.
Watch 90 Day Fiance Season 9 Episode 13 Now
12
Different Ex-pectations
Mohamed considers a new sponsor. John butts in, and Thais doubles down on keeping the truth from her dad.
Watch 90 Day Fiance Season 9 Episode 12 Now
11
How To Marry a Stripper
Kobe's happy proposal comes undone. Thaís lets a huge secret slip. Ari's ex is back and so is Bini's jealousy. Shaeeda questions her future with Bilal. Yve and Mohamed clash about kids. Jibri's parents bluntly assess his relationship.
Watch 90 Day Fiance Season 9 Episode 11 Now
Pat and Thaís fight over finances. Jibri's parents shift his mind on marriage. Bini enters the MMA arena. Bilal blindsides Shaeeda with talk of a prenup. Kara goes drinking without Guillermo. Emily reveals a wedding purchase she made in secret.
Watch 90 Day Fiance Season 9 Episode 10 Now
Shaeeda tries to bond with Bilal's children. Miona continues to come between Jibri and David. Kobe and Emily's dad talk man-to-man. Pat's gift to Thais has strings attached. Guillermo's vision for their wedding doesn't match Kara's.
Watch 90 Day Fiance Season 9 Episode 9 Now
Thaís' hopes for a John-free future are dashed. Ari finds out Bini is sparring with a woman. Kobe snaps at Emily. Shaeeda thinks Bilal is a neat freak.
Watch 90 Day Fiance Season 9 Episode 8 Now
Kara's ex-boyfriend has advice for Guillermo. Miona gives Jibri an ultimatum. Yve's friends grill Mohamed. Emily vetoes Kobe's parenting decision. Shaeeda pressures Bilal about kids.
Watch 90 Day Fiance Season 9 Episode 7 Now
6
If I Have to Turn this Car Around
Bilal doesn't like Shaeeda's playful side. The pressure is already getting to Jibri. Guillermo wants Kara to slow down on partying. Bini envisions a future in the Big Apple. Thaís has no patience for John.
Watch 90 Day Fiance Season 9 Episode 6 Now
Kobe and Emily argue over her breastfeeding habits in front of her parents. Bilal introduces Shaeeda to his kids.
Watch 90 Day Fiance Season 9 Episode 5 Now
Kobe is overwhelmed with emotions when he meets his son. Bini and Ari have a tense departure from Ethiopia.
Watch 90 Day Fiance Season 9 Episode 4 Now
Bilal comes clean to Shaeeda; Emily's first-day request stuns Kobe; Miona meets Jibri's skeptical parents; Bini's confession to his sisters doesn't go as planned; Yve welcomes Mohamed to the U.S.
Watch 90 Day Fiance Season 9 Episode 3 Now
Bilal's test for Shaeeda begins; Kobe reacts to Emily's new post-baby look; questions from Yve's friends about Mohamed get personal; Kara and Guillermo hope to make it to America with his expired passport.
Watch 90 Day Fiance Season 9 Episode 2 Now
Divorced dad Bilal plans to test his fiancee when she arrives; Kara heads to the Dominican Republic to pick up her young beau, Guillermo; Jibri hopes to sway his Serbian love to stay in his hometown; Emily welcomes Kobe to meet their son.
Watch 90 Day Fiance Season 9 Episode 1 Now

90 Day Fiancé is a reality television series that was launched by TLC (The Learning Channel) in the year 2014. The premise for the series is unique and it invites viewers on an emotionally charged journey revolving around international romance. The show provides painstakingly realistic portrayals of the challenges and rewards of cross-cultural relationships. Without skirting around the complexities and difficulties of international romance and bureaucracy, the show reveals the uphill battle faced by binational couples to unite in the United States. The rules and regulations for K-1 visas, which allow foreign fiancés of American citizens to travel to the US, bring in the key twist: the couples are required to officially get married within 90 days of the visa's approval, thus earmarking the title of the series. The show spans a period of 90 days in each couple's life - hence the title - during which the audience observes as the couples navigate through a gamut of emotions, interpersonal issues, familial expectations, cultural differences, language barriers, and most importantly, the ticking countdown of 90 days. The series packs in love, romance, drama, cultural diversities, and the harsh realities of immigration and visa processes, providing a comprehensive entertainment experience for viewers. In each season of 90 Day Fiancé, multiple couples, with one American and one foreigner, share their stories. They bear the scrutiny of their families and the biases of their friends as their love is put to the test in a way that it might never have been otherwise. They worry and fret, they fight and make up, they struggle and sacrifice, all aired for the audience to experience – from the comfort of their living room. On one hand, the couples undergo the stress of planning a wedding within the tight frame of 90 days, and on the other hand, they undergo the complexities of intercultural and personal adaptations as they strive to establish a strong foundation for their future together. The show also explores the social dynamics brought about as a result of these relationships and the stereotypes they shatter or sometimes unwittingly, validate. Viewers are privy to another layer of emotional turmoil as the foreign fiancé struggles with homesickness and culture shock, facing the difficult choice of choosing love over their country, friends, family, and familiarity. The show tackles the heavy and often touchy aspect of potential language barriers that could result in misunderstandings and disagreements between couples. 90 Day Fiancé equally shines light on the often-overlooked, real-life intricacies of the immigration process – the extensive paperwork, the exorbitant fees, and the dauntingly long wait times. The bind of the 90-day ultimatum adds a fresh layer of suspense for the viewers who anticipate whether the couples will be able to marry within the time limit or face the grave possibility of the foreign fiancé having to return to their home country. While the series relies heavily on the emotional tension built amongst the couples, it also provides audiences with a broader understanding of cultural differences and the varying definitions that love, companionship, marriage, and commitment carry across different cultures. The tone of the show is transparent and balanced. It does well to steer clear of tone-deaf sensationalism, instead it showcases the tribulations and triumphs of each relationship with sincerity and respect. The characters on the show come across as authentic individuals from different walks of life, each with their own motivations, fears, dreams, and love stories. Since its debut in 2014, 90 Day Fiancé has grown in popularity owing to its real, complex, and emotional character and plot dynamics. Its unique premise combined with the raw emotion on display keeps the audience captivated. TLC has spawned multiple spin-off shows based on the original, further extending its reach and popularity. Certain couples from the show have gained intense popularity leading to feature in follow-up series and specials by TLC. Far from the glamorized and often staged realm of reality television, 90 Day Fiancé opens the door to a unique aspect of the human experience, a testament to the lengths to which people are willing to go for love.
90 Day Fiance is a series categorized as a currently airing. Spanning 9 seasons with a total of 127 episodes, the show debuted on 2014. The series has earned a moderate reviews from both critics and viewers. The IMDb score stands at 6.4.
How to Watch 90 Day Fiance
How can I watch 90 Day Fiance online? 90 Day Fiance is available on TLC with seasons and full episodes. You can also watch 90 Day Fiance on demand at Max, Amazon Prime, FuboTV, Philo, TLC, Apple TV, Amazon, Microsoft Movies & TV, Vudu, Sling, Google Play online.
Cast
Natalie Podiakova, Mike Youngquist, Nicole Nafziger

Similar Shows like 90 Day Fiance