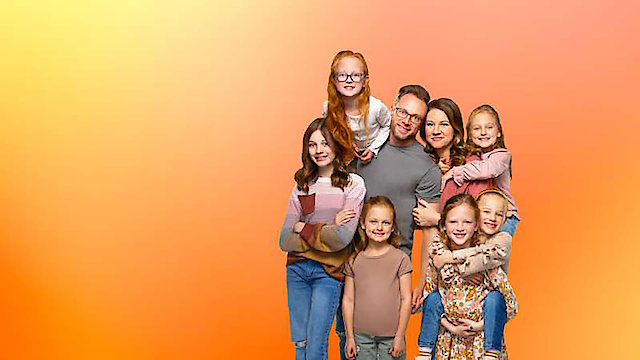 Where to Watch Outdaughtered
8
Olivia and the Pink Limo
Adam grapples with taking all the quints to their first daddy-daughter dance; Danielle looks for new ways to welcome fitness back into her life; Blayke pushes her independence, making future school and life choices without her parents' influence.
Watch Outdaughtered Season 9 Episode 8 Now
Adam takes the Quints old-school camping against Danielle's wishes, Blayke's first big middle-school dance brings up growing pains for her and Danielle, and communication issues come to light.
Watch Outdaughtered Season 9 Episode 7 Now
The Quints and Blayke surprise Danielle with a spa day for her belated birthday to chaotic results. After being apart, Adam and Danielle's long-awaited date reveals deep-seated issues.
Watch Outdaughtered Season 9 Episode 6 Now
The Quints and Blayke put "Fun Dad" Adam to the test when Danielle goes to Dallas for a week of business and pleasure. Hazel is still learning to ride her new bike long after her sisters have mastered theirs, but Adam and Danielle disagree on why.
Watch Outdaughtered Season 9 Episode 5 Now
4
Blayke and the Babysitting
In a pinch on a big night out, Adam and Danielle debate about whether Blayke is ready to babysit the Quints. The Graeson Bee storefront impacts Danielle's health.
Watch Outdaughtered Season 9 Episode 4 Now
It's Christmas madness as the Bubsys rush from a dance recital to a Christmas parade to hosting a cookie party; last-minute staffing issues at the boutique put Danielle in a crunch; Danielle and Adam clash over her struggles to stay in shape.
Watch Outdaughtered Season 9 Episode 3 Now
The Quints prepare to be supermodels at the 2nd Annual Graeson Bee Fashion Show. Danielle juggles wild cards like Uncle Dale, bad weather and a hot chocolate bar made for disaster.
Watch Outdaughtered Season 9 Episode 2 Now
1
Adam and the Thanksgiving Disaster
Danielle and Adam navigate new roles in their family, with six growing girls and a new storefront boutique to run; when their oven breaks right before they have to host Thanksgiving, Adam's on the hook to pull off a miracle.
Watch Outdaughtered Season 9 Episode 1 Now

Outdaughtered, a captivating American reality television series on TLC, premiered in the year 2016. The heartwarming television series revolves around the Busbys, a humble family from League City, Texas. The Busbys are not your typical American family - they are the first-ever parents in the United States to welcome quints of the same gender all in one swoop. Viewers are invited to follow the remarkable journey of Adam and Danielle Busby, whose life took a magical detour when they were gifted with quintuplet daughters to join Blayke, their first-born daughter. The show promises a tidal wave of warmth, laughter, and intrigue as we explore the challenges and joys found in raising multiple children. In Outdaughtered, Danielle and Adam Busby find their lives spectacularly flipped over as they delve into the uncharted territories of parenting six girls, five of whom are the same age. The quintuplets, Ava Lane, Olivia Marie, Hazel Grace, Parker Kate, and Riley Paige, arrive as a massive surprise, totally uprooting the routine dynamic of the Busby family. Hazel Grace has a notable distinction, as she is visually impaired due to a condition known as nystagmus, a storyline that forms one of the central threads of the series. The series provides a candid look into the lives of the Busbys as they navigate through the eye-watering challenges linked with parenting multiples, a scenario few folks can truly comprehend. The irresistible charm of the show lies in the shared experiences of an average American family multiplied fivefold. From monumental milestones like observing their quintuplets cultivating their unique individual personalities to seemingly commonplace difficulties such as handling simultaneous tantrums or dealing with sick kids, the show paints an authentic picture of their experiences. Outdaughtered showcases moments of joy, tears, and the inevitable chaos that exists in their daily routine. Viewers get to be part of the quintuplets' birthdays, potty training sessions, their initiation into preschool, beach vacations, and surgeries amongst many other experiences. It successfully balances the depiction of quintuplet-specific hurdles, such as the immense logistical challenge of feeding, bathing, and changing five infants simultaneously, along with navigating everyday parental dilemmas, such as maintaining marital harmony and dealing with older sibling Blayke's feelings of being left out. The defining characteristic of this reality show is its genuine rawness. It's unscripted nature means that emotions are real, making it immensely relatable. Be it Adam Busby's candid admittance about his struggles with postpartum depression or exploring Danielle's determination in managing a full house while trying to sustain her individual aspirations & professional career, the series embraces candor, closing the gap between the viewer and the participants. This openness enhances the appeal of the series and sets it apart from other shows in the genre. But it's not just about the struggles; Outdaughtered is also filled with pure love and the unique bond that only siblings of the same age can share. The show is abundant in heartwarming moments and offers a potent reminder of the amount of love and accomplishment that can blossom even in the midst of chaos. In essence, it describes the delicate balance of being parents to six unique kids while maintaining their life, work, and relationship. Over the years, Outdaughtered has gained immense popularity due to its heartening and thoughtful depiction of parenting and family life, setting a new narrative rhythm. The series provides an inside look into the dedication, love, and immense patience that it takes to raise such a large family. Every episode presents a new set of challenges, thus keeping the audience hooked, intrigued, and waiting to watch how the Busbys will handle the situation and come out on top. In conclusion, Outdaughtered is a heartwarming and compelling reality show that shines a spotlight on the mesmerizing chaos and convoluted beauty of parenting in the most extreme of circumstances. Crafted as a celebration of life, the series resonates with viewers who are enchanted with the magnificence of family, love, adventure, and the strength of character. Its authentic portrayal of parenting, coupled with the Busby family's charming presence, makes Outdaughtered a captivating watch for anyone seeking a 'reality' check with a plateful of entertainment.
Outdaughtered is a series categorized as a new series. Spanning 9 seasons with a total of 85 episodes, the show debuted on 2016. The series has earned a moderate reviews from both critics and viewers. The IMDb score stands at 7.0.
How to Watch Outdaughtered
How can I watch Outdaughtered online? Outdaughtered is available on TLC with seasons and full episodes. You can also watch Outdaughtered on demand at Amazon Prime, FuboTV, Philo, TLC, Apple TV, Amazon, Google Play, Microsoft Movies & TV, Vudu online.
Genres
Kids & Family, Reality
Cast
Danielle Busby, Adam Busby, Blayke Busby

Similar Shows like Outdaughtered