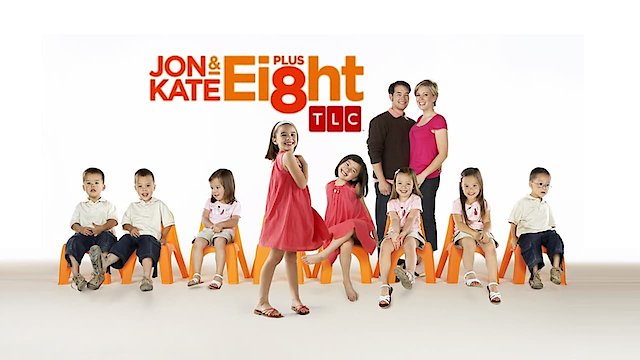 Where to Watch Kate Plus 8
The sextuplets celebrate their 13th birthday, outdoor style, with the girls being pampered and the boys roughing it; Kate reflects on past birthdays and looks ahead to having eight teenagers under one roof.
Watch Kate Plus 8 Season 6 Episode 3 Now
2
Kate Goes Skiing... Sort of...
Spring break takes Kate and her eight to Vermont for a week on the slopes with skiing lessons and tubing, but a trip to the hospital makes for a wilder week; Kate agrees to ski, but fear takes over.
Watch Kate Plus 8 Season 6 Episode 2 Now
1
A Haunting at the Gosselins
The Gosselins invite their friends over for a Halloween party and turn their lawn into a haunted house; Kate stresses about party planning, food prep and costumes while trying to deal with guests arriving before everything is ready.
Watch Kate Plus 8 Season 6 Episode 1 Now

Kate Plus 8 was a popular reality TV show that aired on TLC from 2007-2009. It was a spin-off of the original show, Jon & Kate Plus 8, following the lives of the Gosselin family, made up of parents Kate and Jon and their eight children. After the couple's divorce in 2009, the show was renamed. While the original show focused on the challenges and joys faced by the couple while raising their eight children, Kate Plus 8 puts the spotlight on Kate's life as a single mother. The premise of Kate Plus 8 is a simple yet incredibly captivating one. Kate Gosselin is the mom to a set of twins and sextuplets, including daughters Cara and Madelyn, and sextuplets Alexis, Hannah, Aaden, Collin, Leah, and Joel. The absolute chaos and joy that come with raising such a large family are beautifully captured in the show, providing an honest, humorous, and at times, heartbreaking look into the world of parenthood. As one can imagine, Kate Plus 8 is far from a typical family reality show. The presence of eight children radically changed the dynamics of the Gosselin household after Kate and Jon's divorce. An integral part of the show is observing the tremendous strength and resilience shown by Kate as she undertakes the monumental task of raising her large family single-handedly. Kate's perseverance, along with the adorable antics of her eight children, forms the mainstay of the show. Kate Plus 8 is also about the deep bond and love that exist within a family, regardless of its size or composition. The show emphasizes the importance of maintaining strong familial ties, helping and supporting each other, and facing life's trials together. Whether it's preparing for the kids' first day at school, celebrating birthdays, or dealing with routine household chaos, each episode offers insight into Kate's journey as a single parent. The show allows audiences to see into Kate's world as she adapts to her new life and its multitude of adjustments and responsibilities. It showcases her attempts to find a balance between being a mother, a career woman, and an individual with her own needs and aspirations. The audience gets to see her successes, her struggles, her joys, and her sorrows, giving them an intimate look into her personal journey. With the ever-changing dynamics of such a large family, every episode of Kate Plus 8 brings something new and unexpected to the table, keeping audiences engaged and rooting for the Gosselin family. The children also play pivotal roles in the show, making it as much their story as it is Kate's. The twin girls, Cara and Mady, navigate through their teenage years with typical teenage angst while also stepping up to share responsibilities with their busy mother. Their siblings, the sextuplets, each with distinct personalities and behaviors, add a great deal of charm and unpredictable excitement to the show. From their delightful mischief and occasional squabbles to their heartfelt moments of bonding, the children breathe life into the house and the show. Apart from the daily ups and downs, the show has a celebratory tone taking viewers on various family trips and holidays. Kate and her eight youngsters can be seen exploring exciting new places together on holidays, engaging in thrilling outdoor activities or experiencing the usual but ever so memorable moments of a family on vacation. This serves to underline the notion that despite their unique circumstances, the Gosselins are just like any other family, cherishing their time together and making enduring memories. In conclusion, Kate Plus 8 is a candid, warm, and entertaining reality show that depicts the trials, triumphs, and daily life of a woman courageously running a sizable household. It touches on themes of love, responsibility, hardship, and joy. It's a testament to the fact that a family does not necessarily need two parents to be filled with love, warmth, and happiness. It's a show that offers a voyeuristic peek into the life of a unique family, making it an interesting watch for those who enjoy candid, real-life family dramas.
Kate Plus 8 is a series categorized as a currently airing. Spanning 6 seasons with a total of 57 episodes, the show debuted on 2010. The series has earned a mostly poor reviews from both critics and viewers. The IMDb score stands at 4.5.
How to Watch Kate Plus 8
How can I watch Kate Plus 8 online? Kate Plus 8 is available on TLC with seasons and full episodes. You can also watch Kate Plus 8 on demand at Amazon Prime, Tubi TV, Sling, TLC, Apple TV, Amazon, Google Play, Vudu online.
Cast
Kate Gosselin, Aaden Gosselin, Joel Gosselin

Similar Shows like Kate Plus 8