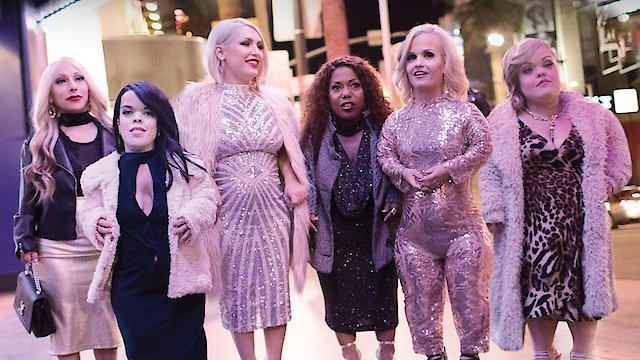 Where to Watch Little Women: LA
Elena and Tonya run events at Terra's Little Person Retreat in Mexico. However, an explosion erupts, leading to a catastrophic turn of events.
Watch Little Women: LA Season 8 Episode 18 Now
With her marriage to Todd on the rocks, Christy seeks advice from Tonya. Meanwhile, Terra hosts her "Pushing Boundaries" retreat in Mexico.
Watch Little Women: LA Season 8 Episode 17 Now
Tonya gives the women the true strip club experience at the premiere of her play "Roxy." Terra finalizes plans for her LP retreat that is just days away, even though she might not be able to attend due to her daughter's health condition.
Watch Little Women: LA Season 8 Episode 16 Now
Elena takes huge professional strides by producing a photo shoot for her eye new shadow palette, and having the first public reading of her children's book. But with the bad blood between Terra and Christy, Elena fears that putting them in the same room for her events might be career suicide.
Watch Little Women: LA Season 8 Episode 15 Now
On the heels of one of their dirtiest fights ever, Jasmine, Elena, and Tonya do damage control between Terra and Christy. But Christy puts the drama aside to further her aspiring lingerie line.
Watch Little Women: LA Season 8 Episode 14 Now
Terra and Joe are on pins and needles when their daughter Penny has to have multiple medical tests. Christy lays down the law with her daughter Autumn after finding out she's complaining about her mom behind her back.
Watch Little Women: LA Season 8 Episode 13 Now
Christy finally sees her lingerie designs the flesh; Cole and Autumn's friendship gets tested; Terra accuses Christy of lying.
Watch Little Women: LA Season 8 Episode 12 Now
After losing a ton of weight, Christy seeks out treatment for her recent hair loss. Elena finally confesses to the girls the root of her attitude issues.
Watch Little Women: LA Season 8 Episode 11 Now
10
Social Media Intervention
Christy tries to help Todd qualify for a surgery that will drastically help his mobility, but instead of following the doctor's orders, Todd drags his feet; and Terra gathers the girls for a social media intervention for Tonya, but everyone is shocked when accusations surface about things Jaa is saying behind Tonya's back.
Watch Little Women: LA Season 8 Episode 10 Now
Chris and Jasmine celebrate a vow renewal ceremony. Christy decides whether to choose her dream job or her friendship.
Watch Little Women: LA Season 8 Episode 9 Now
Elena presents her children's book for the girls' time, but questions from the girls leave her speechless.
Watch Little Women: LA Season 8 Episode 8 Now
As the vow renewal begins, Jasmine's Bridezilla tendencies come out. When creative differences between Christy and her lingerie designer arise, Christy is forced to face her fears and deal with her own body image.
Watch Little Women: LA Season 8 Episode 7 Now
Feeling inspired by her recent weight loss, Christy decides to start a lingerie line, but not everyone is supportive of her new business venture.
Watch Little Women: LA Season 8 Episode 6 Now
Terra joins forces with the Dwarf Athletic Association, to sponsor a Bocce Tournament.
Watch Little Women: LA Season 8 Episode 5 Now
Jasmine pursues her love of music by signing up for a performance showcase, but struggles to overcome her anxiety and stage fright.
Watch Little Women: LA Season 8 Episode 4 Now
Terra arranges a girls trip to Placerville, Cal., so everyone can experience Mika on her own turf. But when five little women roll into this California Gold Rush town, from ghost hunts to gun ranges, everyone is out of their element. And when Tonya is pushed to her emotional limit, she shocks the women with details of her father's death. Later, Elena's bad attitude infuriates Terra and Christy.
Watch Little Women: LA Season 8 Episode 3 Now
Autumn feels smothered when Christy plans her skating disco-themed birthday party; Tonya tells the girls that she and Jaa are finally more than just friends; Terra receives a profound reading from clairvoyant medium Tyler Henry.
Watch Little Women: LA Season 8 Episode 2 Now
After taking a few months away to focus on her marriage and weight-loss, Christy goes hiking with the girls, and reveals her physical transformation. Meanwhile, when Jasmine plans a spa day centered around Terra, Tonya realizes their friendship is even more damaged than she thought it was.
Watch Little Women: LA Season 8 Episode 1 Now

Little Women: LA is a reality television series that first aired on the Lifetime network in 2014. The show uncovers the unique experiences, personal lives, and fascinating stories of a group of best friends, all of whom have been diagnosed with dwarfism. Each episode takes the audience on an extraordinary journey, shedding light on the everyday realities, challenges, and delights of being a little person in a fast-paced city like Los Angeles. The reality series primarily features Terra Jole, Tonya Banks, Elena Gant, Christy McGinity, Briana Manson, and Jasmine Arteaga, who are all on their individual paths pursuing dreams in the realms of entertainment, fashion, and family life. Each one of these empowering women exhibits a unique personality that plays an integral part in the overall dynamics of the group. The reality series primarily explores their relationships with each other, taking viewers through a veritable rollercoaster of emotions, from intimate moments of friendship and harmony to heated arguments and confrontations. Terra Jole is an experienced reality television personality, performer, and one of the show's executive producers. Being an influential member of the group, she often offers guidance and advice to her friends. Tonya Banks is an actress and active businesswoman with a fiery spirit, known for her wit and no-nonsense attitude. The stunning Elena Gant, originally from Russia, is known for her modeling and makeup skills, and often takes on the role of peacemaker within the group. Among the rest of the cast, Christy McGinity, with her nurturing personality, is a mother to two children and yearns for more. Briana Manson, a singer and dancer, aims to break free from the shadows of her past and establish a successful music career. Spirited and determined, Jasmine Arteaga strives to balance her ambitious fashion career with the challenges and joys of motherhood. While enjoying their lives in sunny Los Angeles, the ladies are seen juggling careers, love, and hardships while proving to the world that they are much more than just 'little women.' They each challenge societal norms and face adversity head on, all while attempting to maintain friendships and romantic relationships, raising children, and carving out successful careers. Little Women: LA takes on paramount issues such as pregnancy complications, bullying, divorce, substance abuse, and societal bias, presenting an honest representation of the personal trials and triumphs of these courageous women. Each episode shines a spotlight on different aspects of their lives, whether that be navigating relationships, exploring career opportunities, or dealing with matters of self-esteem. Through all of these challenges and adventures, the show emphasizes the importance of resilience and unity. The show is as uplifting and joyful as it is intense and dramatic. An underlying thread of humor extends through all of the chaos, increasing the show's charm and watchability. The honesty and rawness with which the women share their stories engender connection and empathy, making it easy for viewers to invest in their journeys and root for their successes. Apart from intimate friendships and personal dilemmas, the show delves into the professional world of the women. The women are all ambitious and driven, making strides in their careers, in industries ranging from music and performance arts to fashion and beauty. This aspect of the show provides viewers with a glimpse into their hard work, resilience, and determination, even in the face of adversity In essence, Little Women: LA does an impressive job of highlighting the bigger picture – the dreams, struggles, relationships, and professional aspirations of the women – while remaining genuinely engaging with each episode. It fosters understanding and awareness of the dwarfism community, particularly among those who otherwise might not have an opportunity to understand the unique challenges they face. Throughout, the ladies illustrate that they are not defined by their height, but rather their character and attitude. They aim to dissolve stereotypes, showing that irrespective of stature, everyone has their own set of rewards, struggles, and pathways in life. Little Women: LA is, undoubtedly, an inspiring and captivating show that creatively combines elements of drama, comedy, and reality-TV in a titillating package. It presents the perfect mix of entertainment and realism, making the narrative not just merely a show but a much-needed eye-opener on the lives of little people in a predominantly average-height world.
Little Women: LA is a series categorized as a currently airing. Spanning 8 seasons with a total of 151 episodes, the show debuted on 2014. The series has earned a moderate reviews from both critics and viewers. The IMDb score stands at 5.7.
How to Watch Little Women: LA
How can I watch Little Women: LA online? Little Women: LA is available on Lifetime with seasons and full episodes. You can also watch Little Women: LA on demand at Amazon Prime, Philo, Apple TV, Amazon, Google Play, Vudu online.
Cast
Todd Gibel, Terra Jolé, Tonya Reneé Banks

Stream shows like Little Women: LA