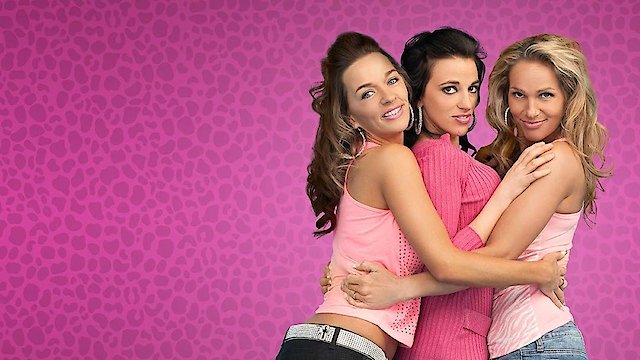 Where to Watch Gypsy Sisters
8
Wildest, Craziest, OMG Moments
Reflecting on some of the most outrageous and hilarious moments from past seasons of the Gypsy Sisters. From epic fights to bling-tastic celebrations; one thing is for certain - there's never a dull moment in this wild and crazy family!
Watch Gypsy Sisters Season 4 Episode 8 Now
7
The First Ladies of Bling Take DC
The girls rally around Nettie who is still dealing with the loss of her son. In an attempt to return to normalcy, Mellie asks Nettie to plan Brandy's baptism and the girls take on DC to celebrate Kayla's birthday, and learn some history along the way...
Watch Gypsy Sisters Season 4 Episode 7 Now
6
The Call that Changed It All
A phone call in the middle of the night brings news of tragedy.
Watch Gypsy Sisters Season 4 Episode 6 Now
5
On the Ranch, Off the Rails!
On a quest to become cowgirls, the gypsies get down and dirty on a dude ranch, courtesy of Dovie. From cleaning stalls, to herding cattle, the girls must work together in order to achieve success...
Watch Gypsy Sisters Season 4 Episode 5 Now
4
A Drum, a Rattle, and a Gypsy Battle
Dovie prepares for a spiritual healing for the girls.
Watch Gypsy Sisters Season 4 Episode 4 Now
3
Desperate Times Call for Desperate Measures
The situation becomes explosive when Kayla, Annie and Mellie confront Nettie over her internet trash talking. As a result, Kayla and Mellie take legal action against Nettie.
Watch Gypsy Sisters Season 4 Episode 3 Now
2
Dirty Little Secrets: Exposed!
Mellie's beau gets in a fight with the father of her second child while she's in labor. Later, the women find out who's been spreading rumors about them on a gossip site.
Watch Gypsy Sisters Season 4 Episode 2 Now
1
The Name That Started a War
The fourth season opens with Kayla and Annie living under one roof, enjoying the single life; a pregnant Mellie moves in with Kayla and Annie leaving Nettie and JoAnn to question her allegiance which reignites old wounds.
Watch Gypsy Sisters Season 4 Episode 1 Now

TLC's Gypsy Sisters, which aired from 2013, is an intriguing reality show following the melodramatic lives of the four Stanley sisters: Nettie Stanley, Mellie Stanley, Kayla Williams, and Laura Johnston. The show is a spin-off of TLC's hit show, My Big Fat American Gypsy Wedding, and revolves around these Romani-American women known for their larger-than-life personalities. Based in the rural town of Martinsburg, West Virginia, Gypsy Sisters provides an in-depth look into the unique subculture of the Romani community in America, exploring their traditions, beliefs, superstitions, and unique lifestyle. The Stanley sisters are true Romani Gypsies, known for their volatile relationships, extravagant parties, elaborate clothes, and sometimes controversial customs. Nettie Stanley is the eldest of the Stanley sisters and assumes the matriarchal role in the family. Renowned for her confrontational nature and fierce loyalty towards her family, Nettie often serves as the unifying force among the sisters, mediating conflicts and ensuring the enforcement of family traditions and Romani codes. Mellie Stanley, often deemed as the black sheep of the family, defies many traditional Romani norms and values. Known as the wild child of the group, Mellie's story provides a rebellious contrast within the otherwise traditional family backdrop. Her scandalous job as an exotic dancer frequently becomes a point of conflict within the family. Kayla Williams is the second oldest Stanley sister, and she tries to balance her fast-paced lifestyle with her roles as a wife and mother of five. Often co-mediating disagreements within the family with Nettie, Kayla has a strong bond with her family but struggles to manage the dynamic, rowdy nature of her children. Laura Johnston, the youngest Stanley sister, is also married with children. Despite her young age, Laura is not spared from the drama and chaotic life of the Stanley family. Laura's evolving relationship with her sisters, her marriage, and her struggle with her role within the Romani community offers an added layer to the narrative. Gypsy Sisters strongly emphasizes family values, allegiance, and unity. Despite the constant disagreements, fights, and misunderstandings that are integral to the series, the underlying theme remains focused on the significance of kinship. Across the three seasons of the show, viewers are provided with unfiltered insight into the Stanley sisters' celebrations, milestones, romances, conflicts, and disappointments. The series also underscores the Romani culture's unique customs, including arranged marriages, the significance of large families, the pressure of maintaining femininity, and respect for elders. However, it's the clash of these ancient customs with modern American life that adds a captivating layer of conflict, providing an engaging dynamic throughout the show and offering the viewers a fresh perspective. The raw and over-the-top nature of Gypsy Sisters has polarized audiences, resulting in a combination of fascination and criticism. For those unfamiliar with the nuances of the Romani culture, it offers a window into a virtually unknown world — a world of ritzy fashion, ceremony, rituals, strong family bonds, and heart-tugging drama. In addition to the sisters' personal lives, Gypsy Sisters also has a strong focus on the community around them. Throughout the show, viewers are introduced to extended family members, husbands, children, and friends who all contribute to the Stanley sisters' hectic lives in their own unique ways. Gypsy Sisters is a cultural immersion, taking viewers on an intimate journey into the life, customs, and family dynamics of the Stanley sisters. The perfectly staged drama, real-life situations, and traditional touchpoints of the Romani culture make it a binge-worthy watch. Overall, Gypsy Sisters is a whirlwind of emotion, tradition, drama, and reality, providing sensational entertainment and an immersive cultural experience.
Gypsy Sisters is a series categorized as a currently airing. Spanning 4 seasons with a total of 32 episodes, the show debuted on 2013. The series has earned a mostly poor reviews from both critics and viewers. The IMDb score stands at 3.8.
How to Watch Gypsy Sisters
How can I watch Gypsy Sisters online? Gypsy Sisters is available on TLC with seasons and full episodes. You can also watch Gypsy Sisters on demand at Max, Amazon Prime, FuboTV, Tubi TV, TLC, Apple TV, Amazon, Google Play, Vudu online.
Genres
Kids & Family, Reality
Cast
Kayla Williams, Nettie Stanley, Mellie Stanley

Similar Shows like Gypsy Sisters