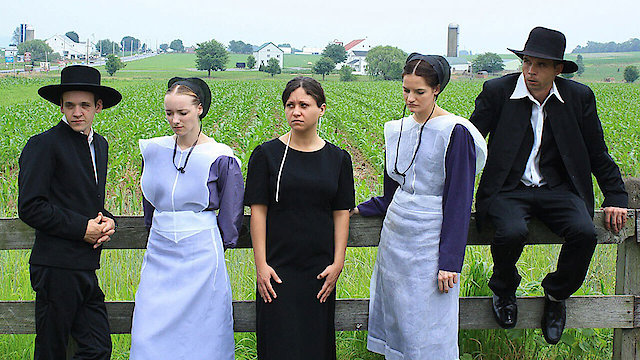 Where to Watch Breaking Amish
7
Stay Amish or Go English?
Jeremiah and Ada must decide the future of their donut stand business; Mary learns her fate with the Amish Church; Shelly meets her biological mother; Lowell finds out surprising news about his baby during an ultrasound; Dawn reveals a dark secret.
Watch Breaking Amish Season 8 Episode 7 Now
Jeremiah makes a desperate plea for Carmela to return; Dawn and Shelly go full English; Lowell must make a difficult call to his Mennonite parents; Mary takes a risk that could threaten her standing in the Amish community; Sabrina says good-bye.
Watch Breaking Amish Season 8 Episode 6 Now
Despite initial success with the donut stand, tensions mount between Jeremiah and Carmela; Lowell decides to go Full English with a makeover; Mary must confront an Amish woman speaking out against her to the Bishop; Sabrina works at the donut stand.
Watch Breaking Amish Season 8 Episode 5 Now
Jeremiah faces challenges as he opens his donut stand for the first time; Mary attends church for the first time since returning home; Shelly debates whether she should contact her biological mother; Dawn wonders about going home.
Watch Breaking Amish Season 8 Episode 4 Now
Lowell, Shelly, and Dawn rebel against Jeremiah's rigid rules and explore the English world; Mary must find a way to please the Bishop; Sabrina tries to make things right with Jeremiah; Jeremiah's temper creates problems.
Watch Breaking Amish Season 8 Episode 3 Now
Jeremiah & Carmela introduce Lowell, Shelly, and Dawn to the English world. Drama unfolds between Shelly & Lowell and threatens to ruin everyone's time.
Watch Breaking Amish Season 8 Episode 2 Now
1
Leaving Everything Behind
Season 7 premiere: Mary must decide if she will rejoin the Amish church; Jeremiah and Carmela make a risky decision to save their marriage; Sabrina must prove to Jeremiah that she's changed; Shelly, Lowell and Dawn decide to explore the English world.
Watch Breaking Amish Season 8 Episode 1 Now

Breaking Amish is an intriguing real-life drama presented by The Learning Channel (TLC). Running from 2012 to 2014, the show focuses on the lives of five young adults who decide to step outside their strict Amish or Mennonite communities to experience the broader world. This groundbreaking series offers a deep, unfiltered look into the challenges and rewards that come with abandoning deeply ingrained tradition for an entirely new lifestyle. The cast, which includes Kate Stoltzfus, hails from humble beginnings in the rural and reserved settings of the Amish/Mennonite society. Living without modern conveniences such as electricity, cars, or even zippers, they have grown up in a world vastly different from mainstream American culture. Kate Stoltzfus, a young woman from Lancaster, Pennsylvania, is one of the primary cast members of Breaking Amish. Known for her ambition and strong will to step away from her religious community, her journey forms an integral part of the narrative. Kate's story focuses on her aspiration to become a top-flight model and her struggle with her new life in New York City. Her transformation throughout the series and the hurdles she faces provide a captivating storyline that keeps the audience engaged. Breaking Amish steers clear of being just another reality show by focusing on the personal hardships and emotional turmoil experienced by its stars as they make their transformation. This not only includes their cultural shock as they move to New York City, one of the world's busiest and most modern cities, but also the spiritual and emotional tests they face in doing so. The concept of the show has proven to be a controversial one, as it delves into the personal lives of these young individuals, their religious doubts, family ties, and how they manage to reconcile these issues. The series has equally been praised for its authentic depiction of the struggle between personal freedom and tradition. While viewers see the sparking lights, skyscrapers, and bustling traffic of New York through the cast's wide-eyed view, Breaking Amish also underlines the emotional torment they go through. How does one thrive in an unfamiliar environment away from the teachings they have grown up with? How does one break away from the expected, the norm and navigate the pressures of the modern world? How does one cope with the heart-rending decisions of possibly never seeing their family and loved ones again? It's not all about struggle, however. Breaking Amish also chronicles the exhilarating freedom their new lives offer, from the liberty to wear what they want to pursuing the kinds of personal aims shunned by their previous communities. Kate Stoltzfus' dream of modelling, in particular, gives her an opportunity to completely rewrite her life's trajectory. Breaking Amish further touches on the internal conflicts amongst the cast members themselves as they realize that stepping away from their tradition does not automatically rid them of their past experiences and beliefs. Their conservative roots continue to shape their lives in ways they may not have anticipated. This leads to a whole new level of complexities, creating an absorbing blend of camaraderie, conflict, romance, and heartbreak, ensnaring the audience in their unfolding lives. Breaking Amish is more than just a reality show; it's a way to introspect upon one's set of beliefs and upbringing. It's a compelling story of transformation, freedom, and the pursuit of personal dreams. It's a raw source of stories that push audiences to question, reflect, and ultimately gain an insight into the intensely personal and courageous decisions these young individuals make - decisions that could either liberate them or break them. In all, this series draws in audiences not only with its unique premise but also with the real-life tales of its cast members. With Kate Stoltzfus and the rest of the Breaking Amish cast leading the narrative, they not only entertain viewers on screen but also inspire critical conversations about culture, tradition, and identity off-screen. It's these compelling elements that make Breaking Amish a TV show worth watching.
Breaking Amish is a series categorized as a currently airing. Spanning 8 seasons with a total of 92 episodes, the show debuted on 2012. The series has earned a moderate reviews from both critics and viewers. The IMDb score stands at 5.0.
How to Watch Breaking Amish
How can I watch Breaking Amish online? Breaking Amish is available on TLC with seasons and full episodes. You can also watch Breaking Amish on demand at Amazon Prime, Amazon, Philo, Apple TV online.
Cast
Kate Stoltz, Rebecca Schmucker, Jeremiah Raber

Stream shows like Breaking Amish