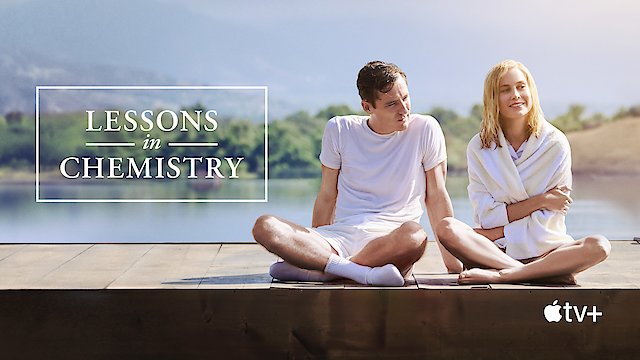 Where to Watch Lessons in Chemistry
8
Introduction to Chemistry
Series finale. With the fate of Supper at Six uncertain, Elizabeth makes a decision about her future.
Watch Lessons in Chemistry Season 1 Episode 8 Now
The chapters of Calvin's life shed light on the mysteries of his past.
Watch Lessons in Chemistry Season 1 Episode 7 Now
Newfound fame presents challenges for Elizabeth. Mad continues her covert mission. Tensions surrounding the freeway come to a head.
Watch Lessons in Chemistry Season 1 Episode 6 Now
Elizabeth butts heads with her new boss as she works to make Supper at Six her own. Mad meets a new friend while working on her family tree.
Watch Lessons in Chemistry Season 1 Episode 5 Now
Struggling with the hardships of motherhood, Elizabeth finds herself pulled in a new direction when faced with an opportunity.
Watch Lessons in Chemistry Season 1 Episode 4 Now
A surprising discovery leaves Elizabeth feeling isolated and alone, but she finds comfort in her new friendship with Harriet.
Watch Lessons in Chemistry Season 1 Episode 3 Now
In pursuit of a prestigious grant, Elizabeth and Calvin join forces in the lab. Their partnership yields unexpected results.
Watch Lessons in Chemistry Season 1 Episode 2 Now
Elizabeth, a brilliant but frustrated lab technician in the 1950s, is punished after she's caught conducting her own research after hours.
Watch Lessons in Chemistry Season 1 Episode 1 Now

Lessons in Chemistry is a dynamic and highly engaging series from Apple TV+ that first graced our screens in 2023. This brilliantly crafted drama series is an amalgamation of eras, genres, and themes, offering a unique blend of 1960s period atmosphere enveloped in a dramedy format. The show delivers a compelling narrative about a talented woman's bold journey in the largely male-dominated sphere of science and television. The star-studded series features Academy Award winner Brie Larson as Elizabeth Zott, whose zest for science and a fierce resolve to make it big in her field is the focal point of the show. She is a scientist at the pinnacle of her career, but loses her laboratory job due to gender discrimination. Nevertheless, she finds an unconventional, yet highly visible avenue on prime-time television as a cooking show host with a dash of chemistry. This twist of fate not only brings her back into her element, but also makes her an unconventional and beloved television personality. In the pursuit of her career, Elizabeth Zott becomes a prominent figure in the television industry, effortlessly merging the worlds of science and cooking, thus redefining the realm of TV cookery. From here, Zott embarks on a journey to become a household name, while also serving as a beacon for women's empowerment and STEM advocacy. She uses her silver screen platform not only to entertain and cook, but also to subtly teach science and stand up against gender discrimination. Challenged by the norms of a conservative 1960s society in America, she becomes an icon of creative education and gender equality. Zott's character perfectly encapsulates the quintessential woman of the era; a woman caught in a societal battle of defining her identity and carving a niche in a world that is not ready to accept her. The series delivers a lighthearted charm amidst prevailing serious issues. There are unexpected humorous elements that stand out brilliantly amidst the show's grave social commentary, providing an engaging viewing experience. The writing is superb, with sharp dialogue guiding the narrative while leaving enough room for the characters to breathe and evolve. The presentation of physics and chemistry is cleverly intertwined into everyday cooking tips, making science fun and relatable. Lessons in Chemistry captures the essence of the era, from the meticulous set designs to the nostalgic color palettes, right down to the authentic costume designs. The series successfully manages to transport its viewers back to the 1960s, giving an insight into the colorful, yet profound era of change. The title carries a double meaning, both referring to the scientific lessons Elizabeth imparts on her show, but also the life lessons she learns in her journey. The supporting characters each bring unique dynamics to the table, from dedicated producers and rival cooking show hosts to influential figures in the world of science and television. Their resonating performances bring life to the narrative and further enhance the multi-layered storytelling, creating a symphony of complex stories that contribute to the main theme in their unique ways. The show's exceptional storytelling skillfully integrates the complexities of gender discrimination, the thrill of scientific exploration, and the dynamic world of 1960s television into a seamless narrative. The show is not just about science and cooking, it's about breaking boundaries, defying norms, and making one's voice heard even in the most unconventional ways. In addition to its appealing storyline and strong performances, the series also boasts high production values and exceptional cinematography. The visual storytelling is immersive and beautifully crafted, inviting the viewers into a journey that's as aesthetic as it is compelling. In conclusion, Lessons in Chemistry delivers a delightful cocktail of enchanting performances, engaging storytelling, smart humor and stunning visual artistry, and offers a new perspective on women's role in the societies of the past. The series exceeds the boundaries of mere entertainment, becoming a tool of inspiration and empowerment, and an ode to all the women who strive to break the glass ceiling in a world defined by limitations. Whether you are a fan of period dramas, dramedy, science, history or powerful narratives, Lessons in Chemistry surely has something to please everyone.
Lessons in Chemistry is a series categorized as a . Spanning 1 seasons with a total of 8 episodes, the show debuted on 2023. The series has earned a mostly positive reviews from both critics and viewers. The IMDb score stands at 8.2.
How to Watch Lessons in Chemistry
How can I watch Lessons in Chemistry online? Lessons in Chemistry is available on Apple TV+ with seasons and full episodes. You can also watch Lessons in Chemistry on demand at Apple TV+ online.
Cast
Brie Larson, Lewis Pullman, Aja Naomi King

Stream shows like Lessons in Chemistry