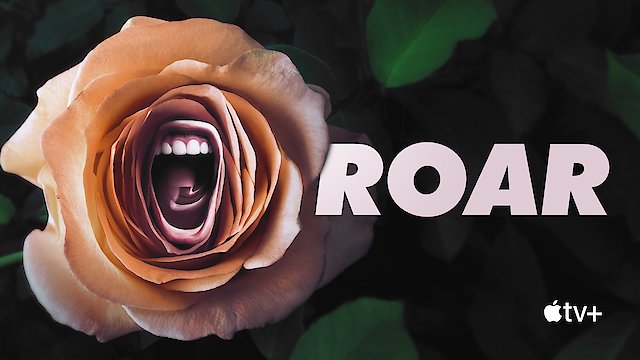 Where to Watch Roar
8
The Girl Who Loved Horses
A girl (Fivel Stewart) loves horses. Her friend (Kara Hayward) does not.
Watch Roar Season 1 Episode 8 Now
7
The Woman Who Returned Her Husband
A woman (Meera Syal) returns her husband. Literally.
Watch Roar Season 1 Episode 7 Now
6
The Woman Who Solved Her Own Murder
A woman (Alison Brie) solves her own murder. Literally.
Watch Roar Season 1 Episode 6 Now
5
The Woman Who Was Fed By a Duck
A woman (Merritt Wever) is fed by a duck. Emotionally.
Watch Roar Season 1 Episode 5 Now
4
The Woman Who Found Bite Marks on Her Skin
A woman (Cynthia Erivo) finds bite marks on her skin. Literally.
Watch Roar Season 1 Episode 4 Now
3
The Woman Who Was Kept on a Shelf
A woman (Betty Gilpin) is kept on a shelf. Literally.
Watch Roar Season 1 Episode 3 Now
2
The Woman Who Ate Photographs
A woman (Nicole Kidman) eats photographs. Literally.
Watch Roar Season 1 Episode 2 Now
1
The Woman Who Disappeared
A woman (Issa Rae) disappears. Literally.
Watch Roar Season 1 Episode 1 Now

Roar is a highly dynamic and captivating anthology series from Apple TV+, first aired in 2022. Developed from a collection of provocative short stories by Cecelia Ahern, this television adaptation embraces stories that explore the multifaceted experiences of modern-day womanhood. Each of the episodes revolves around different female characters, delivering a thought-provoking examination of what it truly means to be a woman in today's society. The show consistently pushes boundaries, presenting narratives filled with magical realism and metaphorical elements to deliver stimulating stories with deeper meanings. Through these innovative narrative techniques, the series delves into the female experience, drawing out the beauty, complexity, hilarity, and sometimes the raw pain that women encounter in their everyday lives. The stories each come to life through the lens of a committed and incredibly diverse ensemble cast. This excellent line-up of talent, including stars such as Nicole Kidman, Cynthia Erivo, Alison Brie, and Merritt Wever, ensures that every episode is just as compelling and memorable as the last. The varying perspectives and experiences presented in the show are matched by a range of acting styles, providing a comprehensive and authentic portrayal of womanhood. Roar also benefits from its exceptional behind-the-camera talent. Each episode is beautifully crafted, with a unique blend of drama, comedy, and sometimes fantasy. The series is the brainchild of creators Liz Flahive and Carly Mensch, showrunners of the critically acclaimed series "GLOW." Assisted by director Meera Menon, the team delivers a visually stunning production where every detail aligns to effectively communicate the storyline. Each episode of Roar is written in a standalone format, allowing viewers to experience different plots and characters with each viewing. However, the eight episodes are connected thematically, grounded by a clear focus on exploring what it means to be a woman in the contemporary world. By exploring the many facets of womanhood, the series reinforces the point that there is no definitive, one-size-fits-all feminine experience. Instead, each episode presents a spectrum of stories and life scenarios that highlight the vibrantly diverse lived experiences of women. The show uses a variety of storytelling techniques, integrating elements of magic, sci-fi, humor, and drama to ensure a sophisticated narrative that keeps viewers engaged. Its plots range from a woman who finds herself physically shrinking whenever she suppresses her anger to a woman who starts to see all the ghostly remnants of her past selves. By fantastical and often surreal conditions, Roar provides powerful metaphors and allegories that speak to very real societal expectations and pressures faced by women. On the surface, Roar might appear like a collection of fairy tales. Still, it's underpinned by profound themes regarding gender, identity, and societal expectations and norms. The stories are gripping in their own right, but they also serve a bigger purpose: they challenge preconceived notions, stimulate conversations around womanhood, and encourage viewers to reassess and question existing societal paradigms. Although the series is indeed female-centric, its universal themes make it accessible to audiences of all genders and ages. The thought-provoking scripts and compelling performances will fascinate anyone interested in human nature and the societal norms that sometimes define it. In summary, Roar is certainly more than a television show - it's an exploration of the human experience, encapsulated through the prism of contemporary womanhood. It is charming, witty, heartbreaking, uplifting, and at times, surreal. For those seeking content that is bold, innovative, and unafraid to ask tough questions, this anthology series promises an immersive viewing experience that will stay with you long after the credits roll. Prepare not only to engage but to roar with laughter, empathy, and contemplation as you navigate through each compelling scenario.
Roar is a series categorized as a . Spanning 1 seasons with a total of 8 episodes, the show debuted on 2022. The series has earned a moderate reviews from both critics and viewers. The IMDb score stands at 5.7.
How to Watch Roar
How can I watch Roar online? Roar is available on Apple TV+ with seasons and full episodes. You can also watch Roar on demand at Apple TV+ online.
Cast
Alison Brie, Nicole Kidman, Betty Gilpin