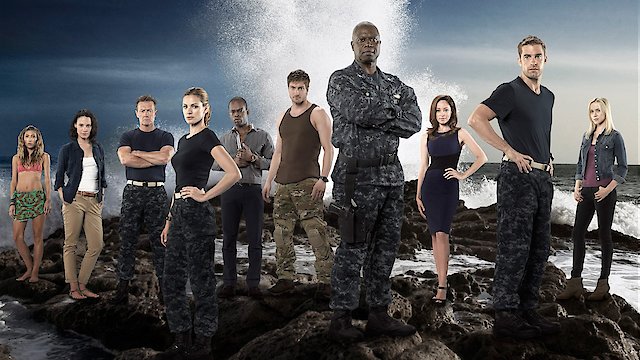 Where to Watch Last Resort
13
Controlled Flight Into Terrain
The season comes to a dramatic close when a violent battle for control erupts on the submarine, and the Colorado becomes vulnerable. Can Marcus and Sam regain control of the sub before it's too late?
Watch Last Resort Season 1 Episode 13 Now
12
The Pointy End of the Spear
Kylie collaborates with Admiral Shepard to bring down the President, using actual evidence of what really happened in Pakistan. If everything goes according to the plan, Marcus will be able to surrender the Colorado.
Watch Last Resort Season 1 Episode 12 Now
Marcus and his crew are forced into an unlikely alliance and the USS Colorado is put in harm's way. Sam's grief strains his relationship with Marcus.
Watch Last Resort Season 1 Episode 11 Now
Sam and James leave the island in a ballsy rescue mission. Back on the island of Sainte Marina, a Chinese diplomat tries to strike a deal with Marcus.
Watch Last Resort Season 1 Episode 10 Now
The crew of the Colorado wait for a goodwill visit from their families, unfortunately the visit turns disastrous and Marcus must consider the unthinkable once again. Meanwhile, the details of the nuclear devastation in Pakistan are revealed.
Watch Last Resort Season 1 Episode 9 Now
Marcus gathers the members of the Colorado and the islanders together to honor their two cultures. But things turn ugly when an important crew member is accused of a serious crime.
Watch Last Resort Season 1 Episode 8 Now
While Marcus and Sam are preoccupied searching for the traitor who took their nuclear launch key, Prosser starts something he isn't able to finish. Grace and James join forces to get a situation under control.
Watch Last Resort Season 1 Episode 7 Now
The crew is hit by an intense attack. As confusion and aggression are sorted out, Marcus and Sam must race to save the sub and defend the island.
Watch Last Resort Season 1 Episode 6 Now
In an effort to diffuse the standoff on Sainte Marina, Marcus and Sam enter dramatic negotiations with the U.S.
Watch Last Resort Season 1 Episode 5 Now
Although Marcus and Sam have been charged with treason against the United States, a greater threat within their crew is lurking. Meanwhile, an old friend of Sam's visits Christine and offers comfort.
Watch Last Resort Season 1 Episode 4 Now
As Marcus seeks for ways to restrain Colorado's restive crew, he concedes to run the blockade in an attempt to release the three sailors who are being held by the island's corrupt mayor.
Watch Last Resort Season 1 Episode 3 Now
After Marcus engages an experimental device to elude U.S. warships, a commando team attack forces Sam and Grace into the jungle to protect themselves and the island. Meanwhile, Kylie searches for the source of the attack on the U.S.S. Colorado.
Watch Last Resort Season 1 Episode 2 Now
In the series premiere, the crew of the world's most powerful nuclear submarine are labeled traitors after questioning orders. They take refuge on an exotic Pacific Island and embark on a quest to clear their names.
Watch Last Resort Season 1 Episode 1 Now

Last Resort is a riveting American military drama television series that ran on ABC from September 2012 to January 2013. During its brief run of 13 episodes, this Oscar-nominated show, helmed by Shawn Ryan and Karl Gajdusek, gripped audiences with its thrilling narrative that blended political intrigue with warfare dynamics as it unfolded through its nuanced characters. The pivotal character of Captain Marcus Chaplin, a stand-up military man who navigates an unimaginable situation, is impressively portrayed by veteran actor Andre Braugher. The plotline of Last Resort centers around the crew of the USS Colorado, a fictional Ohio-class ballistic missile submarine. It starts with a routine mission but soon escalates into an international incident. When the submarine crew refuses to execute a suspicious order, they are branded as rogue by their own nation. Faced with a sudden and shocking predicament, they seek refuge on a small ex-NATO base, an island called Sainte Marina, somewhere in the Indian Ocean. Captain Chaplin and his executive officer, Sam Kendal (played by Scott Speedman), find themselves caught in a precarious situation, and the series meticulously explores their initial shock, strategic decisions, and the ensuing struggle of the crew members. Drawing a line in the sand, the crew declares their patch of paradise a sovereign nation, armed with nuclear warheads, thereby setting the stage for a nail-biting showdown with their own government and other forces that seek to manipulate the fluctuating power dynamics. Andre Braugher's potent performance in the pivotal role anchors the series, and he is ably supported by a talented ensemble including Scott Speedman, Daisy Betts, Camille De Pazzis, Dichen Lachman, Daniel Lissing, Sahr Ngaujah, Autumn Reeser, Jessy Schram, and Robert Patrick. Their commendable performances breathe life into the characters they portray, adding depth to their multi-faceted personalities and effectively conveying the fluctuating emotions and intense pressure that arise from their extraordinary circumstance. The series notably explores real-world themes such as the abuse of military power, the role of media, personal loyalties, and moral dilemmas in a war scenario. The intelligent script and engaging dialogue, paired with the actors' emotive performances, successfully create a palpable tension out of these storylines, making for a thought-provoking hour of television. Pierson Fode's direction, together with fantastic sets and top-tier special effects, succeeds in creating a vivid and thoroughly believable world. Each episode is shot to cinematic standards, which, combined with a gripping plotline, results in a roller coaster ride that promises and delivers high octane drama packed with action and adventure. The show also captivates with moments of emotional resonance as it peels back layers to reveal the human side of the protagonists, showing how they grapple with extraordinary circumstances and continue to fight for principles and survival in an increasingly complex world. The introspective depiction of the series characters, combined with the intense maritime and island settings, help immerse viewers into the story and feel the heightened tension experienced by the submarine crew. This dynamic is enhanced by the vivid sounds and music interspersed throughout the series, which underscores the mood of each scene while heightening the sense of suspense. Overall, the narrative strength of Last Resort lies in its nuanced treatment of complex themes with wonderful performances, especially from Andre Braugher, adding another feather to his cap of critically acclaimed roles. Despite its short-lived run, this show left an indelible mark on audiences, and provokes an important conversation about power, authority, and duty. Skillfully encapsulating the human cost of warfare and the resolve of its characters, Last Resort is a highly engaging drama with a tension-fuelled plot and a haunting peek into what could possibly happen when checks on power fail. Despite its cancellation after the first season, it remains a gem that continues to capture viewer's interest and intrigue.
Last Resort is a series categorized as a canceled. Spanning 1 seasons with a total of 13 episodes, the show debuted on 2012. The series has earned a moderate reviews from both critics and viewers. The IMDb score stands at 7.3.
How to Watch Last Resort
How can I watch Last Resort online? Last Resort is available on ABC with seasons and full episodes. You can also watch Last Resort on demand at Crackle, The Roku Channel Free, Apple TV, Amazon, Google Play, Vudu, FuboTV online.
Cast
Scott Speedman, Autumn Reeser, Andre Braugher, Dichen Lachman, Robert Patrick, Jessy Schram, Camille de Pazzis, Daisy Betts, Daniel Lissing, Sahr Ngaujah

Stream shows like Last Resort