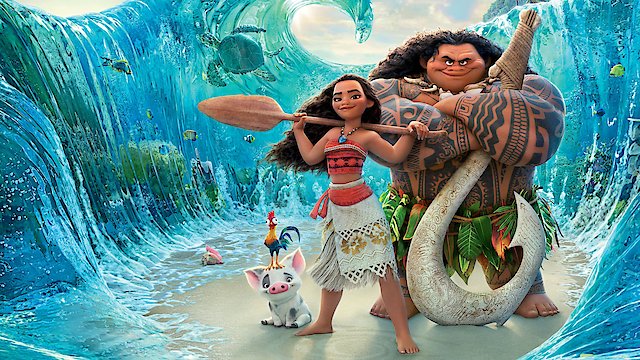 Where to Watch Moana

Moana is a 2016 animated film packed with adventure, humor, and powerful Kuana Torres Kahele. As produced by Walt Disney Animation Studios, this robust, visually captivating musical film benefits from the remarkable vocal talents of Auli'i Cravalho, Dwayne Johnson, aka 'The Rock,' and Rachel House. At the film's core is the eponymous character Moana, voiced by Auli'i Cravalho, a spirited and tenacious teenage girl hailing from a long lineage of navigators. Born and raised on the paradisiac Pacific island Motunui, Moana shows a miraculous affiliation with the ocean from an early age and possesses an innate desire to explore the world beyond her island's reef — against her father's decree. Cavello breathes lively, authentic Polynesian character into Moana, her debut character, with her strong and inspiring voice. Dwayne Johnson brings his larger-than-life persona to the character of Maui, a demigod of South Pacific Mythology. Maui is a legendary figure, bestowed with magical powers and a shape-shifter, making him utterly charming and undoubtedly egotistical. Simultaneously, he serves as a humorous and enchanting foil to Moana's earnest and resolute nature throughout their journey. Johnson's unexpected singing talent also stands out and contributes to Maui's multi-faceted character. Rachel House voices Moana's loving and sensible grandmother, Gramma Tala, who fosters Moana's connection with the sea and nurtines her voyage aspirations. House brings the right balance of wisdom, cheerfulness, and strength to Tala, shaping her character into a spiritual figure and a beacon of guidance for Moana. The narrative revolves around Moana's venture across the open ocean on an audacious mission to save her people. As the natural resources on their island mysteriously start to diminish,the future chieftain Moana, heeds to the call of the Pacific ocean. She undertakes this bold journey to find the legendary demigod Maui who supposedly holds the key to reversing the perilous fate of her people. Accompanied by her own determination and the amusingly dim-witted, yet loyal rooster, Heihei, Moana sails out on a daring mission. Her expedition becomes a journey of self-discovery, embracing her ancestral roots, and harnessing her navigation skills in spite of the inevitable hardships and formidable foes she encounters. The mystical connection between Moana and the ocean is a pivot in the story, establishing an empathetic association that deftly complements her character arc. Alongside, is a plethora of vibrant, mythic creatures inspired by Polynesian folklore, adding layers of depth and charm to the film's rich cultural narrative. The meticulous care given to assure cultural authenticity, with the inclusion of elements such as the tribal tattoos, wayfinding strategies, and traditional dances, consolidates Moana's position as a unique addition to the canon of Disney's princess narratives. Moana is also adorned with an exceptionally catchy soundtrack, composed by the brilliant Lin-Manuel Miranda of Hamilton fame, Opetaia Foa'i and Mark Mancina who composed Tarzan's score. Their collaborative effort makes the film's music an absolute treat to the ears, blending traditional Polynesian music with contemporary musical elements. The music plays an integral role in storytelling, adding emotional depth to the narrative, and perfectly encapsulates the film's core themes of courage, identity, and heritage. Moana is not only visually stunning with lush and vivid aesthetics but also appealing due to its engaging storyline that marries adventure and self-discovery. Animation plays a tremendous role in amplifying this enticing artistry, from creating a playful, sentient ocean to a fiery underworld, adding a fascinating visual splendor to the epic journey of Moana. Furthermore, the film breaks away from many conventional Disney tropes, creating a uniquely empowering experience. It dwells upon themes of self-determination, courage, and the power of heritage. Moana navigates through treacherous seas and challenging adversities, unfolding her internal strength and leadership qualities. In conclusion, Moana is a delightfully charming film that stands out in the ocean of animated movies, thanks to its culturally enriched narrative, engaging characters, exceptional music, and thought-provoking themes. This empowering tale of a young girl seeking her own identity while honoring her heritage and fulfilling her responsibilities towards her people is truly a breath of fresh air in Disney's pantheon, appealing to audiences of all ages.
Moana is a Adventure, Comedy, Kids & Family, Animation movie released in 2016. It has a runtime of 108. Critics and viewers have rated it moderate reviews, with an IMDb score of 7.6. It also holds a MetaScore of 81.
How to Watch Moana
Where can I stream Moana movie online? Moana is available to watch and stream, buy on demand, download at Disney+, Apple TV, Amazon, Google Play, Vudu. Some platforms allow you to rent Moana for a limited time or purchase the movie for downloading.


Director
Ron Clements, John Musker
Stars
Auli'i Cravalho, Dwayne Johnson, Alan Tudyk
Genres
Adventure, Comedy, Kids & Family, Animation

Also directed by Ron Clements, John Musker
Also starring Auli'i Cravalho
Also starring Dwayne Johnson