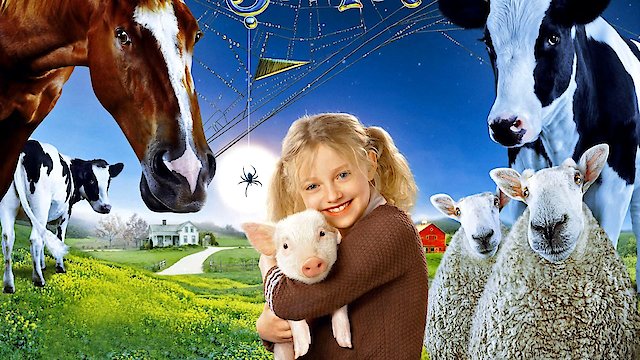 Where to Watch Charlotte's Web

Charlotte's Web is a touching and heartwarming family film released in 2006. Directed by Gary Winick, it's an adaptation of E. B. White's beloved children's book of the same name. The movie brings to life the tale of Wilbur the pig and his unlikely friendship with a wise and caring spider named Charlotte. Its star-studded cast features Dakota Fanning, Julia Roberts, and Oprah Winfrey, among other recognizable names. In the central role of Fern Arable, the compassionate and strong-willed young girl who becomes Wilbur's savior and primary human companion, is Dakota Fanning. Her engaging and emotionally resonant performance brings a deep emotional core to the film. Fern's love for Wilbur begins when he is born the runt of his litter on her father's farm. Instead of letting him meet a premature end, she pleads with her father to let her raise Wilbur herself. This tiny piglet appeals to Fern's strong nurturing instincts, and the bond between girl and pig grows quickly. However, as Wilbur grows, Fern is forced to move him to her uncle's farm, introducing the pig to a new world altogether. Vulnerability and fear creep into Wilbur's life at his new home, the Zuckerman farm. The realities of a pig's life on a farm become horrifyingly apparent. He learns from the other barnyard animals that his fate is predestined - to be the main course at a forthcoming Christmas dinner. This is where Wilbur encounters Charlotte A. Cavatica, a kind, caring spider voiced by Julia Roberts. Feelings of fear and despair gradually give way to hope and strength, as Charlotte promises to save Wilbur from his gloomy fate. Charlotte's character embodies elegance, wisdom, and kindness, perfectly captured by Roberts' soothing voiceover. Julia Roberts brings a quiet strength and sense of calm authority to Charlotte that instantly resonates. You're quickly captured by her commitment to help her friend, illustrating the story's key themes of friendship, loyalty, and bravery. Oprah Winfrey lands her charismatic voice to another barnyard creature, Gussy the gossipy Goose. Gussy along with her friend Golly (voiced by Cedric the Entertainer) provide regular doses of comedy and lightheartedness. One of the main draws of Charlotte's Web is how beautifully it deals with the themes of change, maturity, and the cycle of life. From the perspective of a humble pig and his group of barnyard friends, audiences are given an exploration of love, friendship, and sacrifice. These themes are all wrapped in a narrative that never talks down to its audience, regardless of its age. The impressive caliber of the voice cast further extends to include Steve Buscemi as Templeton the rat, John Cleese as Samuel the sheep, and Robert Redford as Ike the arachnophobic horse. The stellar cast and their performances ensure that each of these furniture animals feels distinct and memorable. While the essence of Charlotte's Web is rooted in its story, the film's visual appeal shouldn't be overlooked. The film strikes a delicate balance between the mundane and the magical. The CGI characters skillfully integrated with the live-action ones, bringing the barnyard to life. The real-world setting blends seamlessly with the tale's quiet magic, creating a lens through which both children and adults can suspend disbelief. The screenplay, written by Susannah Grant and Karey Kirkpatrick, does an admirable job of staying loyal to the source material while also expanding on certain elements. The dialogues are sharp and often humorous, which keeps the mood light despite the serious themes at play. Gary Winick's direction is remarkable, as he connects audiences to the emotional core of the narrative without overdoing it. The pacing of the film is well maintained, guiding the audience through the unfolding drama, the rising anxiety, and the heartfelt conclusions. The charm of Charlotte's Web lies in its simplicity and sincerity. It is a family film in every sense of the word, with a message that appeals to all ages. Its portrayal of friendship, compassion, sacrifice, and love is tenderly refreshing. All blended seamlessly with humor and delightful performances, it creates a rich cinematic experience. Its teaching of crucial life lessons through the personification of farm animals makes a lasting impact. To summarize, Charlotte's Web is an enriching family film that beautifully exhibits the value of friendship, sacrifices, and love. It perfectly captures E.B. White's timeless tale and presents it with charm, warmth, and tenderness that leaves a lasting impact on the audience.
Charlotte's Web is a Comedy, Kids & Family, Fantasy movie released in 2006. It has a runtime of 97. Critics and viewers have rated it moderate reviews, with an IMDb score of 6.3. It also holds a MetaScore of 68.
How to Watch Charlotte's Web
Where can I stream Charlotte's Web movie online? Charlotte's Web is available to watch and stream, buy on demand, download at Paramount+, Amazon Prime, Apple TV Channels, EPIX, FuboTV, The Roku Channel, Apple TV, Amazon, Google Play, EPIX NOW. Some platforms allow you to rent Charlotte's Web for a limited time or purchase the movie for downloading.


Genres
Comedy, Kids & Family, Fantasy

Stream movies like Charlotte's Web
Also directed by Gary Winick
Also starring Dakota Fanning
Also starring Julia Roberts
Watch movies on Apple TV+