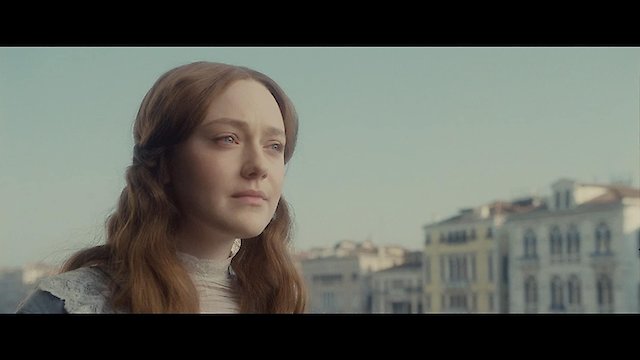 Where to Watch Effie Gray

Effie Gray is a lavish period drama running under director Richard Laxton, released in 2014. The film's screenplay, penned by the highly-acclaimed British author Emma Thompson, unravels the tragic true story of the young and vibrant Effie Gray from the Victorian era. With Dakota Fanning in the title role, an utterly transformed figure oozing Victorian charm and elegance, the film dives into a poignant exploration of society's expectations, personal freedom, and the struggles of a woman trapped in a loveless marriage. In the heart of London's high society during the mid-19th century, we meet Effie Gray. A precocious and intellectual young woman, Effie enters into an ill-fated union with renowned art critic John Ruskin (Greg Wise), a man of substantial age difference from Effie and of rigid Victorian values. He may be a prominent figure in the intellectual community, but he's far from conquering the real world, let alone his conjugal responsibilities. From her wedding night itself, Effie's marriage to Ruskin is plagued by a peculiar and profound disconnect, demonstrating a stark contrast between Ruskin's public charisma and his personal incapacity. Effie tries to navigate through the maze of her married life, in a world weighed down heavily by societal expectations. She is in desperate search for warmth, intimacy, understanding, and genuine companionship, things that are grossly absent in her relationship with Ruskin. Amidst her challenges, she is met with the cold, judgmental gazes of society and stays under the constant surveillance and manipulation of Ruskin's domineering parents. Effie's emotions, her struggles, and her desires are elegantly portrayed by Fanning, providing the viewers with a personal, intimate view into her life. Much of the film's narrative is carried by the performances of Dakota Fanning and Greg Wise. Fanning perfectly captures the quiet resolve and desperate longing of a young woman shackled by her circumstances. Wise's portrayal of Ruskin, on the other hand, is aptly cool and distant, creating an uncomfortable but brilliantly portrayed dichotomy with Fanning's Effie. Effie's only glimmer of hope for compassion and understanding comes in the form of Pre-Raphaelite painter John Everett Millais (Tom Sturridge). Initially, Ruskin commissions Millais to paint his portrait, but their acquaintance evolves into a life-altering relationship for both Millais and Effie. The nuanced performances, electrifying chemistry, and the silent exchanges between Effie and Millais are the highlights of the film, subtly showcasing love devoid of any ostentation. The supporting cast unarguably adds further depth to the narrative of Effie Gray. Emma Thompson as Lady Eastlake provides not just moments of relief and warmth for the troubled Effie, but also serves as the much-needed voice of reason and wisdom in the male-dominated intellectual class of the Victorian era. Taking full advantage of its period setting, Effie Gray also delivers as a visual masterpiece. Cinematographically, the film is magnificent. From grandiose Victorian interiors to the raw drives through the timeless and breath-taking Scottish Highlands, Effie Gray's artistic excellence is well-established. Apart from the intricate human drama, 'Effie Gray' also offers subtle commentary on art and artists. It strategically contrasts Ruskin, who pontificates about beauty, art, and nature from an intellectual point of view, with Millais, who submerges himself into the beauty of nature to bring out its essence on canvas. Effie Gray paints a haunting picture of a woman's struggle for liberation and self-determination in a deeply oppressive society. It provides an insightful exploration of personal liberation and the evolution of love and respect for women's rights that didn't come easily in a strictly patriarchal society such as Victorian England. The universal appeal of its themes and the extraordinary performances of its cast elevate Effie Gray to a deeply moving experience that lingers long after the end credits roll. It's a mesmerizing narrative that artfully combines historical drama with elements of romance and women's liberation.
Effie Gray is a Drama movie released in 2015. It has a runtime of 108 min.. Critics and viewers have rated it moderate reviews, with an IMDb score of 6.0. It also holds a MetaScore of 54.
How to Watch Effie Gray
Where can I stream Effie Gray movie online? Effie Gray is available to watch and stream, buy on demand, download at Apple TV, Amazon, Google Play, YouTube VOD, Vudu. Some platforms allow you to rent Effie Gray for a limited time or purchase the movie for downloading.


Stars
Dakota Fanning, Emma Thompson, Greg Wise, Tom Sturridge

Stream movies like Effie Gray
Also directed by Richard Laxton
Also starring Dakota Fanning
Watch movies on Apple TV+