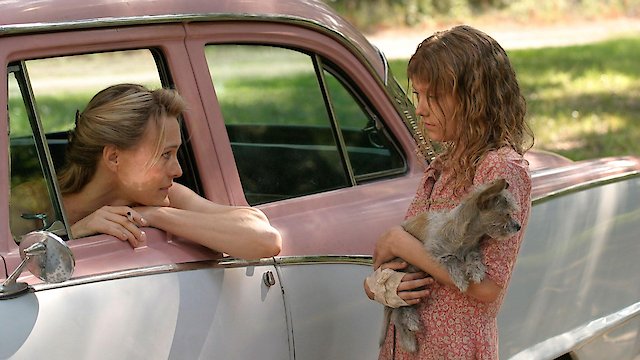 Where to Watch Hounddog

Hounddog is a 2007 independent drama film written, directed, and produced by Deborah Kampmeier and featuring a noteworthy performance from the young, but already highly acclaimed, Dakota Fanning. The movie also showcases equally impressive performances from seasoned actors David Morse and Piper Laurie. Set against a backdrop of the 1960s rural American South, Hounddog is a story about resilience, transcending trauma, and the healing power of music. The narrative revolves around a precocious 9-year-old girl named Lewellen, played by Dakota Fanning with infectious energy and great depth. Lewellen braves through a rough childhood, plagued by a set of unfortunate circumstances and abusive relationships. Her character is nuanced, complicated, and despite her young years, bears the heaviness of the world on her diminutive shoulders. The film takes on an unblinking exploration of Lewellen's home life, drawing a heart-rending contrast between the sparkling brightness of her character and the inexplicably darker shades of her world. The character of Lewellen's father, played articulatively by David Morse, serves as one extreme end of this spectrum. He embodies an abusive, volatile, and complex character that embodies the broken pieces of Lewellen's world. In parallel to this grim narrative, music emerges as a significant element. Elvis Presley, the rock 'n' roll legend himself, influences much of the music in the film and his spirit serves as a recurring motif. For Lewellen, his music acts as an escape from her harsh reality and is evidently her truest form of self-expression. It becomes her way of processing trauma, her refuge in times of hardship, and her way forward into the future. Adding another layer to Lewellen's family is the character of the grandmother, played with an astonishing level of intensity by Piper Laurie. Her performance in the film is powerful and truly stands out as a different, spiritual kind of force within Lewellen's turbulent life. The storyline of Hounddog unfolds in a richly described rural setting, beautifully captured with cinematography that juxtaposes the vividity of Southern landscapes with the melancholy of Lewellen's existence. The film explores not only the oppressive rural poverty that Lewellen's family is embedded in, but also traces themes of familial dysfunction, social isolation, and the disturbing complexities of childhood trauma. Evolving within this framework is Lewellen's struggle for survival and her journey into self-discovery. The narrative is closely woven around her personal transformations and growth, affirming the much-cherished American values of resilience and determination against all odds. In this narrative, the young protagonist finds herself caught in a maze of adversity as she resists her traumatic past, nurtures her affection for music, and steadfastly pursues her dreams of a better future. Hounddog is therefore an important addition to a repertoire of films dealing with contentious social topics, daringly shedding light on harsh experiences of childhood and domestic abuse. It underscores the power of music, courage, and self-belief in overcoming these adversities. The performance of Dakota Fanning in the central role is a real standout, displaying an impressive range of emotions, and attesting to her stature as one of the most prodigious child actors of her generation. Supported by a deep and compelling turn from David Morse and the profoundly effective acting of Piper Laurie, the film exhibits an ensemble of performances that together create a compelling and often disturbing depiction of Southern life. Despite its distinctly harsh theme, Hounddog can be appreciated for its earnest exploration of trauma and resilience, its powerful performances, the sensitive direction, and the subtle yet effective use of music as a plot device. The film does not shy away from graphic content, thus making it a viewing that triggers reflection and evokes empathy. There is an inherent strength and survivor spirit emphasized throughout the narrative, exemplified through Lewellen's character, making Hounddog an important work relating to themes of childhood trauma and healing.
Hounddog is a Drama, Music movie released in 2007. It has a runtime of 93 min.. Critics and viewers have rated it moderate reviews, with an IMDb score of 6.2. It also holds a MetaScore of 31.
How to Watch Hounddog
Where can I stream Hounddog movie online? Hounddog is available to watch and stream, buy on demand, download at Apple TV, Amazon, Google Play, YouTube VOD, Vudu. Some platforms allow you to rent Hounddog for a limited time or purchase the movie for downloading.


Director
Deborah Kampmeier

Also starring Dakota Fanning
Also starring David Morse
Watch movies on Apple TV+