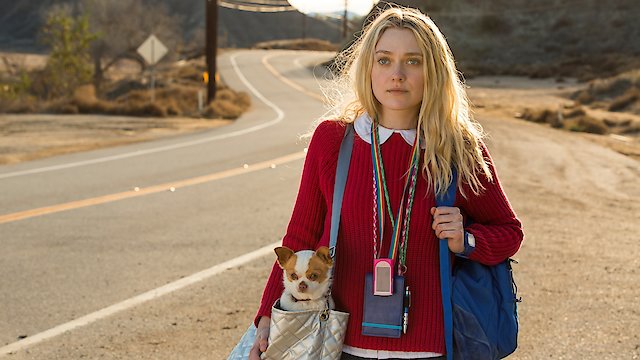 Where to Watch Please Stand By

Please Stand By is an outstanding 2017 film that artfully combines the genres of comedy, drama, and adventure. Directed by Ben Lewin and based on the play of the same name by Michael Golamco, who also wrote the screenplay, it features a robust cast led by the talented Dakota Fanning. Fanning is beautifully flanked by Alice Eve and Toni Collette, who each deliver passionate performances. The film is a compelling exploration of an often underrepresented community, allowing viewers a glimpse into the world of autism and revealing the insurmountable challenges, but also the incredible capabilities of those affected. This film seeks to represent individuals with autism for their potential rather than their shortcomings, producing an authenticity that viewers can appreciate. At the core of Please Stand By is the character of Wendy (Dakota Fanning), a young woman with autism who's passionate about Star Trek. She works at a local Cinnabon outlet and lives in a group home, where she receives assistance for her daily needs. Toni Collette plays Scottie, a dedicated therapist who encourages Wendy's independent living skills while guiding her through life's vicissitudes. The crux of the story begins when Paramount Pictures announces a Star Trek scriptwriting contest. Wendy seizes this opportunity as a chance to showcase her deeply ingrained love and knowledge of Star Trek, viewing it as a prime way to express herself. However, her script is not submitted on time due to a scattering of unexpected events, leading her to decide on taking an unorthodox journey to Hollywood to submit her script in person. Alice Eve steps into the role of Wendy's sister, Audrey, who worries about Wendy's ability to care for herself and therefore holds a protective space over her. This drives a subtle yet significant undercurrent of familial love and tension through the narrative. The elements of kinship and compassion layered into the movie strings together a touching narrative, serving to deepen the emotional resonance of the film. Dakota Fanning's portrayal of Wendy is outstanding, helping audiences to understand the nuances of living with autism. She takes on the role with heart and sensitivity, conveying the power and capability that lies within Wendy. Fanning's precise acting choices, from her well-researched delivery of Wendy's symptoms to her emotional range in tackling the character's highs and lows, make the character believable and relatable. Please Stand By is not just a film about a young woman with autism; it is a movie about ability, independence, and the courage to believe in oneself. It highlights the importance of embracing differences and breaking away from societal perceptions of what 'normal' looks like. The film's approach to representing people with autism is noteworthy for its empathetic and respectful portrayal, making it evident that all individuals have unique qualities worth celebrating. The film skillfully interweaves elements of self-discovery and adventure into the therapeutic fandom of Star Trek, creating an engaging plot. The screenplay is well-structured and takes chances in depicting the pivotal moments in Wendy's life. The impeccable performances of the lead actors add depth to the narrative, making it all the more compelling. The cinematography of the film is captured thoughtfully, allowing the audience to fully immerse themselves in Wendy's journey. Moreover, the background score aligns beautifully with the storyline, making the experience more pleasant for viewers. Director Ben Lewin showcases his directing chops by deftly balancing the humor, the tension, the drama, and the emotional richness in the movie. Please Stand By is a commendable cinematic piece that offers an insightful, humorous, and poignant glance into a community often overlooked in popular media. The movie champions acceptance, diversity, and the power of self-expression, making it a must-watch for fans of inspiring and heartwarming narratives.
Please Stand By is a Comedy, Drama movie released in 2018. It has a runtime of 93 min.. Critics and viewers have rated it moderate reviews, with an IMDb score of 6.7. It also holds a MetaScore of 49.
How to Watch Please Stand By
Where can I stream Please Stand By movie online? Please Stand By is available to watch and stream, buy on demand, download at Amazon Prime, FuboTV, Kanopy, Apple TV, FlixFling VOD, Amazon, Google Play, YouTube VOD, Vudu. Some platforms allow you to rent Please Stand By for a limited time or purchase the movie for downloading.


Stars
Dakota Fanning, Toni Collette, Alice Eve

Stream movies like Please Stand By
Also directed by Ben Lewin
Also starring Dakota Fanning
Watch movies on Apple TV+