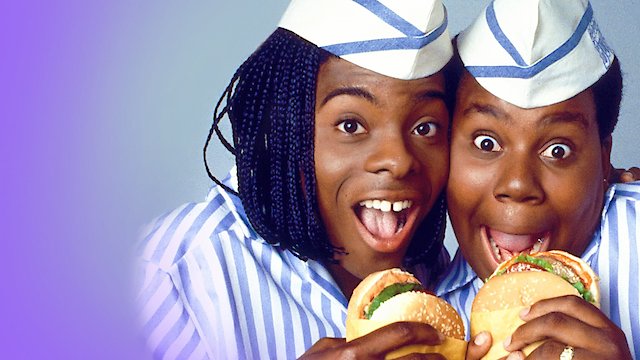 Where to Watch Good Burger

Good Burger, released in 1997, is a delightfully entertaining family comedy that truly stands as a memorable representation of '90s pop culture. Starring comedic duo Kel Mitchell and Kenan Thompson– who became known for their hilarious antics on Nickelodeon's All That– Good Burger tells the story of an improbable summer adventure, filled with laughs, heartwarming moments and the inevitable hamburger. The story begins when Dexter Reed (played by Kenan Thompson), a high school student, gets into a minor car accident with his teacher Mr. Wheat (played by Sinbad) during summer vacation. To be able to afford the car repair expenses, Dexter has no choice but to take up a summer job. Destiny leads him to "Good Burger", a local fast food joint where the affable and slightly dimwitted Ed (Kel Mitchell) works. Ed is the kind of character that viewers fall in love with instantly. His goofy charm is infectious, and his invention of the secret sauce that sets Good Burger's burgers apart from any other is a game changer. But their seemingly quiet summer is disturbed when a new, menacing mega-chain burger place called Mondo Burger opens across the street. Mondo Burger's oversized burgers and ruthless business tactics soon pose an existential threat to Good Burger, causing much concern among the Good Burger staff. Dexter and Ed find themselves embroiled in a David vs. Goliath like situation, as they set out to save their beloved workplace from being bulldozed by the corporate competition. The outlandish schemes, a daring undercover mission, and the ensuing hilarious misadventures form the captivating core of the narrative. Both Mitchell and Thompson deliver excellent performances and their on-screen camaraderie shines throughout the film. Their comedic timing and natural, unassuming portrayals make the characters of Ed and Dexter believable and relatable. Kel Mitchell's performance as Ed is particularly memorable, as he delivers a uniquely charming and endearing character that is a delightful combination of naivety and joyous wonder. Kenan Thompson, as Dexter, perfectly balances the equation with his real-world wariness and sarcastic dry wit, making them an unforgettable pair. The film's supporting cast is also top-notch, consisting of some of the most recognizable faces from the '90s, such as Sinbad, Shaquille O'Neal, and Abe Vigoda. Sinbad, as the flamboyantly dressed teacher Mr. Wheat, serves as a humorous subplot and contributes considerably to the film's overall comedic appeal. O'Neal and Vigoda, though playing smaller parts, leave indelible impressions and successfully manage to enhance the story's compelling charm. Far from a typical fast-food flick, Good Burger offers an insightful social commentary as it explores themes like loyalty, community, and corporate competition in a light-hearted and comedic manner. The characters' struggle against the looming existential threat presented by a megacorporation serves as a critique of rampant capitalism, while their loyalty towards each other and their workplace is a testament to the power of community and unity. Good Burger guarantees a healthy serving of laughter and fun, while also touching upon some serious subjects like corporate ethics, friendship, and perseverance. Alongside the plethora of laugh-out-loud moments and engaging performances, the film also boasts a lively soundtrack that blends elements of pop, hip-hop, and R&B, aptly reflecting the cultural zeitgeist of the late 1990s. Good Burger is a truly enjoyable film that captures the comedic brilliance of Kenan Thompson and Kel Mitchell and offers a fun and humorous journey filled with laughs, life lessons, and lots of burgers. Despite its seemingly simple premise, Good Burger's charming characters, engaging narrative, and socio-cultural observations make it an enduring classic that continues to entertain and engage audiences over two decades after its initial release. Whether you're in for the nostalgia of the 1990s, a fan of Kenan and Kel's comedic brilliance, or just in the mood for a light-hearted comedy, Good Burger is a good pick. It's a film that will make you laugh, warm your heart, and might just leave you craving a juicy burger!
Good Burger is a Kids & Family, Comedy movie released in 1997. It has a runtime of 95 min.. Critics and viewers have rated it moderate reviews, with an IMDb score of 5.8. It also holds a MetaScore of 41.
How to Watch Good Burger
Where can I stream Good Burger movie online? Good Burger is available to watch and stream, buy on demand, download at Paramount+, Amazon Prime, Apple TV Channels, Pluto TV, The Roku Channel, Apple TV, Amazon, Google Play, Vudu. Some platforms allow you to rent Good Burger for a limited time or purchase the movie for downloading.


Stars
Kenan Thompson, Kel Mitchell, Abe Vigoda
Genres
Kids & Family, Comedy

Watch movies on Apple TV+
Also directed by Brian Robbins
Also starring Kel Mitchell
Also starring Kenan Thompson