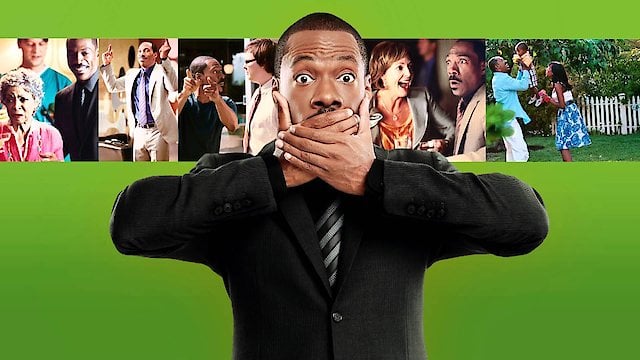 Where to Watch A Thousand Words

A Thousand Words is a 2012 comedy-drama movie directed by Brian Robbins and starring Eddie Murphy, a famous American comedian renowned for his quick wit and humorous commentary. Alongside Murphy, Cliff Curtis and Kerry Washington feature in supporting roles, contributing to the movie's dynamic, humorous, and thought-provoking narrative. The film explores the life of Jack McCall (Eddie Murphy), a fast-talking literary agent who is always on the move, seemingly incapable of slowing down in his personal or professional life. Jack is known for his ability to close deals, win negotiations, and persuade people with his exclusive charm and plentiful words. His driven life is coupled with his aspiration to climb the professional ladder, secure a partnership at his firm and lead a comfortable life with his family. Despite his success, Jack struggles to balance his work life with his family life, ultimately straining his relationship with his wife, Caroline (Kerry Washington). One of the story's major plot points is Jack's encounter with Dr. Sinja (Cliff Curtis), a spiritual guru who comes into his life when Jack tries to negotiate a deal on his book for publishing. This encounter seems like a usual business appointment for Jack. However, it takes an unexpected twist which shoulder the movie's central concept that dramatically changes Jack's life. After his meeting with Dr. Sinja, Jack discovers a mysterious Bodhi tree in his backyard. This tree appears to have a formidable, supernatural connection to Jack's life. In an interesting turn of events, it is revealed, in quite a shocking way, that the tree loses a leaf for each word Jack speaks or writes. Though skeptical at the beginning, he quickly realizes the gravity of the situation – he is left with only a thousand words to speak, after which the tree would be leafless and presumably his life would end. What ensues is a hilarious and sometimes poignant narrative of how Jack manages to survive within this boundary. He finds himself in comical situations as he grapples to communicate non-verbally with his colleagues, clients, friends, and family, including his wife, who is completely oblivious to his peculiar problem. In navigating life with limited words, Jack comes to appreciate the power of silence and the value of speaking only necessary words, a departure from his earlier verbose lifestyle. He discovers new ways to connect with his surrounding world, appreciating people and things he once took for granted, and understanding the importance of genuine relationships over material things. Jack's struggle also highlights the central theme of the movie – that words have a profound impact on our lives, so they should be used wisely and effectively. While Eddie Murphy carries this film with his signature enthusiasm, humorous charm, and expressive actions, Cliff Curtis effectively plays the enigmatic guru whose ultimate intention is not revealed till the end. Kerry Washington complements Murphy's acting with her engaging portrayal of a wife looking for a deeper connection with her husband. The other cast members, who depict the multifarious people in Jack's life relate to audience members with their distinct trails. Several comedic scenarios are dotted throughout the movie, balancing the solemn theme with elements of pure fun. Despite the fantastical premise, the movie manages to place a thought-provoking question amidst its laughs - What would you do if every word you spoke brought you closer to the end? A Thousand Words is more than just another comedy film. It's a thoughtful exploration of the power of words and the importance of meaningful communication, the need for work-life balance, and the essence of valuing relationships. Driven by Eddie Murphy's dynamic performance, this film weaves comedy, drama, and a touch of mysticism into an entertaining and engaging movie that leaves audience members pondering their use of words and the power they hold.
A Thousand Words is a Drama, Comedy movie released in 2012. It has a runtime of 91. Critics and viewers have rated it moderate reviews, with an IMDb score of 5.8. It also holds a MetaScore of 26.
How to Watch A Thousand Words
Where can I stream A Thousand Words movie online? A Thousand Words is available to watch and stream, buy on demand, download at Amazon Prime, Pluto TV, Apple TV, Amazon, Google Play, Vudu. Some platforms allow you to rent A Thousand Words for a limited time or purchase the movie for downloading.


Stars
Eddie Murphy, Allison Janney , Ariel Winter

Stream movies like A Thousand Words
Watch movies on Apple TV+
Also directed by Brian Robbins
Also starring Eddie Murphy
Also starring Cliff Curtis