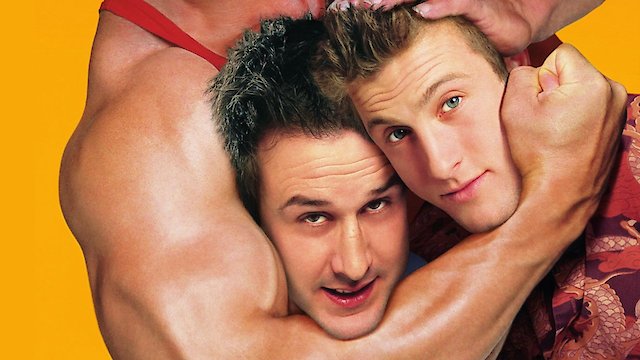 Where to Watch Ready to Rumble

Ready to Rumble is the ultimate fanboy fantasy comedy serving to wrestling enthusiasts. This 2000 film is directed by Brian Robbins and boasts a remarkable cast, including David Arquette, Oliver Platt, Scott Caan, Bill Goldberg, Diamond Dallas Page, and many other stars from World Championship Wrestling. The story spins around three wrestling crazy buddies, their devotion to their wrestling hero, and their journey to bring him back to his old glory. The central figures of the film are Gordie Boggs, portrayed by David Arquette, and Sean Dawkins played by Scott Caan. Both are sanitation workers and obsessively devoted fans of professional wrestling. They are painted as lovable misfits, unglamorous, young-at-heart and more than a little rough around the edges, but passionate and full of life. Gordie and Sean maintain an unshakeable belief in their unlikely dreams and represent the eternal optimistic spirit, entertaining the audiences with their humor and steadfastness. The pair idolizes a wrestler fondly known as "The King," played by Oliver Platt. Their hero, Jimmy King is a charismatic character who is a superstar in the world of professional wrestling. However, he is hit by an unexpected misfortune and faces a downfall that leaves Gordie and Sean devastated. Encountering their hero at his lowest point, they decide to bail him out and embark on a mission. They are hell-bent on reviving King's career against all odds, bringing about a display of ridiculous antics and laugh-out-loud comedic moments, which form the crux of Ready to Rumble. The movie offers an exciting pilgrimage of these wrestling fans, traversing down dirt roads, through wrestling schools, and eventually into the wrestling ring itself. Their journey is an amalgamation of high-energy wrestling, hilarious adventures, and the joyous spirit that true fandom brings. What sets Ready to Rumble apart is its appealing inside look into the wrestling world. The movie serves as a tribute to the sports entertainment industry. It bustles with an earnest appreciation for the theatricality, drama, and athleticism that combine in the wrestling ring, putting forth wrestling as a sport that demands respect and dedication. Ready to Rumble offers the audience a lineup of renowned professional wrestlers including Goldberg, Sting, Randy Savage, Sid Vicious and Diamond Dallas Page, who embody their in-ring personas adding to the authenticity and excitement of the wrestling sequences. This inclusion enhances the overall wrestling vibe, providing the audience with real-life elements mixed with moving and funny fictional bits. The performances by the lead actors are commendable. David Arquette plays the character of Gordie with an infectious enthusiasm, engaging the audience in his journey. Scott Caan as Sean delivers a stellar performance, demonstrating an endearing blend of loyalty and audacity that makes his character relatable and amicable. Meanwhile, Oliver Platt as King brings forth a loveable, out-of-luck hero who is both relatable and comical. Despite its comedic undertones and fun-loving spirit, Ready to Rumble does not shy away from infusing emotional moments that pull at the heartstrings, especially concerning the theme of underdogs and lost souls finding redemption. The other unique aspect of Ready to Rumble is its soundtrack that includes a mix of hard rock and rap, intrinsically woven into various scenes to create an electrifying atmosphere that matches the intensity of wrestling matches and the overall wrestling fervor. Overall, the engaging blend of comedy, wrestling action and emotional depth creates a unique and fun feature film in Ready to Rumble. It is an entertaining tribute to wrestling and a delightful journey for any viewer, especially those with a love and appreciation for this sports entertainment genre. Ready to Rumble has undoubtedly etched itself a place in the genre of sports-comedy, offering audiences a captivating spectacle that celebrates the spirit of wrestling and the passion of its fans.
Ready to Rumble is a Action, Comedy movie released in 2000. It has a runtime of 107 min.. Critics and viewers have rated it moderate reviews, with an IMDb score of 5.3. It also holds a MetaScore of 23.
How to Watch Ready to Rumble
Where can I stream Ready to Rumble movie online? Ready to Rumble is available to watch and stream, buy on demand, download at Apple TV, Amazon, Google Play, YouTube VOD, Vudu. Some platforms allow you to rent Ready to Rumble for a limited time or purchase the movie for downloading.


Stars
David Arquette, Scott Caan, Oliver Platt, Bill Goldberg, Rose McGowan, Diamond Dallas Page, Joe Pantoliano, Martin Landau, Steve "Sting" Borden, Bobby Newmyer, Jeffrey Silver

Watch movies on Apple TV+
Also directed by Brian Robbins
Also starring David Arquette
Also starring Oliver Platt