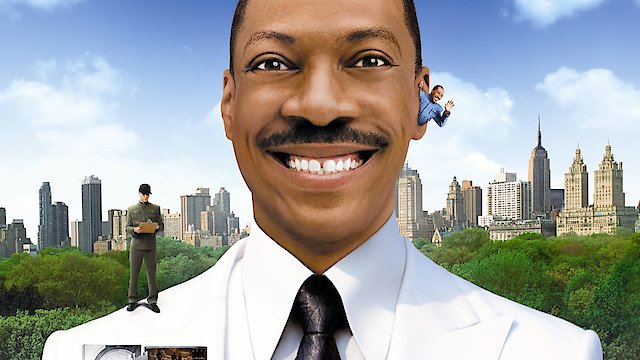 Where to Watch Meet Dave

Meet Dave is a 2008 sci-fi comedy that delivers a unique premise, wrapped in a hilarious and charming package brought to life by an all-star cast, including Eddie Murphy, Elizabeth Banks, and Gabrielle Union. Directed by Brian Robbins and penned by Rob Greenberg and Bill Corbett, the movie merges elements of comedy, adventure, romance, and family, delivered through a creative narrative approach that sets it apart from other films in the same genres. Meet Dave opens with an interplanetary dilemma unfolding in a distant world variously affected by an energy crisis. The civilization finds a possible panacea in a rare and valuable substance known as a "salt compound," which, unfortunately for humanity, lies within the Earth's oceans. The tiny extraterrestrial world launches a spaceship towards Earth to steer the planet towards their salvation. The catch? The spaceship is no ordinary vessel. Instead, it bears a striking resemblance to an average human, played by Eddie Murphy, designed to blend seamlessly into earthly life. The name this humanoid form assumes for this intricate mission is Dave Ming Chang. At the helm of this humanoid vessel are pint-sized aliens, also portrayed by Eddie Murphy, who operate 'Dave' from a sophisticated command center within 'his' head. The miniature aliens function in their society much like a human crew, with each member having a distinct job to uphold, and Murphy serving as their unflappable Captain. This internal forum provides some of the film's pinnacle comedic moments, showcasing Murphy's extensive comedic prowess as he fluidly transitions between the disciplined yet empathetic Captain and the quirky and endearing 'Dave'. The alien colony encounters their first significant complication in the form of Josh Morrison, played by Austyn Lind Myers, when their spaceship lands on his moving training shoes. Further complications unfold when 'Dave' meets Josh's equally warm-hearted and charming mother, Gina Morrison, played by the captivating Elizabeth Banks. Gina's introduction brings a romantic flair to the film, complicating the spaceship's original mission and sparking a series of poignant and comedic moments. As the drama unravels, 'Dave' also crosses paths with the hardworking and determined Dooley, played by Scott Caan, adding another layer of complexity in their quest. Among the aliens within 'Dave', Number Three, played by the eloquent Gabrielle Union, also stirs the pot, motivated by less scientific pursuits. Gabrielle Union's character, discreetly nurturing feelings for the Captain, adds a romantic subplot that runs parallel to the developing relationship external to 'Dave'. These intricately intertwined storylines walk the fine line between maintaining their mission's urgency and appreciating the beauty found in simple, human experiences. Despite the ostensibly straightforward mission, the aliens face the unique challenge of navigating and understanding human nature, culture, and emotions. The narrative goes beyond a mere retrieve-and-return mission, delving into themes of self-discovery, acceptance, and the focus on the greater good. From comprehending simple gestures like smiling to dealing with unforeseen emotions like love and empathy, Eddie Murphy's 'Dave' becomes an entertaining exploration of human life from an outsider's perspective. Visually, the movie is a treat, boasting notable special effects that convincingly portray the internal operations of 'Dave'. Whether it's the carefully choreographed movements of the crew within 'Dave' or the display of 'Dave's' unique abilities and functions, the visual effects never fall short of impressive. In conclusion, Meet Dave is a playful and touching comedy that effectively showcases Eddie Murphy's comedic range. It presents a simultaneously humorous yet thoughtful exploration of human life from an alien's viewpoint. Crucial to its charm is the interplay between its characters, leading to a roller-coaster journey filled with laughs, romance, and heartwarming moments. The film is certainly suitable for a varied audience, appealing to children for its visual appeal and comedic flair, while adults will appreciate the deeper themes that run throughout. Meet Dave is a delightful watch, offering vibrant performances, endearing characters, and an absorbing narrative that ensures viewers remain engaged up to the very end.
Meet Dave is a Comedy, Science Fiction, Adventure, Kids & Family movie released in 2008. It has a runtime of 90 min.. Critics and viewers have rated it moderate reviews, with an IMDb score of 5.1. It also holds a MetaScore of 43.
How to Watch Meet Dave
Where can I stream Meet Dave movie online? Meet Dave is available to watch and stream, buy on demand, download at Hulu Plus, Max, Amazon Prime, Apple TV, Amazon, Google Play, YouTube VOD, Vudu. Some platforms allow you to rent Meet Dave for a limited time or purchase the movie for downloading.


Stars
Eddie Murphy, Elizabeth Banks, Gabrielle Union, Ed Helms, Scott Caan, Kevin Hart
Genres
Comedy, Science Fiction, Adventure, Kids & Family

Watch movies on Apple TV+
Also directed by Brian Robbins
Also starring Eddie Murphy
Also starring Elizabeth Banks