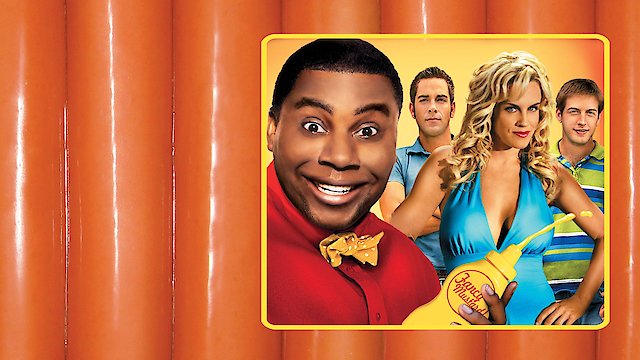 Where to Watch Wieners

Wieners is a 2008 road-trip comedy film that offers a whimsical journey filled with oddball moments, comedic encounters, and the quintessential quest for revenge. The film is directed by Mark Steilen and combines a fantastic comedic cast that includes Kenan Thompson, Zachary Levi, and Fran Kranz. In the story, three best friends embark on a unique cross-country quest. The premise revolves around Joel, portrayed by Fran Kranz. Joel is a sensitive and empathetic individual who appears on a national television talk show only to endure an embarrassing incident on air. This traumatic public event affects Joel so deeply that he retreats into a bout of uncontrollable agoraphobia, much to the concern of his closest friends. Kenan Thompson stars as Wyatt, a zealous and inventive hot-dog company employee. Witnessing his friend's deteriorated state, Wyatt decides to take matters into his own hands, choosing to exact revenge on the arrogant talk-show host who humiliated Joel. This is where the "weiner" in Wieners comes into play. Being a hotdog company employee, Wyatt seizes control of the company's promotional food truck, transforming it into a weapon of social justice equipped with a rocket launcher and enough space for his two buddies. Zachary Levi, known as Ben in the movie, joins this hilarious journey as a one-time child star with his unique quirks. To say he is dealing with fame's fleeting nature would be understating things. Despite his personal challenges, Ben agrees to join Wyatt's quest to help their friend, Joel. Together, they engineer a riotous road trip across America with the objective of reaching the talk show host and taking Joel out of his depression. As the trip rolls on, the three friends encounter a host of unusual characters and outrageous situations. From bachelorette parties gone wrong to encounters with overzealous highway patrol officers, the three friends stick together through thick and thin. However, underneath the movie's expansive humor, there is an exploration of themes like friendship, revenge, personal growth, and overcoming adversity. The film offers a portrait of friendship and its power to pull people out of their darkest moments. The comedic camaraderie of Thompson, Levi, and Kranz create a believable bond that drives the narrative ahead. The stand-out performances of Kenan Thompson, who brings his Saturday Night Live comedic flair into play, and Zachary Levi, alongside Fran Kranz, make the film a fun ride. Moreover, the movie's colorful supporting cast, which includes actors like Jenny McCarthy and Darrell Hammond in delightful cameos, adds to the film's overall appeal. Shot in multiple locations, the movie showcases an authentic cross-country road trip experience. The cinematography is vibrant and perfectly captures the madness of the journey, while the script balances the comedy and the emotional depth of the characters effectively. The film's score accompanies the light-hearted tone, and the oddball humor exceptionally well. Wieners is a film that revels in its own absurdity. The eccentricities of the characters, the crazy situations they get embroiled in, and how they deal with these circumstances using humorous coping mechanisms are the driving forces of the film. It is a testament to camaraderie, resilience, and the lengths one would go for friendship. In conclusion, Wieners can be termed as an absurdly amusing movie, with its endearing trio's comedic charm making it an enjoyable watch. This film effectively blends light-hearted comedy with a dash of vengeance, and loads of friendship. Buckle up for a cross-country trip filled with laughs and chaotic encounters, driven by the spirit of payback, and most importantly, friendship. As an audience, you'll find yourself laughing at the trio's antics and cheering for them in their quest. It's a fun, entertaining ride that amusingly departs from your typical road-trip comedy.
Wieners is a Comedy movie released in 2008. It has a runtime of 89 min.. Critics and viewers have rated it mostly poor reviews, with an IMDb score of 4.2..
How to Watch Wieners
Where can I stream Wieners movie online? Wieners is available to watch and stream, buy on demand, download at Apple TV, Amazon, Google Play, YouTube VOD, Vudu. Some platforms allow you to rent Wieners for a limited time or purchase the movie for downloading.

Stars
Kenan Thompson, Zachary Levi, Fran Kranz

Stream movies like Wieners
Watch movies on Apple TV+
Also starring Kenan Thompson
Also starring Zachary Levi