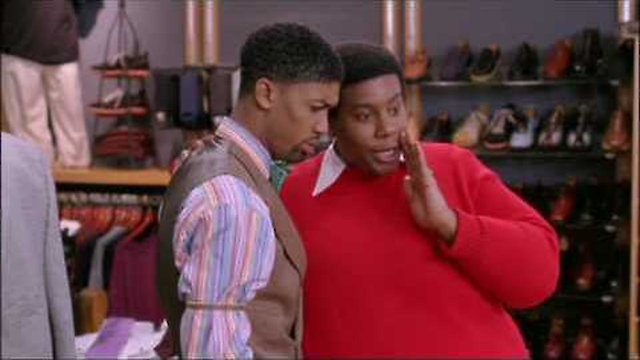 Where to Watch Fat Albert

The 2004 movie "Fat Albert," is a live-action/animated hybrid film that bridges the gap between two distinct eras: the yesteryears of the beloved '70s television show "Fat Albert and the Cosby Kids" and the contemporary world of modern teenagers. The film features an ensemble cast that includes Kenan Thompson, Kyla Pratt, and Omarion. "Fat Albert" is a warm, charming, and nostalgically transfixing family comedy with a substantial serving of life lessons and moral undertones. This film is especially captivating for those familiar with Bill Cosby's original animated series, where the characters taught children how to navigate the challenges of growing up and instilled invaluable lessons about friendship, honesty, and resilience. Leading the cast is Kenan Thompson, famed for his comedic prowess in "Saturday Night Live," perfectly fitting into the titular role of Fat Albert. Thompson brings to the big screen a delightful rendition of the affable leader of the junkyard gang from North Philadelphia - Fat Albert. However, he is not alone. Albert's friends, Rudy, Mushmouth, Bill, Weird Harold, and Dumb Donald make their way from the animated '70s era into the real world, with each character vividly replicated from the original show. The film commences with Albert and his gang residing in their animated world, mirroring their life in the original television series. A unique turn of events prompts a leap from their animated universe into the real world. Doris, played by Kyla Pratt, a high school student struggling with loneliness and a lack of self-confidence, sheds tears on her TV remote while watching the "Fat Albert" show, creating a magical portal that transports Fat Albert and his friends into her room and consequently, into the real world. Scenes filled with humor and charm ensue as Albert and his friends navigate their unfamiliar surroundings, going from a 2D cartoon-ruled world to a 3D environment. Adjusting to a new era is an adventure in itself - the gang is bewildered by the strange machines known as 'cellphones,' terrified by the concept of 'cars,' and dazzled by an array of other modern day advancements. Undeterred by this cultural shock, Albert's happy-go-lucky attitude and the gang's strong bond of friendship helps them capably handle these sudden changes. The gang's presence lifts Doris' spirits and ushers in hope to the typically quiet teenager's life. The narrative simultaneously delves into the reality that this change from their world is not permanent, which adds an element of suspense to the tale. Notable R&B artist Omarion adds an extra sparkle to the movie playing the role of Reggie, Doris' schoolmate who inadvertently becomes the antagonist. While Fat Albert transitions to the modern world, another aspect begins to perplex him, raising questions about his true nature of existence. He has now fell into the human dichotomy of good and bad, truths and lies, love and hate. "Fat Albert" is packed with laughter, emotions, lessons, and a nostalgic throwback to the original TV show. Director Joel Zwick masterfully weaves the '70s animation journey into the 2000s live action landscape. He simultaneously explores social themes of friendship, self-identity, and adolescence while inducing the right balance of humor and sentimentality. While Thompson does an admirable job of evoking nostalgia and capturing the spirit of 'Fat Albert,' it's the performance of his co-stars that add depth and versatility to the narrative. Coupled with a script that is heartfelt and uplifting, the film adheres to the moral fiber of the original TV show, conveying a strong message about camaraderie and self-belief wrapped in a modern, comedic package. For those who grew up with Fat Albert and his gang, this movie will take you on a joyous trip down memory lane. For younger viewers, it provides a fun-filled storyline imbued with nuggets of wisdom and valuable life lessons. Whether you're familiar with Fat Albert or just meeting him for the first time, "Fat Albert" is an entertaining movie that will bring a smile to your face and warm your heart.
Fat Albert is a Comedy, Kids & Family, Fantasy movie released in 2004. It has a runtime of 93 minutes. Critics and viewers have rated it mostly poor reviews, with an IMDb score of 4.4. It also holds a MetaScore of 39.
How to Watch Fat Albert
Where can I stream Fat Albert movie online? Fat Albert is available to watch and stream, buy on demand, download at Hulu Plus, Amazon Prime, Apple TV, Amazon, Google Play, Microsoft Movies & TV, YouTube VOD, Vudu. Some platforms allow you to rent Fat Albert for a limited time or purchase the movie for downloading.


Stars
Kenan Thompson, Kyla Pratt, Bill Cosby
Genres
Comedy, Kids & Family, Fantasy

Watch movies on Apple TV+
Also directed by Joel Zwick
Also starring Kenan Thompson