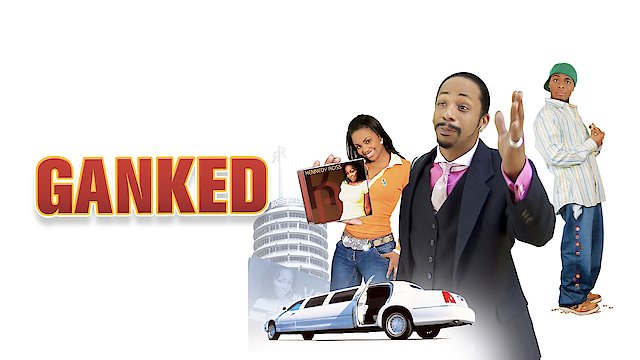 Where to Watch Ganked

Ganked from 2005 is an amusing, hilarious, and engaging film directed by Kenn Michael and features well-known characters like Kel Mitchell, formerly of the famous Nickelodeon series "Kenan & Kel," and a host of other uniquely talented actors such as Natalie Raitano, Nora Farlice, and Lyric Mitchell. Part comedy, part musical, and part drama, the movie brings together an ingenious recipe of humor, music, and life lessons that unarguably appeal to a broad spectrum of viewers. Kel Mitchell plays the role of Ricky Barry, an aspiring yet supremely untalented musician desperate to become a singing superstar. He dreams about the stardom life, thinking music is his true calling. Ricky believes he possesses the necessary skills and talent to be the world's next big music sensation. Kel Mitchell gives a phenomenal performance in this tongue-in-cheek comedic role. His character, Ricky, is an egoistical person who is full of overconfidence, yet this is comically juxtaposed with his lack of actual talent. No matter how many times he fails, Ricky doesn't back down from pursuing his dream. Despite having a predictable storyline, Mitchell's comedic timing and irresistible charm bring life to Ricky, making the audience root for him nonetheless. In the movie, Ricky gets Ganked, a slang term for being jilted or sabotaged, which mainly refers to Ricky's unequipped attempts at stardom and his many comedic misadventures that follow. The film perfectly captures the essence of a struggling artist trying to make it big in the industry. It illustrates the ambitious dreamer's one-track mind and relentless pursuit of fame, brilliantly depicted with a comedic undertone. Natalie Raitano plays a pivotal role in Ricky's journey as well. She plays a savvy music executive who shakes things up in Ricky's world with her challenging and dynamic character. She redefines Ricky's perspective on music, not just being about talent but also understanding the music industry's workings. Raitano's character acts like an eye-opener for Ricky's character, adding a dramatic and important twist to the humorous plotline. Also featuring in the movie is Nora Farlice, who brings a unique edge to the story with her captivating performance. Along with Lyric Mitchell, they both form the perfect ensemble cast, which caters to the comedic underbelly of the film. Their roles not only balance the crazy dreams of Ricky but also take a humorous angle on the pursuit of stardom. Ganked is not just about humor, laughter, and making it big; it also subtly highlights the importance of humility, persistence, and genuine talent. The film lampoons the modern music industry, providing clever commentary on fame and the often overly glamorized pursuit of it. This movie does not just shed light on the chase for fame; it also showcases the importance of recognizing genuine talent and the real workings of the industry. The film is wonderfully interspersed with catchy music numbers that masterfully blend into the story and are sure to keep the audience's toes tapping. Each scene's comedic capers are complemented by an original soundtrack, creating an immersive movie-watching experience. While Ganked might come off as a comedy, beneath the laughter and hilarious mishaps lies a profound story which reaches deeper into the societal discourse about the pursuit of stardom. This movie is hence not just for fans of comedy but also for those who appreciate a storyline that has a deeper message to share with audiences. All in all, Ganked is a perfect blend of heartfelt comedy and resonating life lessons which makes it a must-watch film. Its clever script, amusing characters, and insightful glance into the music industry create a unique narrative that sets it apart from other comedic movies. The movie's driving narrative, the hilarious banter between the characters, and the inspiring underlying message make it feel-nice, entertaining cinema that leaves viewers smiling and reflecting in equal measure. For anyone who loves music, drama or just wants to have a good laugh, Ganked is an enjoyable, humorous tale about the dreams of fame and the reality behind it.
Ganked is a Comedy, Drama movie released in 2005. It has a runtime of 108 min.. Critics and viewers have rated it mostly poor reviews, with an IMDb score of 3.7..
How to Watch Ganked
Where can I stream Ganked movie online? Ganked is available to watch and stream, buy on demand, download at Amazon Prime, Apple TV Channels, The Roku Channel, Amazon. Some platforms allow you to rent Ganked for a limited time or purchase the movie for downloading.

Stars
Kel Mitchell, Natalie Raitano , Nora Farlice

Stream movies like Ganked
Watch movies on Apple TV+
Also directed by Kenn Michael
Also starring Kel Mitchell